Get a Weight Off Your Mind and Fight Mental Health Discrimination in the Workplace
Mental illness discrimination involves treating people differently due to their mental state.
Illnesses such as post-traumatic stress disorder (PTSD), depression, and bipolar disorder cannot be used as a reason to dismiss, demote, or otherwise discriminate against an employee.
If you feel you are experiencing discrimination as a result of your mental condition, DoNotPay can help. We have the advice you need to make sure mental health discrimination at work does not add to your troubles.
What Is the Law Concerning Discrimination Against Mental Illness?
Mental illness is considered a disability and is covered under the Americans With Disabilities Act of 1990 (ADA).
Two titles of the act deal with disability discrimination in the workplace, namely:
Title I
Title V
Title I of the ADA
The first title of the act covers the responsibilities of employers towards disabled people. It prohibits discrimination against employees or candidates with disabilities. The title also states that companies must make reasonable efforts to accommodate disabled employees at work.
Title V of the ADA
Title V of the act prohibits threats and retaliation against people with disabilities or those who help them.
What Should an Employer Do if I'm Suffering From a Mental Illness?
Under the ADA, your employer has to provide reasonable accommodations for you to help you perform at work. These accommodations can include:
Accommodation
Explanation
Hiring, firing, and promotion
An employer cannot refuse to hire or promote you solely because of your mental condition. Mental health can also not be used as an excuse for terminating you or changing your remuneration in any way
Privacy
You have a right to privacy, and an employer is not allowed to disclose your mental state to anybody. The company is only permitted to ask medical questions about your illness when:

You ask for an accommodation to be made
You receive a job offer
The employer is running an affirmative action program and wants to track the program's effectiveness
Your condition could result in reduced job performance or risk

Job performance
If you require special work conditions, such as written instructions from your supervisor or a quiet working environment, your employer should make the necessary arrangements.

If your condition would limit your ability to carry out any "major life activity" without proper arrangements, your employer is obliged to make reasonable accommodations

Permanent or temporary conditions
Your condition can be either permanent or temporary—the deciding factor for accommodations is how bad your symptoms are when they are present
If you need a specific accommodation from your employer, you should ask for one.
Ideally, you should talk to your supervisor or HR department before your condition has any adverse effect on your work performance.
Your employer may ask you to submit a request for an accommodation in writing and provide evidence from a healthcare provider that you have a condition.
If you don't want your employer to know the specifics of your condition, you can ask your healthcare provider to describe it in general terms, such as "anxiety."
Once you have asked for an accommodation, your employer is legally obliged to do whatever is reasonable to help you.
How Can I Fight Mental Illness Workplace Discrimination?
Discrimination against you can take several forms, all of which are illegal.
The most common forms of mental health discrimination at work are:
De facto discrimination involving tacit actions against you such as:

Reassigning you
Refusing to grant accommodations even though they are reasonable
Expecting higher performance than your condition allows

Harassment in the following forms:
De jure discrimination, such as refusing to hire you after you have admitted to a mental health issue or sending you on enforced leave after you become ill
If you have experienced any of these, you should first raise the issue formally with your supervisor or HR department.
In case this yields no results, your next course of action is to contact the Equal Employment Opportunities Commission (EEOC) for help.
The EEOC enforces anti-discrimination laws in the U.S. and offers advice and assistance if your employer is not being cooperative.
If you want to formalize the process against your employer, you can lodge a written complaint with the EEOC. Your complaint—known as a charge of discrimination—is the first step on the road to you being allowed to contact a discrimination lawyer and file charges against your employer.
Lodging a complaint with the EEOC can be a time-consuming task, but DoNotPay can help you file your charge in a matter of minutes!
What Can DoNotPay Do To Help Me File My Complaint?

DoNotPay is the expert at making your life simpler—we have services that can help you in hundreds of everyday situations.
Our key offering to help you with workplace discrimination is our Fight Workplace Discrimination product. By using this feature, you can file your charge of discrimination with the EEOC in a few clicks. Here's what you need to do:
Sign up with DoNotPay in your web browser
Type Fight Workplace Discrimination in the search bar
Follow the prompts and provide the details of your case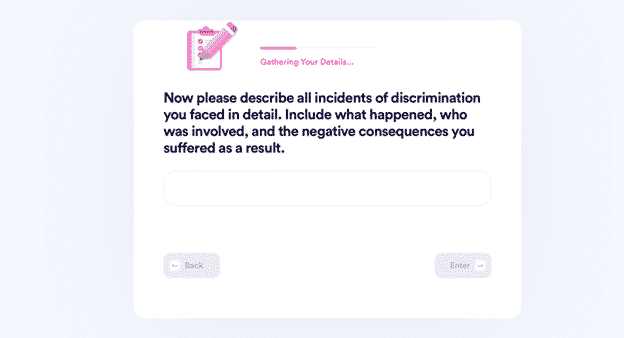 DoNotPay will file your charge with the nearest EEOC field office. They will contact you to walk you through the next steps.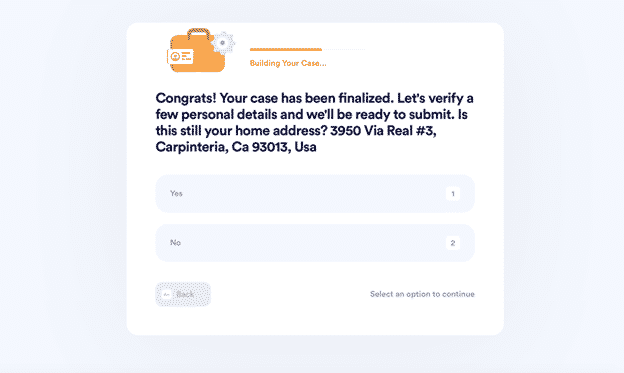 What Other Kinds of Discrimination Might I Encounter?
Mental health discrimination is only one of the types of workplace mistreatment you may encounter. Other forms include discrimination based on:
All of these types of discrimination are illegal—the EEOC and DoNotPay are here to help you eradicate them!
DoNotPay—The Virtual Lawyer You Can Rely On
Discrimination at a workplace is a serious issue. Unfortunately, the problems sometimes escalate into full-blown hate crimes.
DoNotPay recognizes the importance of easy and affordable access to legal help, especially for population groups that are particularly vulnerable. For that reason, our platform keeps adding various useful tools and products that ease the burden of bureaucracy for the victims.
With your DoNotPay subscription, you can:
Our app can even help you draft various legal documents, have them notarized, and fax them to the right person—all from one place.
Concerned About Your Online Safety?
We teach our children to be careful about using the internet, but how much do we pay attention to our online safety? Scammers are getting more and more creative and flourish thanks to new technologies.
DoNotPay is a great resource for fighting irritating spam emails, dangerous texts, and annoying robocalls. If you use our virtual credit card, you won't have to worry about subscribing to free trials—even if they turn out to be a scam! Our AI bots will jump in to secure you a refund, whenever an online purchase goes wrong!