What You Need To Know About a Mental Health Care Power of Attorney
Mental illness can occur at any time and leave us incapable of functioning, especially if we have a history of mental health issues. While health care directives are crucial in planning your future medical care, most do not automatically include provisions for incapacitation due to a mental health illness.
Creating a mental health care power of attorney can ensure your treatment wishes are honored if you are deemed incapable of making your own decisions. This guide will provide the basic details of this document and show you how to create it in a flash using DoNotPay.
What Is a Durable Mental Health Care Power of Attorney?
A mental health care power of attorney (POA) allows you to appoint an agent who can make mental-healthcare-related choices on your behalf in case of a mental health crisis. You can also name an alternate agent who can take charge if the primary agent is unwilling or unable to act when required. Besides enabling you to appoint a health care agent, a mental health POA allows you to:
Specify the powers you want to transfer to your agent
State mental health care preferences, such as admission to an inpatient psychiatric facility and convulsive treatment
A mental health care power of attorney takes effect when a doctor determines that you lack the capacity to make informed decisions concerning your medical care. This document is also referred to as a psychiatric advance directive.
Requirements for Preparing a Durable Mental Health Care Power of Attorney
Most states—such as Arizona—have statutes that govern the creation of a durable mental health POA. Even if your state doesn't have such laws, you can still create a valid document by following the common requirements, such as:
Being at least 18 years old and mentally healthy
Signing the document in the presence of at least two adults who are of sound mind
Having the document notarized
You can amend or revoke a mental health power of attorney only if a doctor determines that you are capable of making your own mental health care decisions.
Other Types of Advance Directives You Might Need
The table below presents other types of advance directives that may be worth considering:
Advance Directive
Explanation
Medical power of attorney (also known as a power of attorney for health care or health care proxy)
This legal document allows you to appoint an agent who will make health care decisions regarding your physical health if you become incapacitated. They can decide about:

Medical treatments (drugs and surgeries) you should and shouldn't receive
Health care staff you want to be treated by
Medical facilities you should attend

Living will
This is a document in which you state the end-of-life medical interventions you would or wouldn't like to undergo, such as:

Hospice care
Tube feeding
Cardiopulmonary resuscitation (CPR)
Get Your Mental Health Power of Attorney Hassle-Free Using DoNotPay
Since injuries and life-threatening illnesses can occur at any age, you should consider outlining your treatment wishes in a health care directive. We understand the complexities of creating such a document and can help you get the one that fulfills your needs. Answer a few short questions, and your document will be ready in less than five minutes.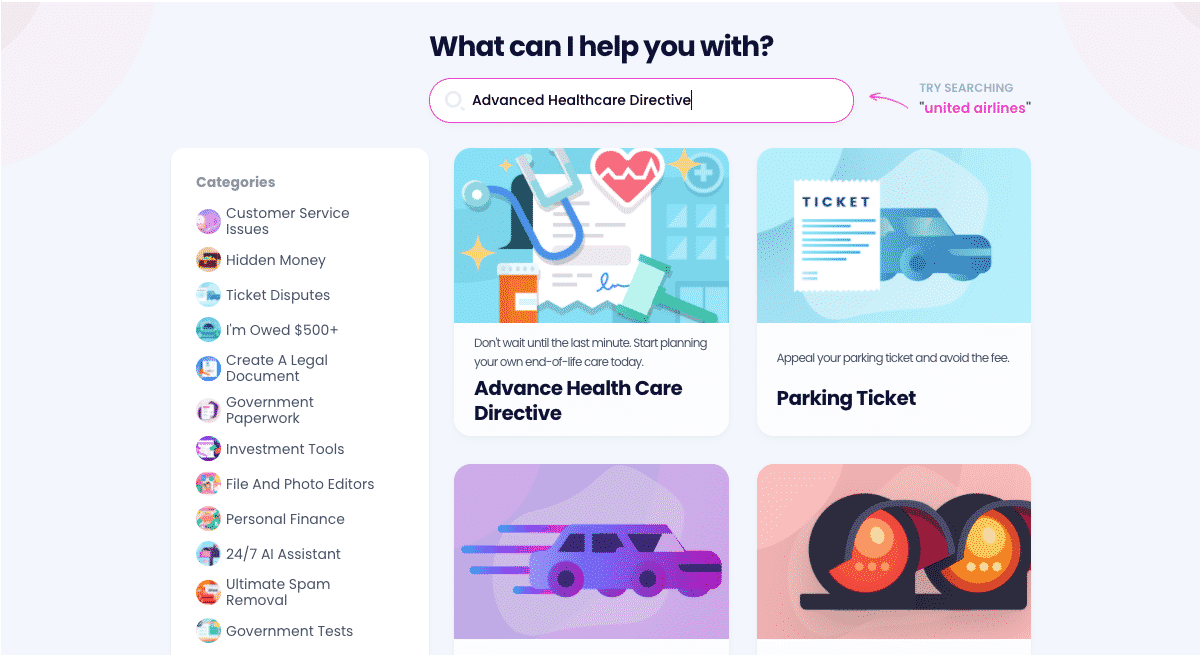 You are only a few steps away from having a comprehensive and legally valid advance directive:
Select the Advance Health Care Directive feature
Type the names of your agent, alternates, and witnesses
Answer a few questions about your health care preferences
Whether you want to create a living will, know the costs of creating a living will, or understand the differences between a health care proxy and a general POA, we have helpful guides for you in our knowledge base.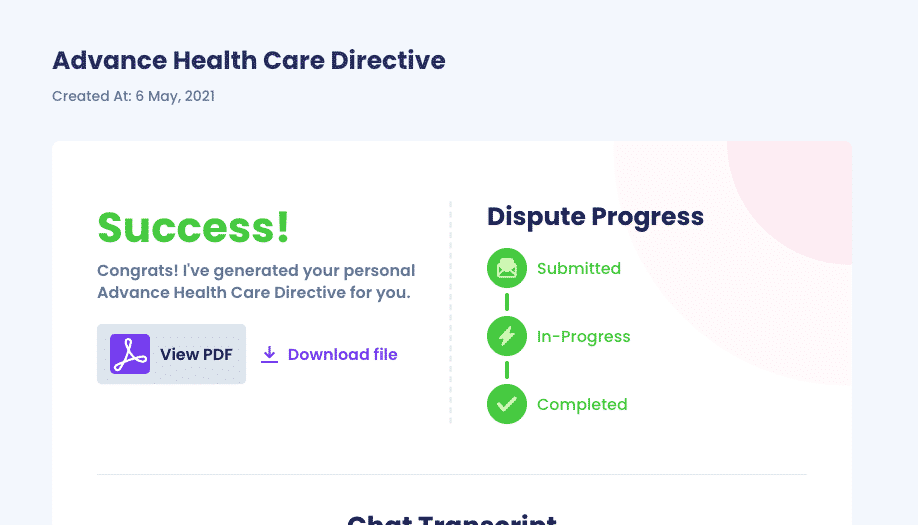 Turn to DoNotPay and Remove Bureaucratic Issues in a Snap
Does paperwork bring you to the edge of a nervous breakdown? With our help, you will skip all administrative impediments and get ready-made legal documents before you know it! No failed drafts or huge legal fees!
DoNotPay can generate:
Once you create the desired document, you can fax it online without a faxing machine or have it notarized with zero complications in the same app!
Your Info Is Safe With Our App
You don't need to leave your credit card info or personal details if you want to start free trials that won't turn into paid subscriptions without notice. DoNotPay will create a virtual credit card with a fake name and generic credit card number for you in just a few clicks. This way, greedy companies won't take a single penny from your account without your authorization!
Our app can also help you file anonymous HR complaints or create burner phone numbers to avoid disclosing your real info when signing up for apps and platforms.