Learn About Men's Rights in Divorce—Don't Lose Your Hope or Your House
Most soon-to-be-divorced men think they are doomed before the process even begins. They believe that women get more out of the divorce procedure, but that doesn't have to be the truth. DoNotPay is here to explain what men's rights in divorce are and how to end your marriage with as little stress as possible.
Why Men Believe They Don't Have Equal Rights in Divorce
The belief that men will lose everything in divorce stems from the past. Since the husband was generally the breadwinner of the house, the wife was the one who couldn't take care of her financial needs independently.
Under the law, she had the right to ask for spousal support.
In the same manner, most women have been the primary caretakers of children, even if they weren't stay-at-home moms. In case of divorce, children would usually stay with their mothers.
Modern times come with new arrangements, so both spouses have equal rights in divorce.
The Husband's Rights in Divorce
Men have the same rights as women in divorce regarding the custody of children, distribution of assets and debts, and spousal and child support.
Take a look at the table below to see more details regarding the husband's rights when filing for divorce:
Rights
Brief Explanation
Financial arrangements
Financial arrangements will vary depending on whether the state you reside in has an equitable distribution rule. If it does, both spouses have the:

Responsibility to offer financial support to the children
Right to ask for financial support from their partner

Grounds for termination of marriage are not taken into consideration when deciding the outcome of financial arrangements in most cases

Children
You may need to apply for a court order if you and your partner can't reach an agreement on your own or with the help of a mediator:

Child arrangements order—decides where the child will live, how much time the child will spend with you or your spouse, and when they can talk to either of you over the phone
Specific issue order—determines specific question about the upbringing of the child, such as education
Prohibited steps order—used to prevent the other parent from making decisions about the child's upbringing

Housing rights

If both spouses have rights to the house, they can continue living in their marital home, and neither can force the other to leave before they get divorced
You can reach a mutual agreement, or the court can decide what happens with the house
Ways To Ensure You Protect Your Rights in a Divorce
If you want to get the best out of a divorce, you could:
Hire a lawyer
Go for an uncontested divorce
How Hiring a Lawyer Can Help You Get Justice
Hiring a lawyer will ensure that someone with legal knowledge makes sure you are not ripped off at court. The downside is the cost of such action—you will need to spend a small fortune on attorney fees.
On the bright side, you will only need a lawyer if you are having a contested divorce (when spouses don't agree on settling the divorce matters). For an uncontested divorce (when parties agree on everything), you won't need representation and will be able to save your money.
Why Should You Have an Uncontested Divorce?
An uncontested divorce is a type of marriage dissolution where partners are on the same page and want to save time and money. The spouses need to create a divorce settlement agreement, which is a legal document that will cover all the relevant divorce issues, such as:
Division of property and debt
Child custody and support
Spousal support
When both spouses want to terminate their marriage in a friendly way, it will not be difficult to make sure the rights between you are equal. If you are unsure of how to make such an important legal document on your own, don't stress—DoNotPay can help!
Use DoNotPay To Make a Rock-Solid Divorce Settlement Agreement
You don't need to empty your pockets on attorney fees to draw up a divorce settlement agreement—DoNotPay is at your service. Our app will handle the entire process with ease and in a matter of minutes. To get the document with our help, heed these instructions:
Choose the Divorce Settlement Agreement product
Give us the relevant info about your case (spouse and children, if any)
Provide information about your financial assets and how you want to allocate them
You can also choose to get your divorce settlement agreement notarized with our help!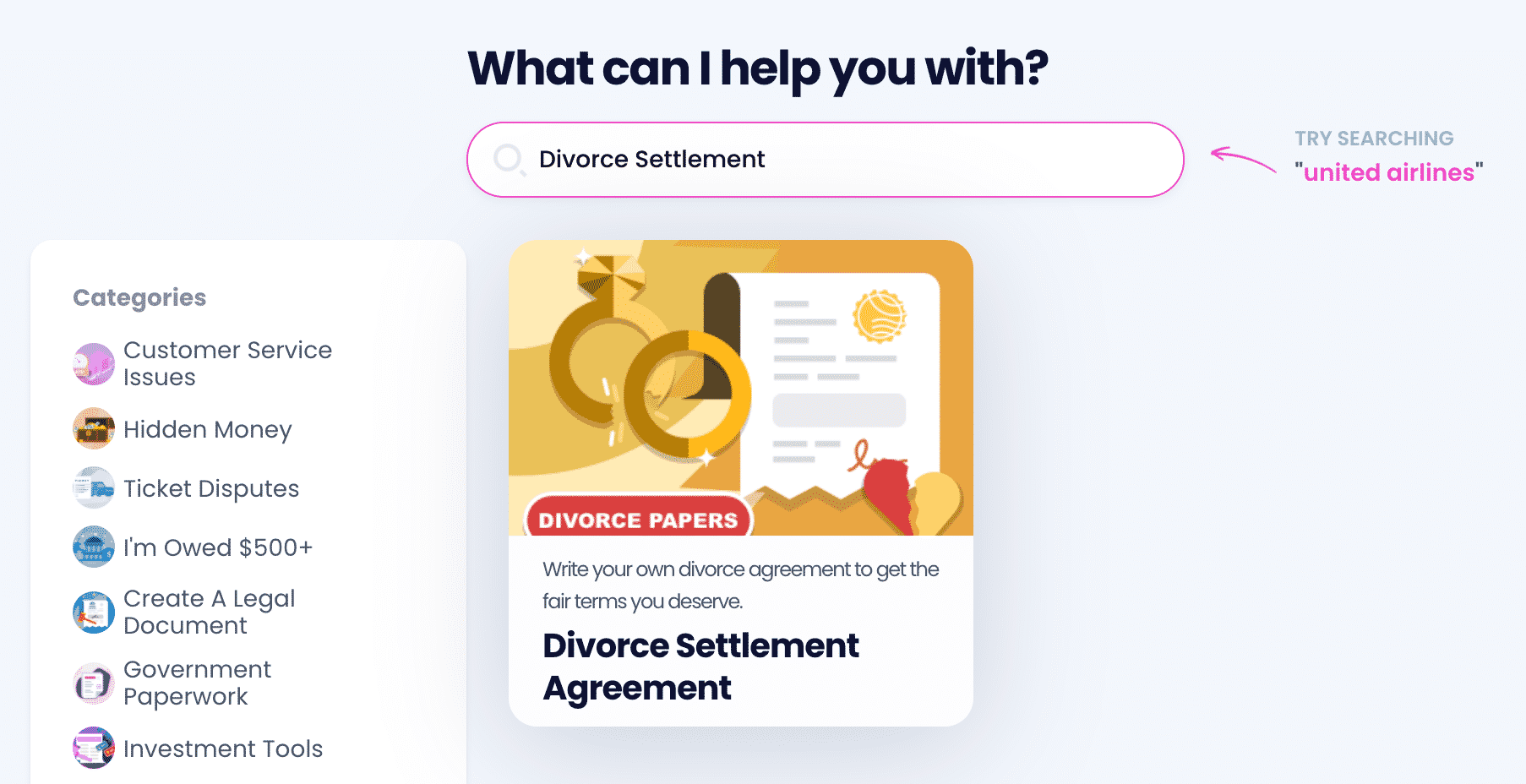 Need More Divorce-Related Info? DoNotPay Has You Covered
If you are going through a divorce but are still uncertain about some steps of the process, DoNotPay can tell you how to:
Let DoNotPay Be Your Virtual Assistant!
Why bother with deciphering legal terminology or figuring out how to write a legal document when you can let us do it for you? You don't have to waste your time any longer. Once you sign up for DoNotPay, we'll do much more than draft your legal documents or help get them notarized!
DoNotPay will show you how to perform a number of tasks with ease, including suing any company in small claims court, filing insurance claims, claiming warranties, creating passport photos, and sending your neighbor a complaint letter!
Should you need assistance with requesting a refund for a delayed flight or fighting workplace discrimination, our virtual assistant shows you how it's done.
There's More We Can Do!
Tired of dealing with mundane tasks and spending hours running dull errands? We offer the perfect solution!
DoNotPay can assist you in completing tedious tasks with ease! The best part is that you will spend significantly less time on them, and you can get them done from the comfort of your home!
Paying bills, getting a free trial, canceling subscriptions, getting revenge on robocalls, requesting refunds, and making a DMV appointment are only a few clicks away!