Memorandum of Agreement—From A to Z
Are you looking for a way to define the rules and terms of collaboration, but a contract is too official? Drawing up a memorandum of agreement is the way to go!
This article will give you insight into the memorandum of agreement and show you some tips and tricks on making the most suitable one.
What Is a Memorandum of Agreement?
The memorandum of agreement (MOA) is a formal document that outlines the terms of an agreement made between two parties. It describes a mutual relationship between two individuals or organizations working on the same project or towards the same goal. A memorandum of agreement is not a legal document, and it is unenforceable in court. The agreement usually comes before a more detailed and strictly defined contract, but that is not always the outcome.
A memorandum of agreement is used to:
Agree to share something, such as a working space or devices

Establish a collaborative agreement

Define terms of a relationship between two parties

Agree to work with the other party in specific ways or collaborate if an opportunity presents
The Difference Between an MOA and Contract
People often mistake a memorandum of agreement for a contract because the differences between the two often blur. The main difference is that a contract is legally binding and enforceable in court, and a memorandum of agreement is neither.
In the table below, you can find a brief overview of what constitutes a contract vs. memorandum of agreement:
Contract
Memorandum of Agreement (MOA)

A written or verbal document

Involves consideration

Legally binding for both parties

Defines obligations in strict terms

A written document

Involves collaboration

Outlines the terms of a partnership
There are cases when a violation of an MOA can have legal consequences. If one party fails to accomplish what is agreed upon and the other party suffers a financial loss, the damaged party may be able to take it to court. Whether the lawsuit will stand in court or not depends on the severity of the loss and the specifics of the case.
What Should a Memorandum of Agreement Cover?
Not being legally binding does not mean an MOA shouldn't have specific terms and conditions. Here is what a memorandum of agreement usually includes:
Authority

Purpose of the MOA

Names of the parties

Description of the collaboration

Financial obligations and payment schedule, if applicable

Dates when the agreement is in effect

Contact information of both parties

Description of roles and responsibilities

Duration of the MOA

Modification and termination policies

Signatures
Useful Tips for Writing a Memorandum of Agreement
A memorandum of agreement is an important part of a partnership or collaboration, whether it is followed by a contract or not. Involved parties usually discuss the terms and conditions beforehand, but it is useful to have them in written form. Even though a memorandum of agreement won't stand in court, it can act as a moral obligation.
You may find the following tips useful when writing a memorandum of agreement:
Be clear and concise

—use short-structured sentences

Strive for balance

—use the phrase "both parties agree"

Write in positive language

—focus on what the parties will do, not what they won't

Be specific

—address all the how, who, what, and when questions

Make sure all involved parties agree

—give the agreement to all parties to read before making it official
Where To Find a Memorandum of Agreement Template
If you don't know how to write a contract or memorandum of agreement, you can always try looking up templates online. When choosing memorandum of agreement templates, you should:
Avoid sketchy websites

See if any law firm or law school offers an MOA template

Read the templates carefully
How To Draw Up Legal Documents With DoNotPay
Writing contracts on your own is a demanding task as it requires knowledge and experience in legal matters. It also bears a lot of responsibility because one mistake can make a contract void and unenforceable in court. To avoid that, people usually hire attorneys to draft legal documents in their name. What to do when you don't want to pay the earth for legal assistance?
Even though hiring a lawyer seems like the only reliable option, it is not —you can use DoNotPay.
Our Standardized Legal Documents feature is a life-saver when it comes to creating contracts and other legal documents. It is practical and easy to use, and here's how:
Access DoNotPay from a

Type in the name of the document you want to create

Answer to our chatbot's questions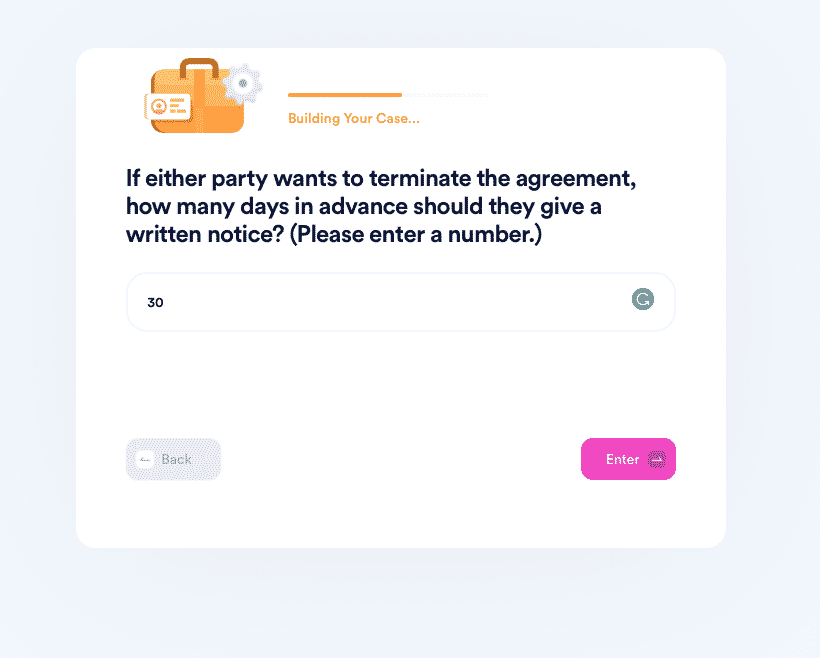 You will get a custom-made legal document that you can later sign, notarize, or send to other parties using our practical online faxing service.
What Legal Documents Can DoNotPay Create?
You can rely on the world's first robot lawyer——to create a myriad of legal documents, including:
Quitclaim Deed

Estoppel Certificate

General Affidavit

Promissory Note

General Business Contract

Child Care Authorization Form
DoNotPay Helps You Fight for Your Consumer Rights
Did you know that companies often reject first-time warranty claims?
You're probably familiar with how complicated the process of appealing parking tickets is. Trying to get a refund for an unsatisfactory purchase or a delayed flight has likely made you mad at least once.
Not anymore! DoNotPay makes all these issues go away in less than five minutes, and that is not all we can do for you!
You don't have to deal with customer service reps of any company on your own anymore—we do it all for you!
DoNotPay bypasses any bureaucratic obstacle for you—scheduling DMV appointments, delaying bill payments, getting in touch with your incarcerated loved ones, filing lawsuits in small claims courts, and claiming insurance policies.
Keep Your Data Safe With DoNotPay
Do you love free trials but are reluctant to disclose your credit card details, phone number, or email address?
Our app lets you try out different subscriptions in a risk-free way!
Use DoNotPay's Burner Phone feature to sign up for services without providing your phone number! We'll make sure robocall scammers and text spammers cannot harass you!
With our virtual credit card, you can sign up for any free trial and not worry about canceling it! Since the card is not linked to your bank account, no one will be able to charge you once the trial expires. An additional perk is that the card comes with a free email address, which means no spam emails from the company.