Medical School Scholarships—How To Find and Win Them in a Flash
Schooling expenses in the field of medicine are around $37,000 for in-state and $60,000 for out-of-state students. Besides the tuition costs, there are also primary and secondary application fees that can amount to thousands of dollars if you apply to several schools.
Medical school scholarships can ease that financial burden! The only issue is that information about them is scattered all over the place. DoNotPay will answer all burning questions about med school scholarships.
Can You Get Scholarships for Medical School?
Yes! Med students can earn funds that cover parts of their education costs, or they can win full-ride scholarships. Medical personnel is in demand, and gift aid encourages high school seniors to pursue a career in the field.
Financial assistance isn't reserved only for college freshmen. If you are an undergraduate or graduate medicine student, you have a chance to earn free money as well.
Students in every medicine major can receive aid—including:
General medical practitioners
Psychiatrists
Dentists
The money can come from different institutions, such as:
Schools
Profit and non-profit organizations
Foundations
Private funders
Philanthropists
There are also federal programs that provide full scholarships for med students who commit to serving in the military or other fields with health care shortages.
What Scholarships for Medical Students Are There?
Med school scholarships can be awarded based on your major, academic success, or specific qualifications—such as being a veteran, woman, minority, male nurse, or international student. Check out some of the best scholarships within the following classifications:
Federal scholarships
Privately funded scholarships
Minority scholarships
Top Federal Scholarships for Medical School Students
The government shows support to med students through these programs:
National Health Service Corps Scholarship Program
Indian Health Service Health Professions Scholarship
Armed Forces Health Professions Scholarship Program
The Federal Supplemental Educational Opportunity Grant (FSEOG)
Top Privately Funded Scholarships for Medical School Students
You might also be eligible for different private scholarships. Check whether you meet the criteria for any of these prominent funding programs for med students:
The White Coat Investor Scholarship
Berger and Green Heart Disease Scholarship
Women in Medicine Scholarships (WIM)
Herbert W. Nickens Medical Student Scholarships
Excellence in Medicine Awards
Fastweb Medical School and Pre-Med Scholarships
LendUp Opportunity Scholarship
Leopold Schepp Foundation
Medical Malpractice Help Community Service Scholarship
Osmosis Health Education Impact Scholarship
Physicians of Tomorrow Award
Pisacano Leadership Foundation
Veterans and Military Family Scholarship
Top Minority Scholarships for Medical School Students
To promote diversity in medicine and help students from underrepresented minority groups get higher education, certain funders have established ethnicity-based programs. Some of them are:
| Ethnicity | Scholarship |
| --- | --- |
| African American | Empire State Medical Association Scholarship Award |
| Hispanic | Hispanic Scholarship Fund |
| Greek | Hellenic Medical Society of New York |
| Italian | The National Italian American Foundation Scholarship |
| Jewish | Jewish Federation of Metropolitan Chicago Vocational Service Scholarship |
| Armenian | Armenian Students Association (ASA) Scholarships |
| Polish | Zakrzewski Medical Scholarship |
| South Asian Indian | Endowment for South Asian Students of Indian Descent Scholarship Fund |
Where To Search for Scholarships for Medical School
You can get detailed information about financial assistance from various sources, but this requires you to conduct thorough searches. Start the process by:
Getting in touch with the financial aid office at your school
Browsing the ​​U.S. Department of Education scholarship database
Contacting state and local governmental agencies
Asking local hospitals if they have scholarship foundations
Talking to your religious institution about its personal endowments
Searching online
If you want to centralize the research, subscribe to DoNotPay. We will comb through all college scholarships for med students and single out the ones you are eligible for. In less than three minutes, you will receive your custom-made list.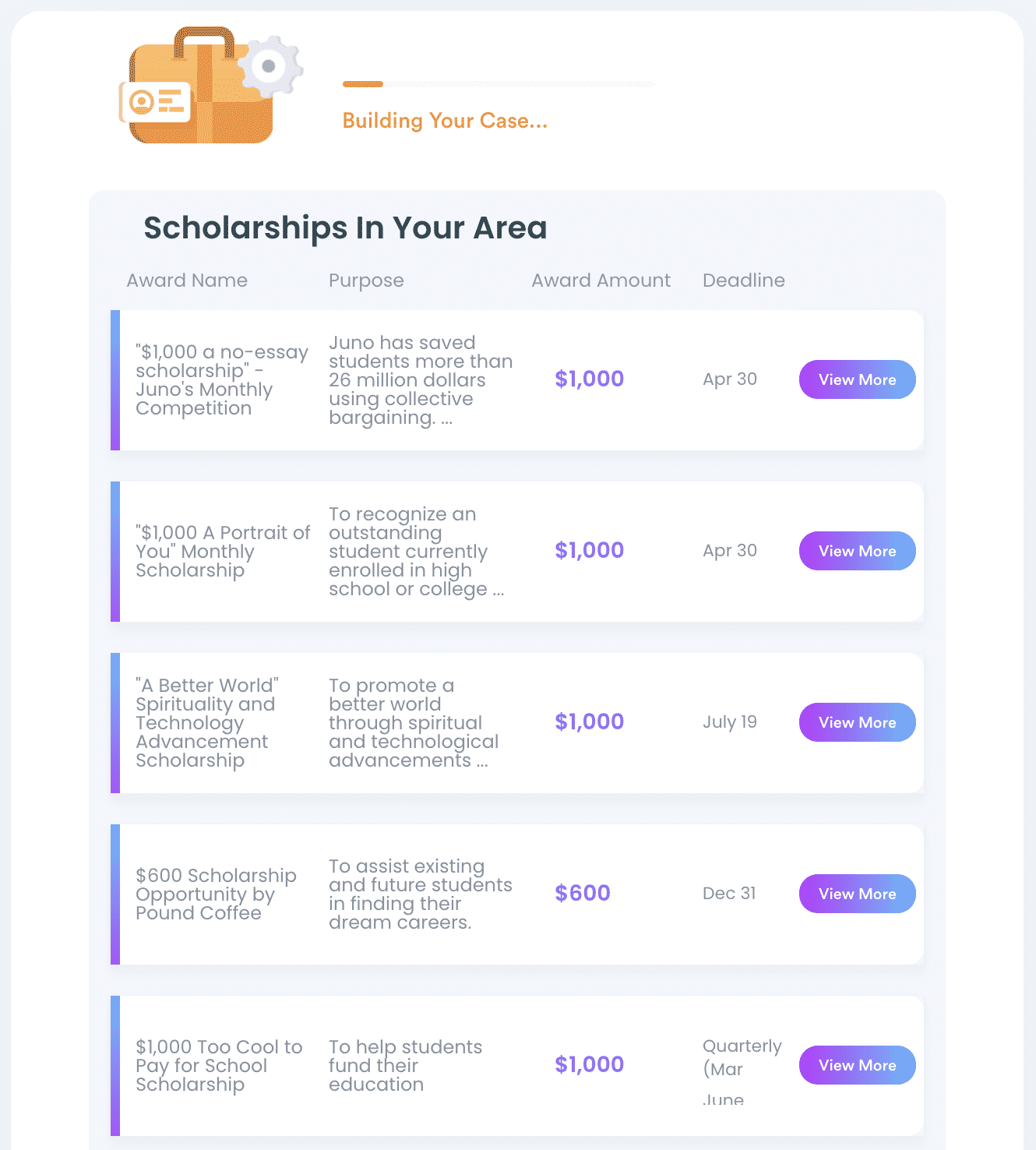 How To Get Scholarships for Medical School
Pay close attention to what each scholarship program asks of you. Each provider has specific demands, but there are some common ones as well, such as:
Completing the Free Application for Federal Student Aid (FAFSA) form
Submitting the College Scholarship Service (CSS) Profile application if your med school is a participant
Filling out the scholarship application
Writing a winning scholarship essay
Asking your mentors for letters of recommendation
Enclosing a personal statement
Maximize your chances of winning the scholarships you want by following these tips:
Apply for all programs you are eligible for
Keep track of all deadlines and apply early
Make sure that you meet all requirements
Start gathering the necessary documents as soon as possible
DoNotPay—An Expressway to Med School Scholarships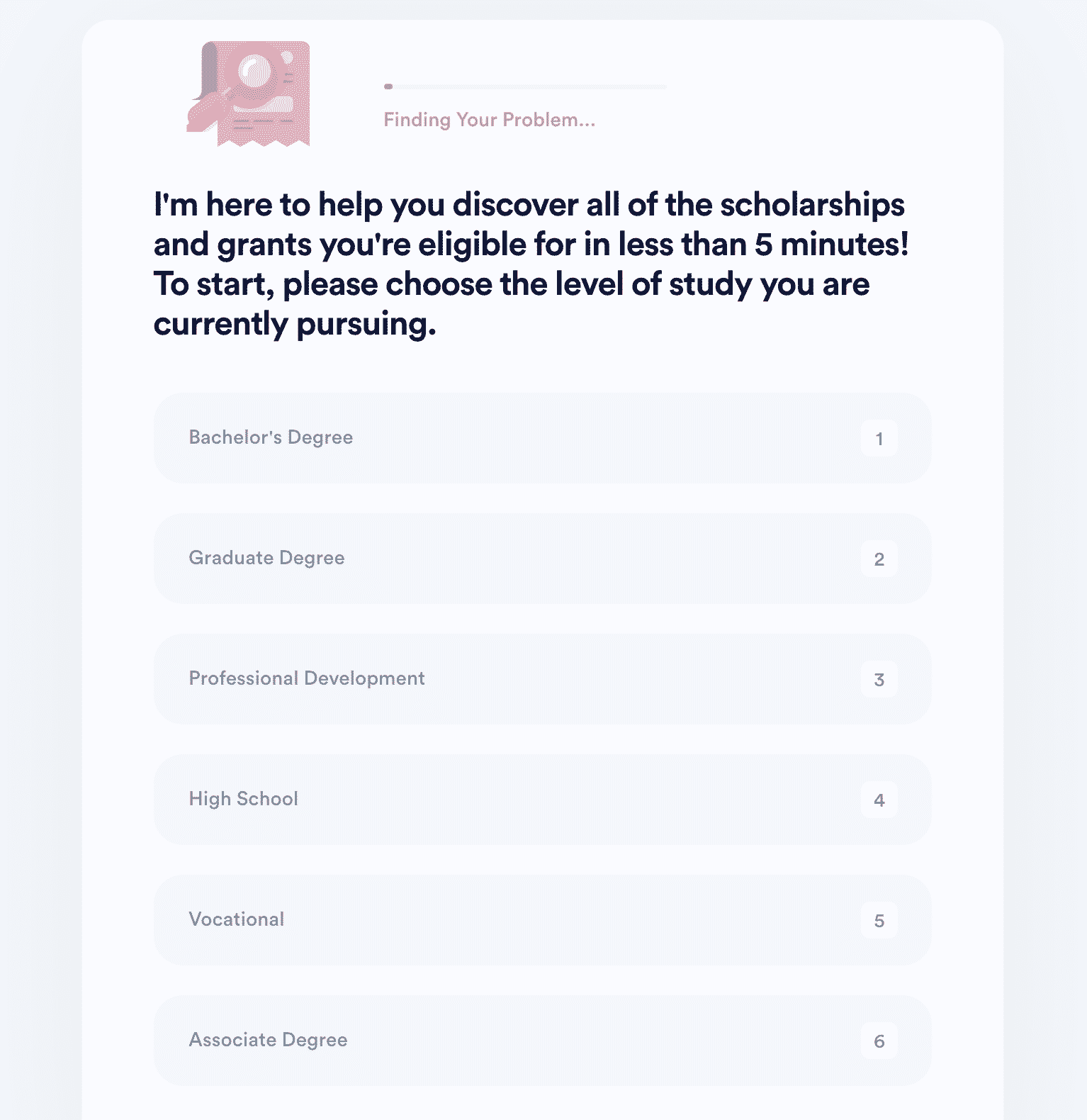 DoNotPay is the fastest and easiest way of discovering and applying for scholarships. Not only will you get a personalized list of scholarships, grants, and prizes you qualify for, but you can also apply for no-essay ones through our app automatically.
All you have to do is spare a few minutes to:
Enter Apply for Scholarships in the search bar and click on that product
Answer some questions regarding your:

Education level
Academic interest
State
Residency
Career
Unique qualifications
After we curate the potential programs, you can review the amounts, deadlines, and requirements in the app.
Anything Else You Need?
DoNotPay offers an exhaustive range of products and services for one low monthly fee. You can take full advantage of our offer once you resolve the issue at hand.
Our app can both save you money and help you earn it—sign up to appeal parking tickets, get assistance with utility bills, get compensation from airlines, request a refund, have your college application fees waived, find your missing money, reduce property taxes, enter any sweepstake, or send a financial aid appeal letter to any school.
We can also turn your gift card balance into cash, help you apply for scholarships, and assist you in getting compensation as a victim of crime.
There's Even More to Our Offer
The world's first robot lawyer can turn any nightmarish admin or legal procedure into a piece of cake. Look into our knowledge base to find out how to send a letter of warning to your bad neighbor, submit an anonymous complaint to your HR, fight workplace discrimination, get access to public records, deal with a stalker or harasser, put an end to robocalls, and file a complaint with any company.