The Fundamentals of a Medical Power of Attorney
No one feels comfortable thinking about potential health issues, but it's always recommendable to prepare yourself for such situations in advance. Many people decide to create a medical power of attorney to be on the safe side if a serious or terminal illness occurs.
If you don't know much about this document but want to get more familiar with it, do so by exploring this comprehensive guide. We:
Give you a concise medical power of attorney definition
Explain:

When you need such a document
What powers you can transfer with a health care directive
Who can be your health care agent
How you can create a medical power of attorney yourself or use DoNotPay to have it drafted in minutes
What Is a Medical Power of Attorney?
A medical power of attorney is a legal document that allows you to choose an agent who will make health-related decisions for you if you're unable to. Your health care agent must inform the medical staff about your preferred way of treatment if you are incapacitated or unable to think or speak clearly.
The document serves to:
Offer you peace of mind
Prevent doctors from forcing you to receive treatments or medications you don't want
Ease pressure on friends or family members who would otherwise have to decide in your stead
Depending on the state you live in, the medical power of attorney can also be known as a living will, health care proxy, advance health care directive, or health care power of attorney. You must check your state's legislature thoroughly to figure out which term(s) your state of residency uses.
To Whom Can You Transfer Powers With a Simple Health Care Power of Attorney?
Picking a health care agent is the most significant decision you will make when creating a medical power of attorney. It must be someone you trust with your life. Most people choose their friends or relatives as their attorneys-in-fact, but it's also possible to assign the rights to your:
Spouse
Adult child
Long-term partner
What Powers Can You Transfer With a Medical Power of Attorney?
You can allow the chosen health care agent to make decisions related to:
Drug treatments you want or don't want to receive
Surgeries you want or don't want to undergo
Medical staff you want to be treated by
Places where the treatments will take place
Tube feeding
Organ donation
Comfort care
Resuscitation or disconnecting life support
How To Make a Medical Power of Attorney Yourself
Below is the table showing the steps to follow when making your power of attorney:
Step
Details
Getting the necessary medical form
You can:

Choose an online template—This option is quick and affordable but unreliable, as online forms are usually outdated or too generic
Download the official form of the state where you reside
Compose the document yourself
Hire an attorney to draft a medical directive in your stead—This method entails considerable fees

Fill out the form carefully
All the details in your advance health care directive must be correct and up-to-date
Sign the document with the witnesses
A medical power of attorney also needs to be signed and notarized in most states. The number of witnesses varies from state to state—ensure you have the accurate info
Get a Flawless Medical Power of Attorney With DoNotPay
DoNotPay has an ideal solution that allows you to plan your health care without bureaucratic hurdles. In only a few taps, you can get a medical power of attorney tailored to your needs and wishes.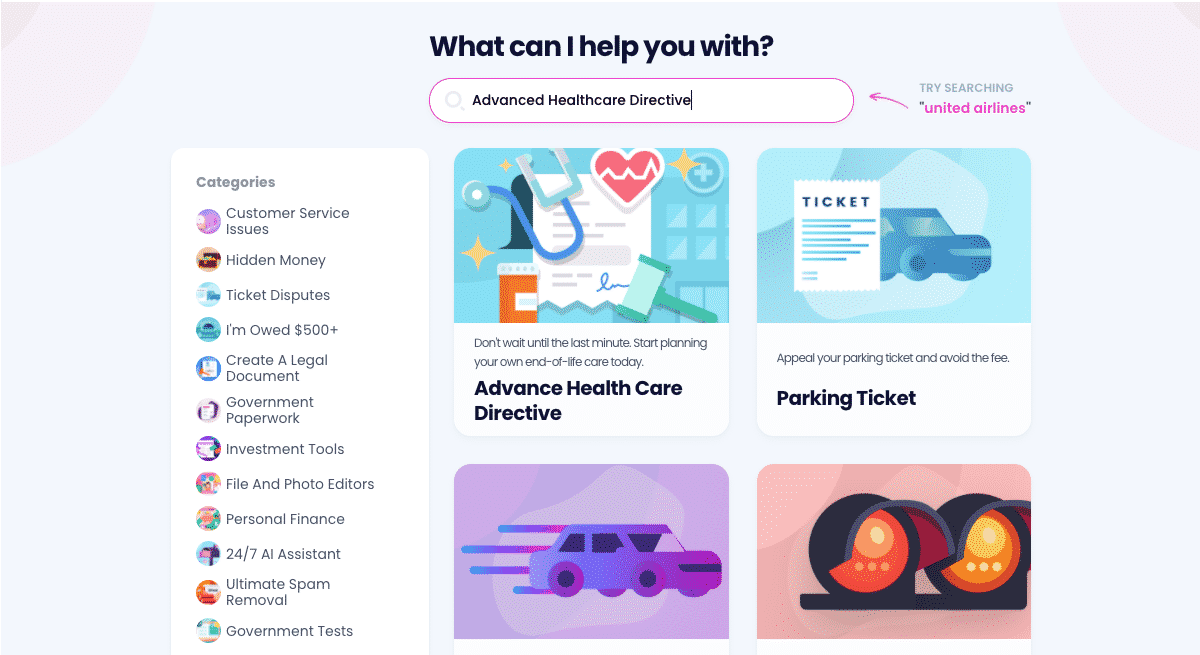 Here's what you need to do after you access DoNotPay from any preferred web browser:
Find the Advance Health Care Directive product
Enter the name of your agent and other requested medical information
Tell us what powers you want to assign to your agent
Name the witnesses who will confirm the legitimacy of the document
Are you curious to know more about medical power of attorney? Visit our learning center and discover: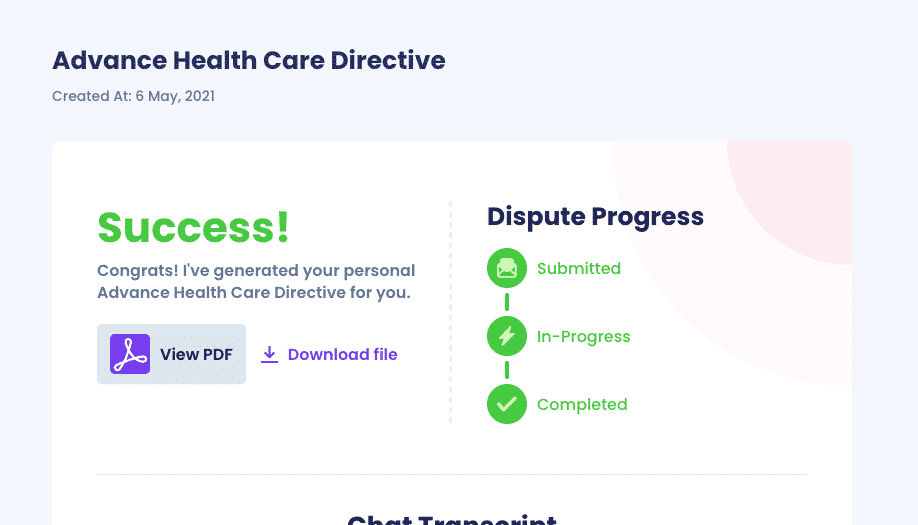 Rely on DoNotPay and Get Rid of Administrative Issues
Are you tired of returning items, canceling subscriptions, fighting parking tickets, and mailing letters? We can help you fast-track all these tasks and more! Do you need help reaching customer service, fighting workplace discrimination, submitting defamation demand letters, or filing HR complaints? Use DoNotPay and solve any issue without a hitch.
Feel free to also use our app to study for government tests, apply for scholarships, appeal low financial aid offers, and request college fee waivers.
Do you need help paying bills? DoNotPay can assist you in lowering your property taxes, getting gift card cash back, entering sweepstakes and giveaways, and getting refunds.
With us, you'll be able to both earn and save money!
Say Goodbye to Spammers With DoNotPay's Assistance
Getting spammed on the daily? Our app can put an end to this annoying issue! Block spam emails, text messages, and robocalls in a few clicks. We can even help you deal with stalking and harassment.
Thanks to our Burner Phone product, you'll get a temporary phone number that you can submit when registering on different platforms and protect your privacy.
Another way to keep your privacy intact is using DoNotPay's virtual credit card. Signing up for free trials without hidden charges and revealing your contact details has never been easier!