Writing a Medical Power of Attorney in WV Made Simple
Do you fear someone might not respect your final wishes about your end-of-life care? A medical power of attorney helps you designate a person (known as a health care agent) that will make decisions about your health in your interest. This article covers the peculiarities around writing a medical power of attorney in WV and explains the easiest way to do it—with DoNotPay!
What Is a West Virginia Medical Power of Attorney?
A medical power of attorney is also known as a health care proxy and differs from a standard power of attorney. It declares your wishes regarding medical treatment in situations when you can't make decisions—for example, if you become:
Terminally ill
Permanently unconscious
Unable to speak or express your wishes on the spot
The health care agent you designate ensures your instructions are being followed through and decides about any aspect of treatment you didn't specify. You can designate this important role to your family and friends, but by no means to your:
Conservator
Health care provider or anyone assisting them (nurses, doctors, or surgeons)
What Does a WV Medical Power of Attorney Contain?
A WV health care proxy requires you to include details about:
Your health care agent, such as their:

Name
Address
Area code
Telephone number

The substitute of the health care agent if they're not present (same details as for the primary health care agent)
The treatment you want to receive (or not)
When Does a WV Medical Power of Attorney Become Valid?
For your medical power attorney to be valid in West Virginia, you need to:
Have it in writing
State the date of execution
Get it notarized or have at least one witness. The witness(es) have to be over 18 years of age, and at least one of them mustn't be your:

Relative
Health care agent
Health care provider and their employee
Residential care provider or their employee
The witness also mustn't be someone entitled to any part of your estate or holding a claim against your part of it.
What Is the Difference Between a WV Living Will Form and a WV Medical Power of Attorney?
According to West Virginia law, both the living will and medical power of attorney are related to health care decision-making, but there is a significant difference between the two. Check out when to use each document:
| Document | Purpose |
| --- | --- |
| Living will | You can use this form if you want to prevent life-prolonging interventions, such as resuscitation, kidney dialysis, or machines helping you breathe. The document is only valid if you're in a vegetative state and informs your health care provider about the treatment you do not wish to receive. You can create a living will on your own or ask for a lawyer's help |
| Medical power of attorney | You want to use this document to designate a person responsible for deciding about your treatment when you're unable to express your wishes yourself |
Ways You Can Create a Medical Power of Attorney in WV
You can approach creating an advance health care directive in WV in several ways:
Hire a lawyer to do it for you—Typically the easiest but most expensive way to create an advance health care directive
Download and complete a premade form—Browse through free and paid advance directive forms or create your own using those you found as a guideline
Write the medical power of attorney from scratch—You can write your own medical power of attorney using the information available online. This method is free, but it's least time-efficient
Use DoNotPay—Our handy app is less costly but as equally efficient as a lawyer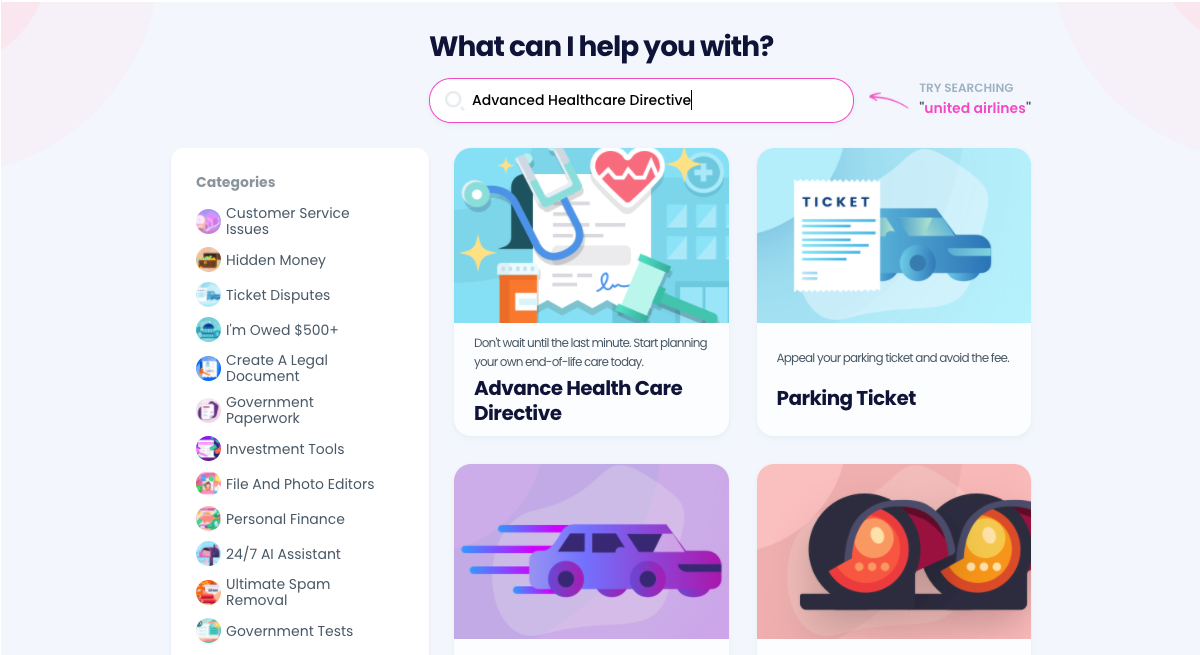 Creating a Medical Power of Attorney in WV Is a Breeze With DoNotPay!
Make your decision known—DoNotPay will help you create a complete medical power of attorney in a matter of moments! All you need to do is:
Search Advance Health Care Directive
Designate your health care agent and tell us more about the treatment you want (or don't want) to receive
Enter the names of your witnesses
Once you get your custom medical power of attorney, you can rest assured that your health care provider will act according to your wishes.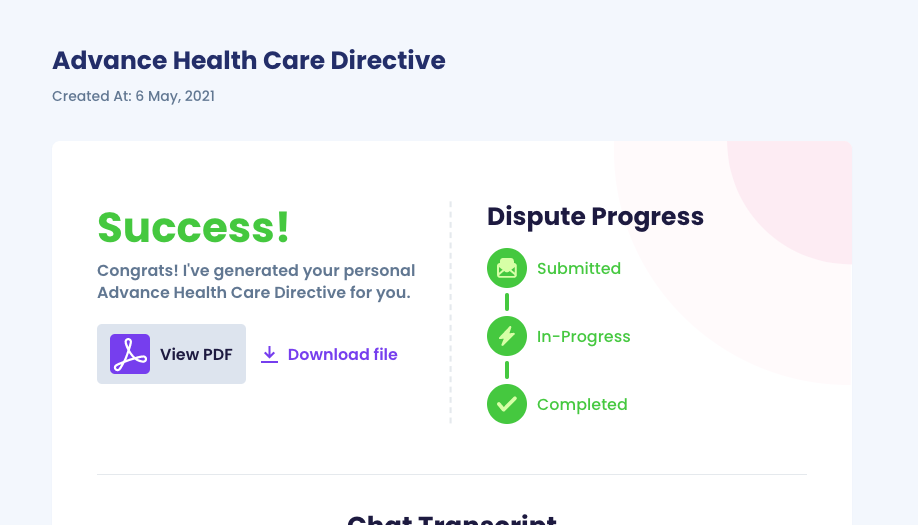 With DoNotPay, There's Always a Way
There's so much more we can do for you! As soon as you sign up for our AI-powered app, you will have a myriad of nifty products at your disposal. We can do any of the following and more:
Tired of Companies Mistreating You?
If you're sick of dealing with greedy companies, subscribe to DoNotPay—we'll assist you with any issue at hand.
If you want to get a refund, send an item return request, file a complaint, claim insurance or warranty, get a free trial without getting charged by using our virtual credit card, or put an end to robocalls, your AI-powered assistant will be there to help.
When you decide to take legal action, our app will support you along the way. Sue any company in small claims court worry-free!