Everything You Should Know About a Medical Power of Attorney in Washington State
If you want to ensure your preferences regarding medical treatment are honored and help your family make tough medical decisions in challenging situations, you must think ahead. The best way is to create a legal document that contains all the information on how you want to be treated if in a serious condition.
The rules and regulations for this particular agreement vary from one state to another, so you should follow the local laws to get an enforceable document. Use DoNotPay to draw up a medical power of attorney in Washington State the easiest way.
What Is a Medical Power of Attorney in Washington State?
A medical power of attorney (medical POA) is a type of advance directive that allows you to appoint another person to make health care decisions for you if you cannot communicate your wishes.
This document usually takes effect when you become incapacitated and only lasts for as long as you cannot take care of yourself. You can also make one for your children in case you want to grant someone the power to decide on your behalf while you are away or are in any other way unable to participate.
A medical power of attorney goes by other names, including:
Durable power of attorney for health care
Medical directive
Personal directive
Health care power of attorney
If you want to resolve any further dilemmas regarding the potential state-specific differences among these documents, such as the health care proxy vs. power of attorney confusion, we offer various helpful articles in our Learning Center.
Who Can You Appoint as Your Agent in Washington State?
Your agent can be any individual over 18 years of age. The most important quality you should look for in a proxy is trustworthiness. People usually opt for their spouses, adult children, or close friends, but a legal professional or an impartial third party may also be suited for the role.
Is a Living Will Different From a Durable Power of Attorney for Health Care in Washington State?
A living will is another type of advance directive that's similar to a medical power of attorney. The difference is that you do not need to appoint anyone as your agent if you opt for a living will in Washington State. It clearly expresses your wishes about medical treatments to health care professionals directly.
This document usually comes into effect when you are near death. You will need specific instructions on how to create a living will and should be aware of the possible cost. DoNotPay has all the information about the living will form as well.
How To Create a Medical Power of Attorney in Washington
Several options are available for creating a medical POA in Washington State. The following table offers the essential details:
Create a Medical POA By:
Relevant Points
Drawing it up yourself

Requires sufficient legal knowledge
Your document can turn out to be invalid if you don't compose it properly

Hiring a lawyer

Provides the wanted results
Is extremely expensive

Using DoNotPay

Gets you the wanted results
Saves you money
Generates the agreement instantly
How Do You Make a Medical Power of Attorney Enforceable in Washington?
To make a medical POA valid in Washington, you need to either:
Sign your document in the presence of two adult witnesses who are not:

Related to you
Entitled to any portion of your estate
Your physician or an employee of a medical facility caring for you

Sign and acknowledge your document before a notary public
Use DoNotPay To Create a Medical Power of Attorney in Washington
If you are looking for a straightforward and affordable way to create an airtight medical POA in Washington, look no further than DoNotPay. We will compose a legal document tailored according to your wishes in a matter of minutes. You won't have to use complicated forms to get the results. Here are the only steps you need to take:
Select the Advance Health Care Directive product
Appoint your agent and type in other relevant medical information
Tell us what powers you want to transfer to your agent
Enter the names of the individuals who will witness the signing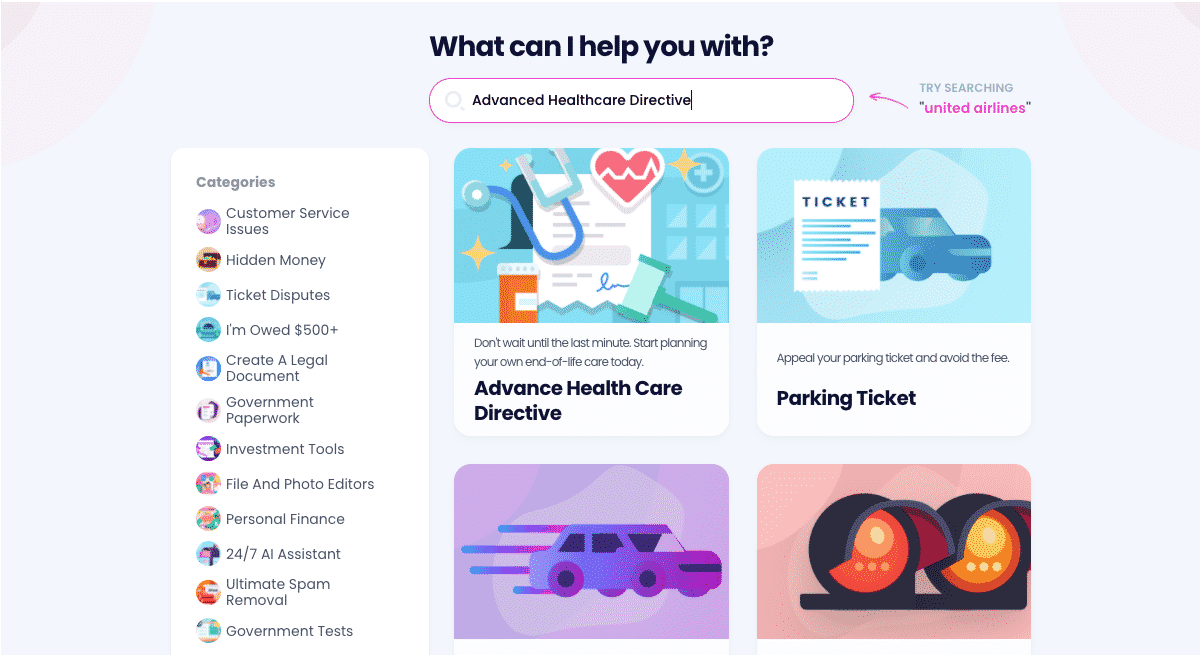 Deal With Administrative Issues With Ease
Drafting contracts and agreements, getting your documents notarized, disputing parking tickets, and creating passport photos will become a breeze once you sign up for DoNotPay.
We can also help you:
DoNotPay Helps You Protect Your Consumer Rights
Don't let companies take advantage of you! With our help, you'll be able to cancel any subscription or membership and request a refund.
As a consumer, you may be overwhelmed with endless steps and piles of paperwork you need to go through to get what you're owed. This is where DoNotPay comes in—let us be your assistant and fast-track the following:
Have you forgotten about a free trial you signed up for? Avoid being charged by using our app! With DoNotPay's virtual credit card, you'll get unsubscribed automatically without the company taking any money from you.
Are you getting spammed via email or text? Get rid of spam for good with our nifty app!