Medical Power of Attorney vs. Guardianship—Get to the Bottom of It With DoNotPay
No one likes talking about difficult topics—such as medical treatments you want to receive if you become incapacitated—but, in some situations, it is essential. Not stating your wishes can only cause problems for your loved ones and lead to you being treated differently from what you'd otherwise decide.
You can deal with this issue by appointing an individual who will be in charge of making medical decisions for you.
Medical power of attorney vs. guardianship—which document do you need? In this article, DoNotPay explains the difference between the two and shows you how to hassle-free.
Medical Power of Attorney vs. Guardianship—Similarities and Differences
Both medical power of attorney and guardianship are used to appoint someone to act in your stead if you become incapacitated. The main difference between the two documents is who decides on the person in charge of making those decisions.
What Is a Guardianship, and When Is it Used?
In the event of becoming incapacitated and not being able to make medical decisions, a court can appoint a person to become your guardian.
A guardian can be authorized to make:
Legal decisions
Financial decisions
Health care decisions
Since guardianship gives so much power to the person in charge, the court will only impose it when less restrictive alternatives (medical POA, for example) have been tried and proven ineffective. Guardianships also:
Cost more
Take more of your time
Cause a significant emotional toll on your loved ones
What You Should Know About a Medical Power of Attorney
With a medical power of attorney, you are the one to appoint a person who will make medical decisions for you. This individual is called an agent, and they will have as much power as you decide to transfer to them.
You can come across many different names used for a medical POA, including:
Health care power of attorney
Personal directive
Medical directive
Living will
Some states recognize subtle differences between these documents (e.g., a health care proxy and medical POA). Many parts of the country also allow you to make a living will as a separate document. This process requires specific forms, and its cost can vary depending on the method you choose.
How Can You Create a Medical POA?
If you decide to think ahead and ensure a trustworthy person will make decisions in your name once you no longer can, you have to create a medical POA.
There are several ways you can create this document, but keep in mind that some are better than others. You can find a brief overview in the following table:
| Making a Medical POA By | Explanation |
| --- | --- |
| Hiring a lawyer | This option will provide you with the wanted results but at an extremely high price |
| Creating one from scratch | Keep in mind that you should not attempt making a medical POA on your own if you lack legal knowledge |
| Using online forms | Free advance directive forms you can find online can act as a rough guide, but they are generic and won't be enough for you to make a document properly |
| Using DoNotPay | By using our app, you will save time and money and get a well-written document |
Make a Medical Power of Attorney With DoNotPay's Help
The easiest way to make a medical POA is by using DoNotPay. Our app will provide you with a rock-solid legal document that will give you peace of mind.
The process is straightforward—you only need to take a few simple steps:
Find our Advance Health Care Directive product
Appoint a health care agent and choose the power you want to transfer to them
Enter the relevant medical information (your hospital, doctor, etc.)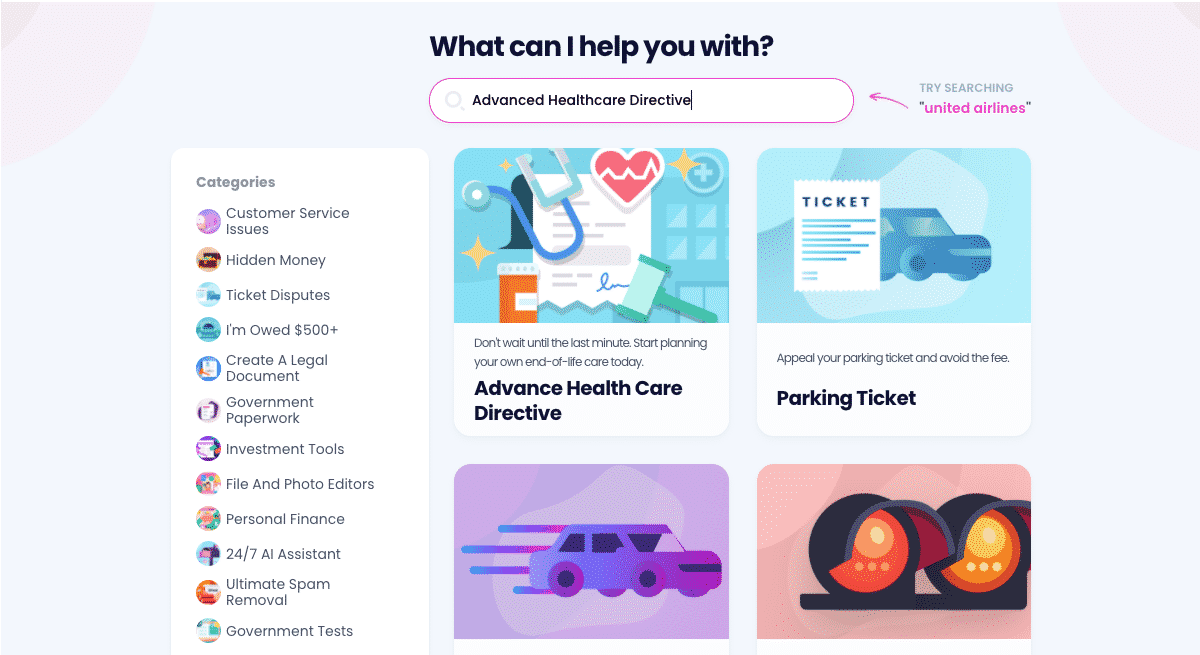 Skip the Bureaucratic Hurdles With Our Help
If your unfinished tasks are piling up each day, we can help save you time and energy. Let DoNotPay do the heavy lifting and complete the following for you:
In one fell swoop, our app will draft legal documents, fax them online, and get them notarized. In case you need to request a college fee waiver, find unclaimed money, file a FOIA request, or contest parking tickets, you can count on DoNotPay's help.
We Offer Even More Ways To Assist You
Once you sign up for DoNotPay, there aren't many problems that we can't solve for you. Take a look at the table below to get an idea of what we can help you with: