Make a Medical Power of Attorney in Virginia Easily With DoNotPay
Are you worried about how you will be treated when you can no longer communicate your wishes and make decisions regarding your health? You should make a suitable advance directive, such as a medical power of attorney.
Each state has its rules and requirements regarding these documents. This article will explain what a medical power of attorney in Virginia is and how you can create it using DoNotPay.
What Does a Virginia Medical Power of Attorney Entail?
A medical power of attorney is a legal document that enables you to appoint an individual to act as your health care agent. The person you choose will be in charge of making medical decisions according to your wishes specified in the document but also the ones you did not cover. Your agent should be an adult (18 or older) and a trustworthy person.
People usually opt for the following individuals to act as their agents:
Spouses
Close friends
Adult children
Other family members
Bear in mind that you cannot appoint your doctor or an employee of the health care facility you are being treated in as your agent.
Medical Power of Attorney in VA—Alternative Names
A medical power of attorney is a type of Virginia advance directive, and it goes by other names, including:
How To Make a Medical POA Legally Binding in Virginia
To make your medical power of attorney legally binding in Virginia, you must sign the document in the presence of two witnesses. The Mother of States lets you choose any person as your witness (even your health care providers) as long as they are 18 or older.
What Are Your Options for Creating a Medical POA?
You can choose between a few options for creating a medical POA, but not all of them will cost the same and provide you with the same results. Take a look at the table below for more information:
| How To Make a Medical POA | Explanation |
| --- | --- |
| Create one from scratch | This option requires sufficient legal knowledge as you'll end up with an invalid document otherwise |
| Use online forms | Free advance directive forms you can find online are generic and won't be able to cover your specific case and wishes |
| Hire a lawyer | You will need to spend a significant amount of money on lawyer fees |
| Register for DoNotPay | Our budget-friendly app will generate a medical power of attorney tailored to your needs |
Use DoNotPay To Generate a Medical Power of Attorney in Virginia
If you want to get a well-written medical power of attorney, you should turn to DoNotPay for help. Our app will include all your wishes regarding medical treatments and ensure your agent has clear instructions. These are the only steps you need to take:
Type in Advance Health Care Directive in the search box
Appoint your agent and include the powers you want to transfer to them
Enter the names of the individuals who will witness you sign the document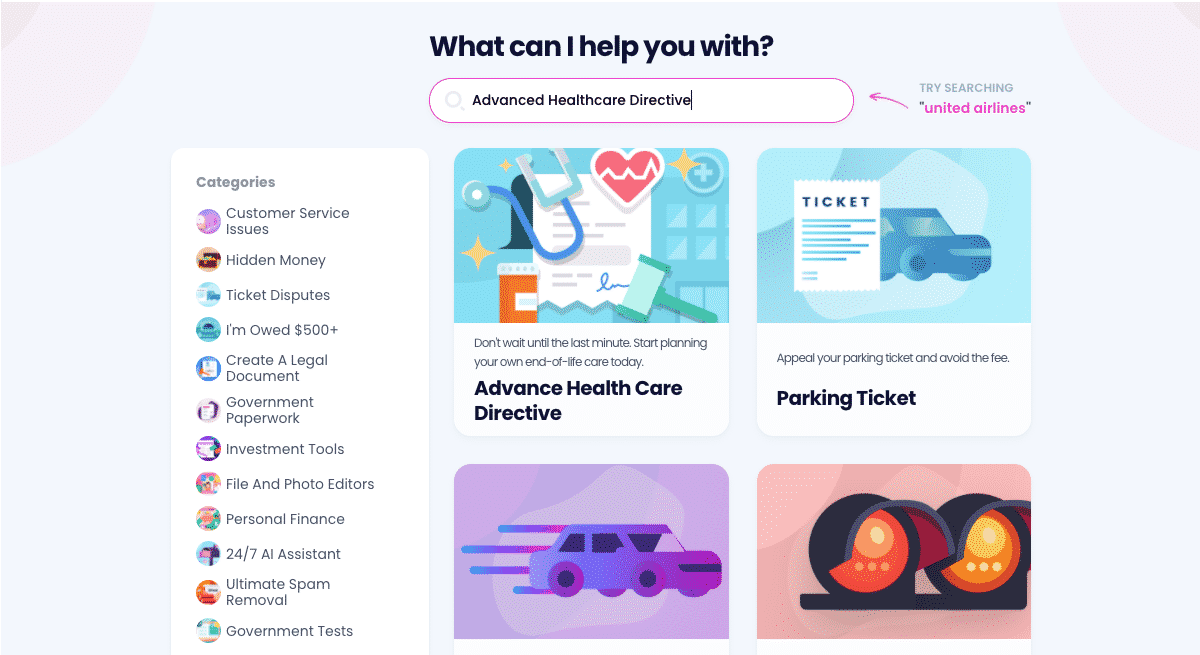 Are There Other Types of Advance Directive in Virginia?
The other type of advance directive in Virginia is referred to as a living will or written directive. A living will is used to state your wishes on treatments in case you become:
Terminally ill
Permanently unconscious
If you can no longer speak for yourself, the living will should provide instructions for your health care providers. Creating a living will is not a simple task, and it requires consideration of what forms you should use and how much the process will cost.
Skip the Bureaucratic Hurdles With Our Help
If your unfinished tasks are piling up each day, we can help save you time and energy. Let DoNotPay do the heavy lifting and complete the following for you:
| Bureaucracy | Spam and Harassment |
| --- | --- |
| | |
In one fell swoop, our app will draft legal documents, fax them online, and get them notarized. In case you need to request a college fee waiver, find unclaimed money, file a FOIA request, or contest parking tickets, you can count on DoNotPay's help.
We Offer Even More Ways To Assist You
Once you sign up for DoNotPay, there aren't many problems that we can't solve for you. Take a look at the table below to get an idea of what we can help you with: