A Secret to a Perfectly Composed Medical Power of Attorney in TN
If you suffer an accident or get sick and become unable to make your own health care choices, someone will have to decide on your behalf. You can legally designate a person to do it by creating a medical power of attorney, in some states also known as a health care proxy.
All states have specific requirements your document must meet to be valid. This article focuses on the basics of a medical power of attorney in Tennessee by answering the following questions:
What is the Tennessee medical power of attorney?
How to choose witnesses for a medical proxy in Tennessee?
What elements should the document include?
We will also teach you how to use DoNotPay to create living wills, health care powers of attorney, or advance directives in a few taps!
What Is a Medical Power of Attorney in Tennessee?
In Tennessee, a medical power of attorney is called a durable power of attorney for health care or an appointment of a health care agent. It represents a legally binding document that allows you to pick a person who can make medical care decisions based on your wishes and preferences. Such a form becomes effective if you:
Are terminally ill
Become permanently unconscious
Suffer from an illness that prevents you from thinking or speaking clearly or recognizing your loved ones
Your health care agent can make choices related to any aspect of your future health care unless you impose specific limitations to their power. They can be your family member, friend, partner, adult child, or any other person mature enough to bear this responsibility, excluding:
Your conservator
Your health care provider
People working for your health care provider
A Tennessee durable power of attorney isn't the same as a financial power of attorney or a living will. These are different types of health care directives, but you can combine them according to your wishes.
Signing Requirements for a Tennessee Medical Power of Attorney
Section 34.6 of the Tennessee Statute mandates that a durable health care power of attorney:
Is in writing
States the date of execution
Is signed by the principal—a person transferring their health care powers to the health care agent
You must have two witnesses sign the document or have your signature attested by a notary public.
Who Can Witness Your TN Medical Power of Attorney?
Not everyone can witness your durable health care power of attorney. The table below helps you determine who to choose for this assignment:
None of Your Witnesses Should Be
At Least One of Your Witnesses Shouldn't Be

Minor
Your health care agent
Your health care provider
Employee of your health care provider
Operator of the health care institution you reside in
Person of unsound mind

Your heir
Related to you by blood, marriage, or adoption
What Should Your Tennessee Health Care Power of Attorney Include?
Here are the sections every comprehensive power of attorney for health care in Tennessee should contain:
The general statement confirming that you are appointing a particular person as your health care agent
Legal name, address, and contact details of

Designated health care agent
Alternate agent, who will decide on your behalf if a primary agent can't or doesn't want to do it

Signatures of both primary and alternate agents
Signatures of both witnesses
Effective date
County
Notary's statement and signature (if you choose a notary instead of witnesses)
DoNotPay Crafts a Medical Proxy for You in a Snap
Do you need a quick Tennessee medical proxy, living will, or another advance directive in this state? No worries—DoNotPay can generate them for you in minutes and help you avoid:
High fees attorneys charge for creating a living will or a health care proxy
Suspicious online templates
Here's what you should do:
Open DoNotPay and look for Advance Health Care Directive
Name your primary/alternate agent and witnesses
Give us more info about your medical care wishes
Once we create a personalized document for you, DoNotPay can also help you have it notarized online!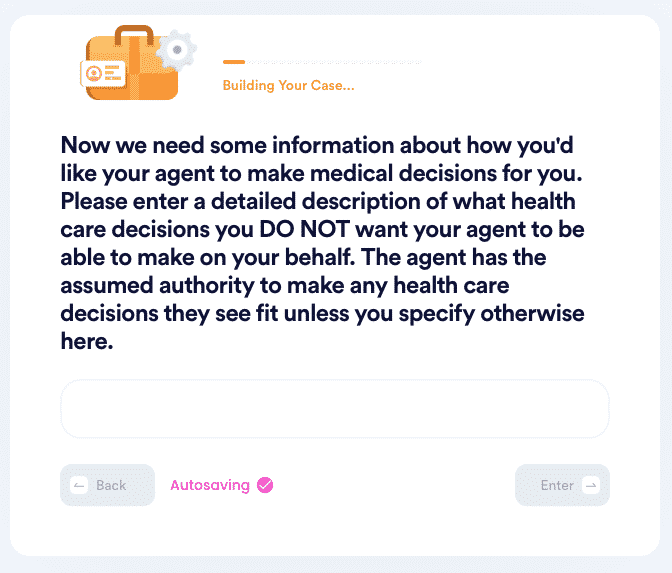 DoNotPay Offers More Assistance!
Our app boasts many features that can make your life easier.
Do you need help searching for unclaimed money or covering bills? Are you looking for clinical trials you can sign up for to earn some extra money? We can help you out in a flash!
Other tasks we can streamline for you are the following:
Forget Hiring a Lawyer—Use DoNotPay Instead
You don't want to spend a fortune on lawyer fees? No problem! DoNotPay—the world's first robot lawyer—is here to assist you! With our help, you'll be able to file complaints, sue anyone in small claims court, handle stalking and harassment, get crime victims' compensation, and draft numerous documents, including:
If you need to get a document notarized, you can also count on our help. We'll connect you with an online notary who will notarize your document in a flash.