A Medical Power of Attorney in Texas Unriddled
Taking over the reins of your health care is a good call. Once you decide to provide instruction to your health care providers, you should draw up a/an:
Since each state has different legal requirements, this guide provides tips for creating a medical power of attorney in Texas.
What Is a Texas Medical Power of Attorney?
A Texas medical power of attorney (POA )is a legal document that lets you choose someone you trust to make decisions about your health care in case you are unconscious or unable to:
Express your wishes
Make decisions for yourself
While you are called the principal in a medical power of attorney form, the person you designate becomes your health care agent.
What Can an Agent Do Based on a Medical Power of Attorney Form in Texas?
Your health care agent can get:
A broad scope of powers and make any decisions concerning your health care as long as you are incapacitated
Specific instructions and restrictions on their authority
Keep in mind that:
You're the one who is in charge of your health care as long as you can make medical decisions
Your agent can act on your behalf after your doctor has concluded and certified that you are incompetent of making decisions for yourself
According to Texas law—regardless of whether there's a medical power of attorney and certification of incompetence—a health care provider cannot administer or withhold medical treatment from you if you refuse
Texas Medical Power of Attorney Forms and Related Documents
If you're ready to draw up a Texas durable power of attorney for health care, you could also get familiar with additional documents that are commonly associated with a medical POA.
The table below presents these forms, so you could consider drafting them at the same time:
Texas Medical Power of Attorney and Other Forms
Specifics
Advance health care directive
Texas advance directive forms include the following:

State of Texas medical power of attorney form
Mental health treatment declaration
Living will

Living will
A Texas living will form allows you to indicate your preferences for medical treatment in case you're not able to communicate your wishes since you are:

Terminally ill
In a coma or persistent vegetative state
Keep in mind that a medical power of attorney (POA):
Isn't the same document as a (financial/durable) POA
Can differ from a health care proxy in some U.S. states
How To Get a Medical Power of Attorney in Texas
To prepare a Texas health care power of attorney, you could consider the following options:
Visit a law office—Lawyers can draw up any legal document for you, but you need to make sure you can afford their costly service
Download a medical power of attorney template—Texas organizations might provide forms you could adjust to your specific needs
Use DoNotPay—Our virtual lawyer is familiar with relevant state regulations and ensures your health care document meets them
DoNotPay Produces Top-Notch Health Care Documents
Our AI-powered app will save you time, money, and energy since our process is simple and affordable yet effective.
Subscribe to DoNotPay and take the following steps:
Visit our Advance Health Care Directive product
Enter your medical preferences and the name of your agent
Choose to have your health care document notarized or provide the names of witnesses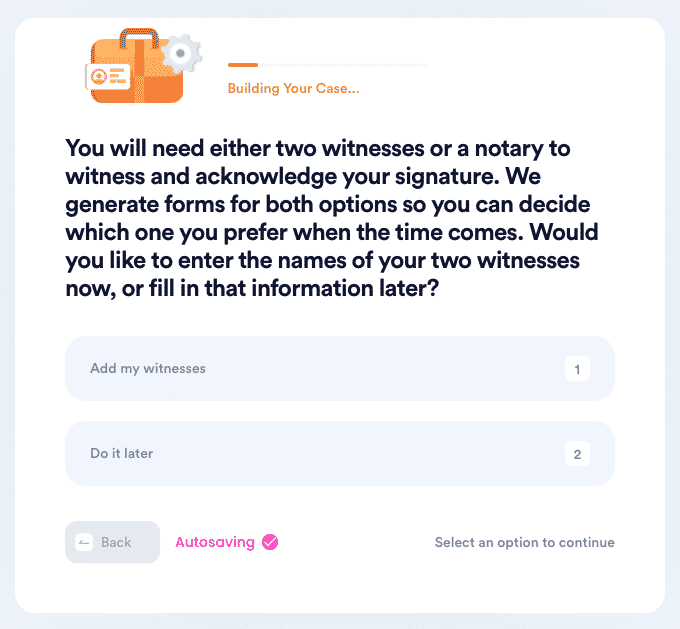 Texas Medical Power of Attorney Statute—A Notary or Witness?
For a Texas medical power of attorney to be valid, you need to sign it either in front of a:
Notary public—DoNotPay can connect you with an online notary that can notarize any document fast
Two witnesses—Keep in mind that your witnesses must be adults and cannot be:

Your physician, health care provider, spouse, or family member
Someone who will gain financial benefit upon your death
Administrative Issues Are No Longer a Problem
By signing up with DoNotPay, you can say goodbye to tiring bureaucracy and:
Our App Generates Legal Documents and Letters in Your Stead
If you need some important paperwork, DoNotPay can generate it for you in record time! Our tools can assist you in drafting the following categories of documents:
| Legal Documents | Appeals and Letters |
| --- | --- |
| | |
All legal documents you create can also be notarized and faxed online in our app!