The Gist of a Medical Power of Attorney in Ohio
A medical power of attorney is one of the most common advance directives in most states. It ensures your medical care preferences will be honored and respected if you get ill or become incapacitated.
This article will shed light on the basic concept of a medical power of attorney in Ohio and help you prepare any health care directive in no time with DoNotPay!
What Is an Ohio Medical Power of Attorney?
An Ohio medical power of attorney or health care proxy is a document designating another person to make health-associated decisions in your name if you're unable to. This individual becomes your health care agent, making medical care choices according to your personal beliefs and wishes. In most states, including Ohio, people also create a living will along with medical power of attorney, expressing specific treatment requests through a written statement.
It's important not to confuse this document with a standard power of attorney, which serves to manage finances and estate.
Who Should Be Your Health Care Agent?
Any person of legal age and sound mind can be your attorney-in-fact. It's also crucial to choose someone you trust for the role. It can be a friend, family member, spouse, or a long-term partner—even your adult child or grandchild.
An individual can't be your agent if they are:
Your primary medical practitioner or their employee
Administrator or employee of the nursing home or hospice care center you live in
What Should or Shouldn't Your Health Care Agent Decide About?
Your agent can make choices related to:
Treatments and medicines you receive
Physicians and medical personnel you are to be treated by
Nursing homes or palliative care facilities where you are staying
Life support, including CPR, artificial nutrition, and mechanical respiration
Eye, tissue, and organ donation
Despite considerable power your attorney-in-fact has, they can't:
Stop:

Life-saving treatments unless you are incurably ill or permanently unconscious
Comfort care treatments

Neglect your best interests or act against the rules you set
How To Create an Ohio Health Care Power of Attorney
The following table shows the available ways of getting a medical power of attorney in Ohio:
Method
Details
Compose a document yourself
If you create a draft yourself, make sure it contains all basic sections, such as:

Introduction—including ownership information
Definitions of the terms included
Designation of the primary agent
Designation of alternate agents
List of powers transferred by the document
Special instructions
Limitations
Witness attestation—a notary acknowledgment can be used instead if you don't have witnesses
Signatures of all involved parties

Download an online sample/template
Many websites offer different variations of the Ohio medical power of attorney form you can download. According to Ohio law, the document is valid once it's signed by witnesses or notarized
Let an attorney compose a medical proxy for you
Paying a lawyer to draft the document in your stead is a reliable option, but you must pay up to a few hundreds of dollars for the service
Use DoNotPay
DoNotPay—the world's first robot lawyer—can help you skip the hassle and get a customized document in a few minutes
Discover the Easiest Way To Compose a Medical Proxy With DoNotPay
Solid health care proxies and living wills are quite difficult—and sometimes too expensive—to prepare.
Luckily, DoNotPay has a solution for your problem! Our Advance Health Care Directive tool can create a medical power of attorney and living will in Ohio and other states in your stead. The best part is that you will get a ready-made document within minutes!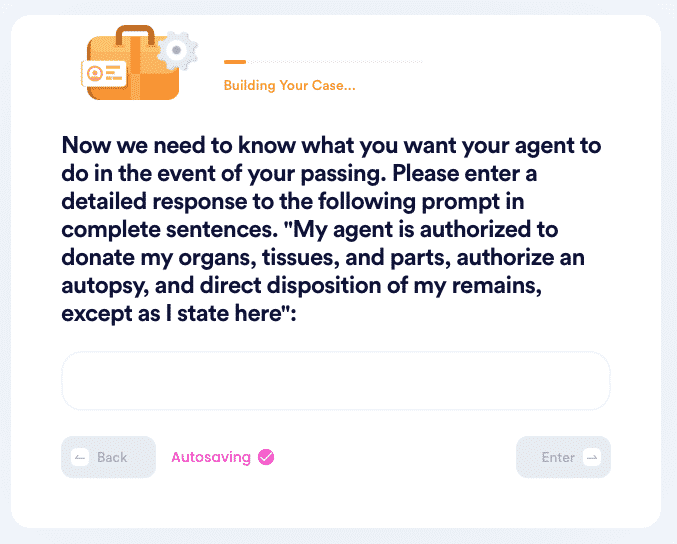 Here's how this product works:
Visit DoNotPay and search for the Advance Health Care Directive tool
Type in the name of the primary agent
Tell us more about your preferred medical treatments or desired end-of-life care wishes
Disclose the witnesses' names
Our app can also connect you with an online notary and help you get your document notarized if your state laws require you to do so.
Rely on DoNotPay and Get Rid of Administrative Issues
Are you tired of returning items, canceling subscriptions, fighting parking tickets, and mailing letters? We can help you fast-track all these tasks and more! Do you need help reaching customer service, fighting workplace discrimination, submitting defamation demand letters, or filing HR complaints? Use DoNotPay and solve any issue without a hitch.
Feel free to also use our app to study for government tests, apply for scholarships, appeal low financial aid offers, and request college fee waivers.
Do you need help paying bills? DoNotPay can assist you in lowering your property taxes, getting gift card cash back, entering sweepstakes and giveaways, and getting refunds.
With us, you'll be able to both earn and save money!
Say Goodbye to Spammers With DoNotPay's Assistance
Getting spammed on the daily? Our app can put an end to this annoying issue! Block spam emails, text messages, and robocalls in a few clicks. We can even help you deal with stalking and harassment.
Thanks to our Burner Phone product, you'll get a temporary phone number that you can submit when registering on different platforms and protect your privacy.
Another way to keep your privacy intact is using DoNotPay's virtual credit card. Signing up for free trials without hidden charges and revealing your contact details has never been easier!