Learn the Fundamentals of a Medical Power of Attorney in New Mexico
Getting a proper medical power of attorney/health care proxy ensures you will be treated according to your preferences if you get too sick to decide for yourself. Each state has a different set of rules for creating and putting this document into effect.
In this article, you will learn the ins and outs of a medical power of attorney in New Mexico and find the simplest way to get one! Sign up for DoNotPay, and we will show you how to compose an advance directive for any U.S. state in under five minutes!
New Mexico Health Care Power of Attorney in a Nutshell
In New Mexico, a power of attorney for health care is defined as a legal document authorizing a person of trust to make medical care decisions in your name. The designated individual is responsible for carrying out your health-care-associated wishes if you lose the ability to express them yourself.
To be legally binding, your medical power of attorney must be:
In writing
Dated
Signed by you
Signed by two adult witnesses or a notary public
This document is also a type of the New Mexico advance directive, along with the state-specific living will. The state law doesn't require you to fill out any of these forms, but having both is highly recommendable.
What Powers Does a Health Care Agent Have in New Mexico?
Your New Mexico health care agent can:
Accept or reject specific therapies and drugs
Hire or dismiss medical personnel you want or don't want to be treated by
Choose a health care facility or nursing home where you will reside
Approve or disapprove various diagnostic tests and surgical procedures
Decide if your organs and tissue can be donated once you pass away
Withhold or withdraw life support, including artificial breathing, nutrition, and hydration
Keep your medical records
Fundamental Parts of a Medical Power of Attorney in NM
Here are the elements a proper New Mexico medical proxy should include:
Designation of an agent, including:

Statement confirming that you choose a particular individual as your health care agent
Full name, mailing address, and contact details of the designated agent

Designation of a successor agent, containing the same info as required for the primary agent
Agent's authority (transferred rights and powers)
Limitations and special instructions
Circumstances in which the agent's authority becomes effective
Nomination of guardian
Durability
How To Revoke a New Mexico Health Care Proxy
If you are still mentally competent, you can revoke a health care power of attorney in one of the following ways:
Written Methods
Oral Methods

Signing a written revocation statement
Canceling the current medical power of attorney by creating a new one and making it legally binding
Filing for divorce (if your spouse is your health care agent)

Personally informing your designated physician or health care provider about the change
Shield Your Health Interests by Creating a Medical Proxy With DoNotPay
Whether you want to create a living will or prepare any other health care directive without paying astronomical fees, DoNotPay is your way to go. Our AI-based system:
Lets you describe your health-related wishes, beliefs, and choices
Tailors a personalized living will/medical proxy based on the details provided
Enables you to schedule a video appointment with a notary and get your document notarized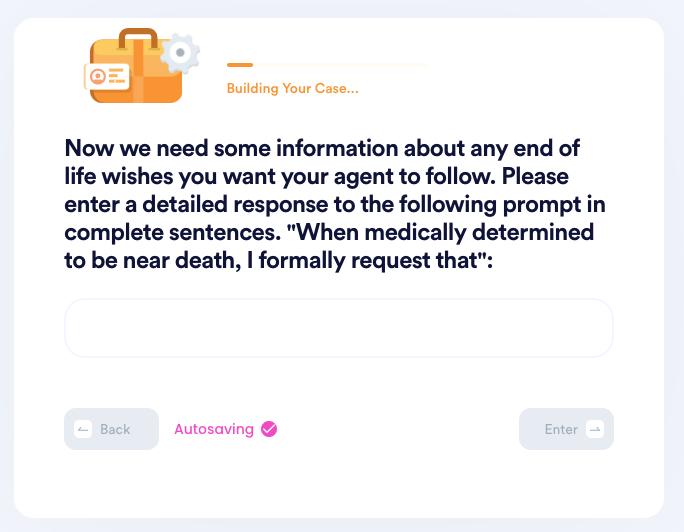 We need you to:
Navigate to the Advance Health Care Directive tool
Provide the info about your agent and witnesses
Fill out a simple questionnaire related to your medical and end-of-life care wishes
Once you complete these steps, we won't need more than a few minutes to compose your document!
Did you know that a health care proxy and power of attorney aren't necessarily the same document? How about that a power of attorney cannot be transferred to a spouse automatically? Expand your knowledge on the subject by visiting our learning center!
Rely on DoNotPay and Get Rid of Administrative Issues
Are you tired of returning items, canceling subscriptions, fighting parking tickets, and mailing letters? We can help you fast-track all these tasks and more! Do you need help reaching customer service, fighting workplace discrimination, submitting defamation demand letters, or filing HR complaints? Use DoNotPay and solve any issue without a hitch.
Feel free to also use our app to study for government tests, apply for scholarships, appeal low financial aid offers, and request college fee waivers.
Do you need help paying bills? DoNotPay can assist you in lowering your property taxes, getting gift card cash back, entering sweepstakes and giveaways, and getting refunds.
With us, you'll be able to both earn and save money!
Say Goodbye to Spammers With DoNotPay's Assistance
Getting spammed on the daily? Our app can put an end to this annoying issue! Block spam emails, text messages, and robocalls in a few clicks. We can even help you deal with stalking and harassment.
Thanks to our Burner Phone product, you'll get a temporary phone number that you can submit when registering on different platforms and protect your privacy.
Another way to keep your privacy intact is using DoNotPay's virtual credit card. Signing up for free trials without hidden charges and revealing your contact details has never been easier!