The Simple Way to a Medical Power of Attorney in Nebraska
Thinking ahead and making your wishes regarding medical treatment known can rid your family of the burden of making tough decisions. The best way you can ensure your decisions are respected by your health care provider, family, and friends is to have them in writing.
Learn about the purpose of having a medical power of attorney in Nebraska and create your own in a matter of moments with DoNotPay!
What Is a Nebraska Medical Power of Attorney?
A medical power of attorney (also known as a power of attorney for health care or a health care proxy) is one part of the advance health directive you can create in the State of Nebraska, the other one being the living will.
Each of these parts of the advance health directive in Nebraska works in the interest of the declarant's health, and here's how:
Advance Health Directives in Nebraska
Purpose
Medical power of attorney (POA)
Allows the declarant to designate a representative (known as a health care agent) to decide about their health when they are:

Terminally ill
Unable to communicate their wishes

State-specific living will
Enables the declarant to state their wishes regarding end-of-life health care in writing before they become incapacitated due to their illness' progression
How To Choose a Representative for Your Nebraska Medical Power of Attorney
Designating someone to make decisions regarding your health is no easy task. You want your health care agent to respect your wishes and decide in your best interest. The State of Nebraska has several limitations in place to ensure your health care agent cannot directly interfere with your medical treatment but rather convey your wishes.
Check the table below to find out who can be your health care agent in Nebraska:
Your Health Care Agent Can Be:
Your Health Care Agent Cannot Be:

Family member
Spouse or partner
Close friend

Your assigned physician
An employee of your assigned physician
A person who is a health care agent for more than ten people (unless they are your relative)
How To Create a Medical Power of Attorney in Nebraska
Once you decide on the person you want to represent you and your best interests, it's time to make your decision official by drafting your medical POA. There are several ways you can create a medical power of attorney in Nebraska:
Find, download, and complete an online form
Write the medical power of attorney from scratch
Hire a lawyer to draft the document for you
Use DoNotPay
With DoNotPay, you're saving yourself both the difficulties of writing your own medical power of attorney or living will and the costs of hiring a lawyer.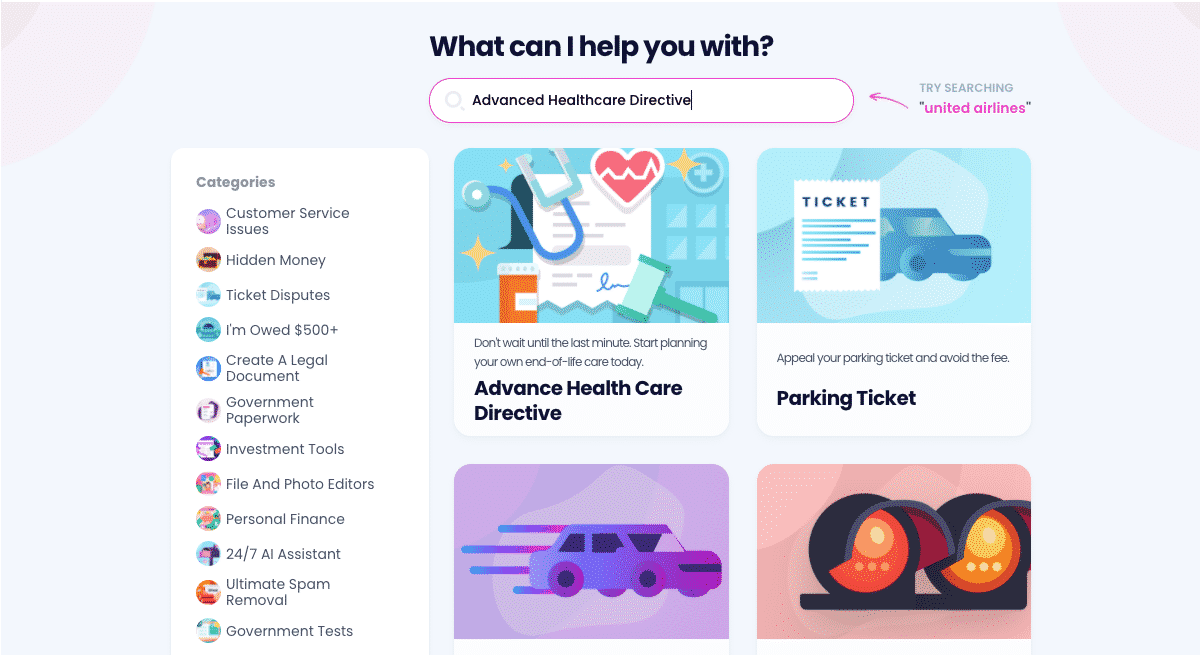 Get a Personalized Nebraska Medical Power of Attorney in a Snap With DoNotPay
The hardest part of creating a medical power of attorney is choosing your health care agent, but once you're sure of who you want it to be, drafting the official document can be a breeze. DoNotPay offers a tool that takes care of all the formalities of end-of-life health care for you, and all you need to do is:
Select the Advance Health Care Directive feature
Designate an agent and specify the treatments you wish (or don't wish) to receive
After completing all steps, you will receive a complete advance health care directive form that ensures you're prepared for any unfortunate medical circumstances. To finalize the process, you will have to:
Find two witnesses to sign it
If you're in search of a public notary, choose one of DoNotPay's online notaries! Our app enables you to schedule a remote appointment in no time, so you don't even have to leave your home!

With DoNotPay, There's Always a Way
There's so much more we can do for you! As soon as you sign up for our AI-powered app, you will have a myriad of nifty products at your disposal. We can do any of the following and more:
Tired of Companies Mistreating You?
If you're sick of dealing with greedy companies, subscribe to DoNotPay—we'll assist you with any issue at hand.
If you want to get a refund, send an item return request, file a complaint, claim insurance or warranty, get a free trial without getting charged by using our virtual credit card, or put an end to robocalls, your AI-powered assistant will be there to help.
When you decide to take legal action, our app will support you along the way. Sue any company in small claims court worry-free!