Understanding the Medical Power of Attorney in Missouri
Are there medical interventions that you would or wouldn't want to receive if you become incapacitated? Who would you communicate your treatment preferences to the doctors? The best way to ensure you are treated as you would wish in such unfortunate scenarios is to fill out a living will or medical power of attorney.
Every state has its own statutes that govern the creation of these documents. Our guide will focus on the finer details of a medical power of attorney in Missouri and teach you how to create a custom document in less than five minutes using DoNotPay.
An Advance Directive in Missouri—What Is It?
An advance directive enables you to plan your future health care by stating your preferences or appointing someone to make decisions for you. There are two types of advance directives in Missouri:
Durable power of attorney for health care (also known as a health care proxy or medical power of attorney, which is different from a general power of attorney)
Health care directive (known as a living will in most states)
The Missouri advance health care directives are usually combined within the same document, but you can choose to fill out the sections that suit your needs.
Missouri Advance Directive Form
The Missouri Bar Association provides a sample of a state-specific advance directive form. The table below describes the essential sections of the form:
Missouri Advance Directive Form Sections
Details
A durable power of attorney for health care
The first part allows you to name your agent and an alternate agent who will make health care decisions on your behalf if you're unable to do so yourself
Health care directive
This part:

Guides your agent and doctors on your medical care preferences
Allows you to state your wishes about receiving life-prolonging treatment, for instance:

Tube feeding
Cardiopulmonary resuscitation (CPR)
Antibiotics or antiviral care

Instructions to agent
Part three contains:

Instructions to the agent on how to use the advance directive in their decision-making process
Signatures of witnesses and a notary—The state of Missouri requires you to have the document notarized
Who Should You Appoint As Your Health Care Agent?
You can name any person who is at least 18 years old and of sound mind to be your health care agent. Most people appoint a spouse, close relative, or friend. According to Missouri law, your agent cannot be:
Your attending physician
Owner or worker of a healthcare facility where you are a resident or patient—unless you are related
The durable power of attorney for health care in Missouri takes effect when you become incapacitated and unable to communicate your medical care wishes. According to Missouri law, two physicians are required to confirm your state first.
Your agent's authority ends upon your death unless you grant them the following powers:
Controlling the disposition of your remains
Consenting or declining an autopsy
Consenting to donate a part or your entire body to science
The Most Effective Way To Get Any Advance Directive—DoNotPay
While you can use a state-specific advance directive form, it may not meet your particular needs. Asking a lawyer to create a custom living will or any part of the advance directive document means paying hefty fees. DoNotPay provides a fast, affordable, and reliable tool to generate your advance directive.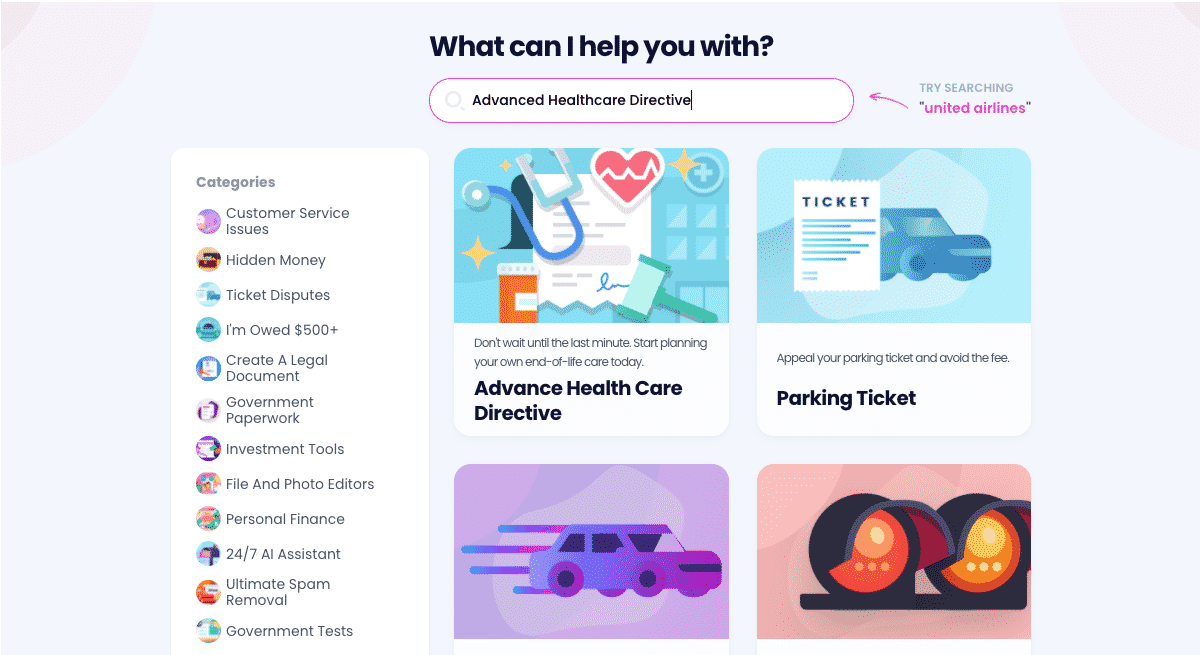 Follow these steps to get a personalized document that fulfills your state's requirements:
Go to the Advance Health Care Directive tool
Answer a brief questionnaire related to your health care wishes
Once you submit the information, DoNotPay will generate your document. You can also have the form notarized by an online notary on the same platform.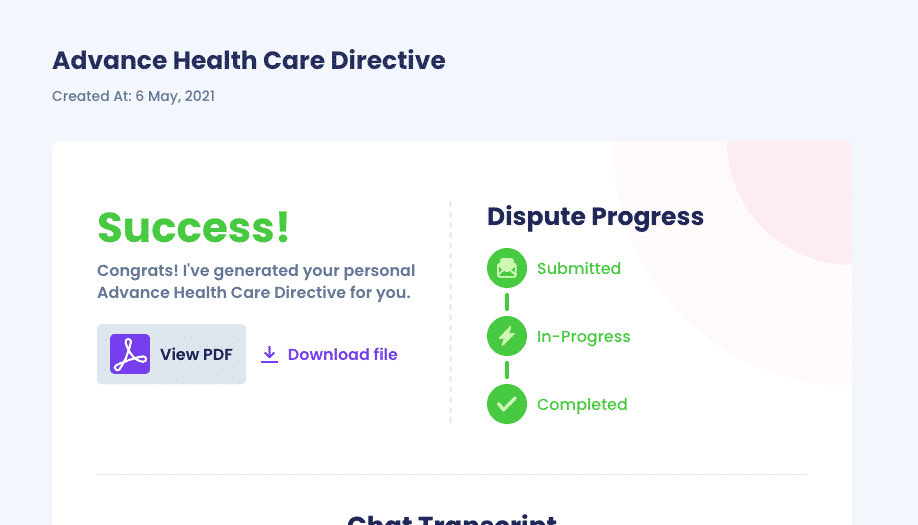 DoNotPay's Assistance at Your Fingertips
DoNotPay is all about easy solutions. Turn to our app when you need to get rid of unwanted services, block spam emails and text spam, and overturn unpaid parking tickets. We can also assist you in registering on platforms without disclosing your number and signing up for free trials using our virtual credit card.
With our app, you'll forget about old-fashioned ways of completing certain tasks. Let us help you send faxes online, mail letters, reach customer service, and get in touch with an incarcerated loved one.
DoNotPay Has More To Offer
Our app boasts a wide range of products—from filing a warranty claim, requesting a refund, and booking a DMV appointment to getting a document notarized, filing financial aid appeal letters, and fighting discrimination at work.
For DoNotPay users, no problem is too difficult to solve. Here are only some of the tasks our app can help you complete: