The Scoop on the Medical Power of Attorney in Mississippi
If you want to know who will be making medical decisions in your stead if you become incapacitated, you need to make a medical power of attorney. Depending on the state, this document is either a part of an advance directive or can be created separately.
DoNotPay is here to explain everything about a medical power of attorney in Mississippi. We can also create this legal document for you—once you sign up for our app!
Medical Power of Attorney in Mississippi
The state of Mississippi recognizes a medical power of attorney as a type of advance directive. The purpose of having a medical POA is to name a health care agent who will be in charge of the health-related decision-making when you become incapacitated.
In some states, a medical power of attorney is also known as a health care proxy, but certain parts of the country recognize the difference between the two.
Who Can You Name as Your Health Care Agent in Mississippi?
Not everyone can be your health care agent—you should follow your state rules when appointing one. Check out the following table to find out who you can and cannot choose for this role in Mississippi:
Your Agent Can Be
Your Agent Can't Be (Unless Related to You)

Your spouse
Close friend
Adult child
Another family member

Your doctor
An employee in a hospital where you are a patient
An employee in your nursing home
Bear in mind that this individual should be an adult who you trust and who is familiar with your values and beliefs.
When Is Your Mississippi Medical Power of Attorney in Effect?
A medical power of attorney becomes effective when your physician determines that you can no longer make medical decisions on your own. You can also choose to make your health care power of attorney effective immediately, which would give the powers to your agent right away.
How Is a Medical Power of Attorney Different From a Living Will?
A living will is another type of advance directive in Mississippi, but unlike a medical POA, it does not require you to appoint an agent. This document is only used to leave instructions for medical treatments in near-death situations.
Before creating a living will, you should get familiar with the forms you can use and the cost of the entire process.
How Can You Make a Medical Power of Attorney in Mississippi?
You can create a medical power of attorney in a few ways, but some are more beneficial than others. Choose between:
Using advance directive forms—If you don't have sufficient legal knowledge, this option is not suitable for you
Hiring a lawyer—Keep in mind that a lawyer's services might cost you a small fortune
Opting for DoNotPay—Our app will create a rock-solid document that meets your needs
How To Draw Up a Medical Power of Attorney in Mississippi With DoNotPay
If you are looking for a simple yet effective way of making a medical power of attorney, you should look no more. DoNotPay will provide you with a document made in accordance with Mississippi law. Here's what you need to do:
Choose the Advance Health Care Directive product
Name your health care agent
Specify the powers you want to transfer to your agent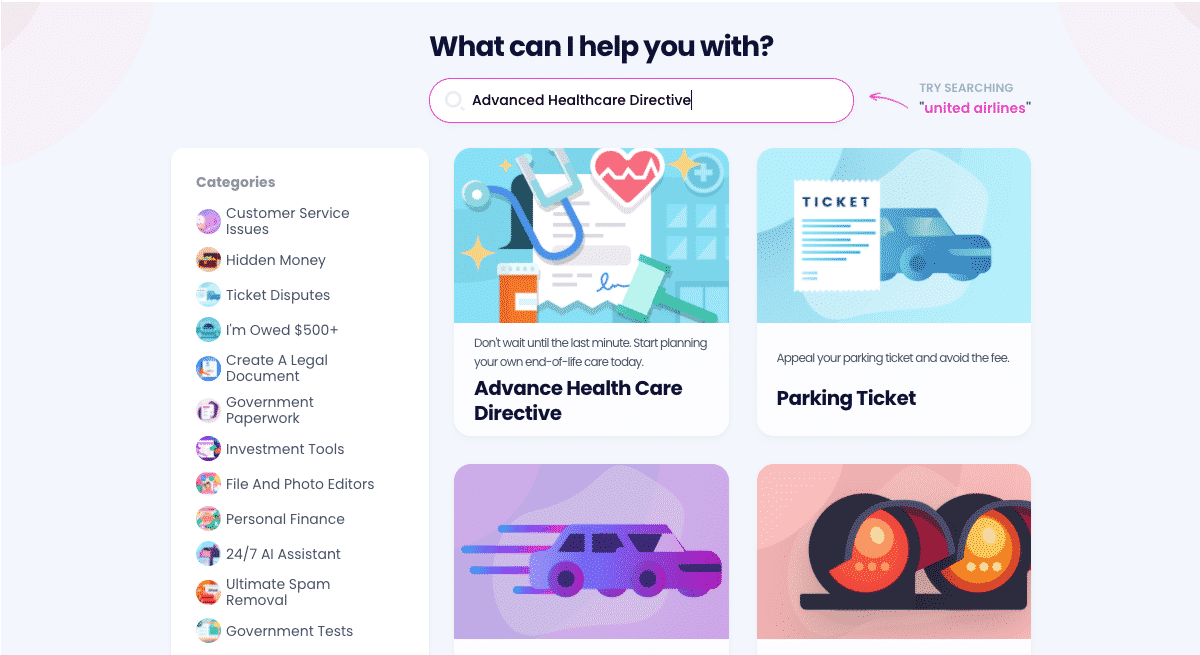 How To Make a Medical Power of Attorney Legally Binding in Mississippi
To make your medical POA enforceable in the Magnolia State, you need to sign it in front of a notary public or two witnesses. Your witnesses need to be at least 18 years old, and they must not be:
Your health care agent
Related to you by blood, marriage, or adoption
Entitled to any part of your estate
Your health care provider or an employee of a health care provider or facility
Let DoNotPay Help You With Various Tasks
The assistance we can provide doesn't stop here! Check out the table below for more details on our services:
| Improving Your Security | Making Your Everyday Life Easier | Creating Customized Paperwork |
| --- | --- | --- |
| | | |
Struggling To Be Economical? Rely on DoNotPay!
Our app—the world's first virtual lawyer—can help you save a significant amount of money in a few clicks! Starting from lowering your bills and reducing property taxes to claiming missing funds under your name, DoNotPay will keep the cash in your pockets.
Our system will also prevent you from financing unwanted or unused memberships and subscriptions by canceling them. You will be able to enjoy free trials without getting charged for them and get refunds from any merchant or airline company due to dissatisfying service!