A Complete Guide to Medical Power of Attorney in Michigan
Injuries and illnesses come unexpectedly, and you may find yourself in a situation where you can't make your own health care decisions. In such cases, a medical power of attorney can ensure that someone who understands your wishes will make the decisions on your behalf. Creating this document doesn't have to be time-consuming and expensive. can help you create a medical power of attorney in Michigan and other states swiftly and affordably.
What Is a Medical Power of Attorney in Michigan?
A medical power of attorney is a type of advance health care directive in which you appoint someone to make medical treatment decisions on your behalf if you become incapacitated. The appointed individual is known as a patient advocate in Michigan. A patient advocate is legally bound to act according to your oral and written health care wishes.
To create an advance directive in Michigan, you must be at least 18 years old and of sound mind.
In Michigan, a medical power of attorney can also be referred to as a:
In some states, a synonym for medical power of attorney is a health care proxy.
You can also consider creating the following related documents:
Living will—Enables you to describe the type of medical care you wish to receive during a terminal condition, for example stating if you would like to be resuscitated or not. The cost of living will varies depending on the method you choose to create it
A durable power of attorney—Appoints someone to handle your financial matters, such as medical bills and mortgage payments, in case you become incapacitated
What Powers Can You Transfer in a Medical Power of Attorney Document in Michigan?
The Michigan law doesn't mandate which powers you can grant your patient advocate but instead provides general guidelines—as presented in the table below:
Patient Advocate Powers
Details
Mental health care
You must indicate the powers your patient advocate can exercise regarding your mental health care, for instance:

Outpatient treatment
Hospital admission
Electro-convulsive therapy (ECT)
Home health care
Nursing facility care

Organ donation
You should specify which organs you want to donate—or mention if you wish to donate your entire body—upon death
End of life care
If you want the patient advocate to withhold or withdraw certain treatments, you must state it clearly. You must also define the specific circumstances under which the agent's rights can be exercised, for instance, permanent unconsciousness
Who Can You Transfer the Powers to With a Medical Power of Attorney?
According to the Michigan law, section 700.5506, you can choose anyone who is at least 18 years old and of sound mind as your patient advocate—including your spouse, friend, or adult child. It's important to have a conversation about your health care wishes with the proposed patient advocate before completing the document.
The patient advocate must receive a copy of the medical power of attorney once it is signed.
When Does a Medical Power of Attorney in Michigan Come Into Effect?
A medical power of attorney takes effect once you become unable to make health care decisions for yourself. Your state must be confirmed by two doctors, and their written statement has to be included in your medical records.
When creating a medical power of attorney, you can name the doctor and mental health professional who should make that determination.
How Do You Create a Medical Power of Attorney in Michigan?
Michigan doesn't have a standard medical power of attorney form that everyone must use. You can create a personalized document with the help of an attorney, but that can cost you a fortune.
The document should be in writing, signed by you and two adult witnesses. The law gives restrictions on who can be a witness. The following individuals cannot act as witnesses:
Family members, like a spouse or children
Your doctor
Designated patient advocate
Employee of the health facility you visit or your health insurance provider
Get Your Medical Power of Attorney in a Few Minutes With DoNotPay
Given the hefty attorney fees, most people opt to create health care directives on their own. While it's a cheaper alternative, you risk making mistakes and omitting crucial sections. Luckily, you can skip the hassle and get your document in less than five minutes using DoNotPay.
Drafting living wills and health care proxies doesn't get any easier. You will only need to:
Locate the Advance Health Care Directive tool
Name your patient advocate
Complete the brief questionnaire about your health care wishes
Once you click Submit, DoNotPay will use the information to automatically generate a personalized and state-specific living will or medical power of attorney.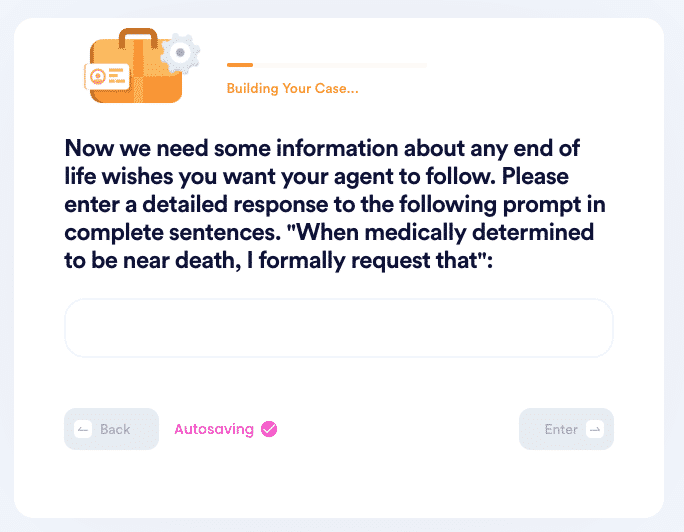 Say Goodbye to Boring Tasks
When a task takes up too much time, you may give up or procrastinate incessantly. We have a solution—use DoNotPay to manage numerous administrative or bureaucratic errands.
No more waiting in neverending DMV lines or staying hours on the phone waiting for a customer service rep to pick up. You can even skip going to the post office. We can help you send letters and even online faxes in a flash. If what you're sending needs to be notarized, use our app to schedule an appointment with an online notary.
Traveling soon? Get your passport photos ready, apply for a tourist visa, contact embassies, and draw up a child travel consent form—all within the same app.
What Else the World's First Robot Lawyer Can Do for You
When you need legal assistance but you can't afford to hire a lawyer, rely on DoNotPay. With our legal expertise, we can help you do the following: