The Details of a Medical Power of Attorney in Maryland
If you would like to give clear instructions on what medical treatment you (don't) want to receive in case of potential health issues, you should prepare a medical power of attorney in Maryland.
This article explains:
What this legal document needs to cover
How a medical power of attorney is connected to:
What Type of Document Is a Medical Power of Attorney in Maryland?
A durable power of attorney for health care in Maryland is a document that lets you appoint a person to make decisions regarding your health care matters if you are not able to make them yourself.
This legal document also goes under the following names:
Health care power of attorney
Medical power of attorney
Keep in mind that some states recognize a difference between a power of attorney and health care proxy.
Maryland Durable Power of Attorney for Health Care, Advance Directive, and Living Will
A medical power of attorney in MD is part of a more comprehensive document called the Maryland advance directive. Aside from a power of attorney for health care, an advance directive also includes a living will form.
The following table outlines the specifics of these two forms:
Maryland Advance Directive
Details
Part I—Medical power of attorney
A Maryland durable power of attorney for health care is a form that lets you:

Appoint your primary and alternate health care agents
Specify the agent's powers and rights
List any restrictions and special conditions

You can also choose when you want your agent to use the granted powers, i.e.:

As soon as you sign the document
When both your physician and another doctor determine that you cannot make decisions about your health care any longer

Part II—Living will
You can create a living will if you would like to state your preferences for potential life-sustaining treatments if you:

Have a terminal illness
End up in a persistent vegetative state
Who To Choose as Your Health Care Agent
It is important to select a reliable person to be your health care agent since they will make medical decisions about your end-of-life care and treatment.
Here are some aspects you should take into account—your agent cannot be:
A minor, i.e., a person under the age of 18
A spouse you are divorcing or have separated from
An owner, operator, or employee of a medical center where you are receiving health care
If you are not sure who to name, you could consider the following for this role:
A person who understands and respects your wishes regarding health care
Your spouse, life partner, parent, adult child, relative, or close friend
How To Draft a Medical Power of Attorney in Maryland
You can prepare a Maryland durable power of attorney for health care in one of the following ways:
Hire a lawyer—An attorney can provide you with any legal document, but you should keep in mind that their services can be costly
Download an online form—While this option might seem easy, you should check the chosen template in detail as it might not fulfill legal or your personal requirements
Use DoNotPay—Save time, money, and energy and let our AI-powered app generate the document for you
DoNotPay Delivers Your Medical Power of Attorney
DoNotPay offers the most convenient way to compose a rock-solid medical power of attorney.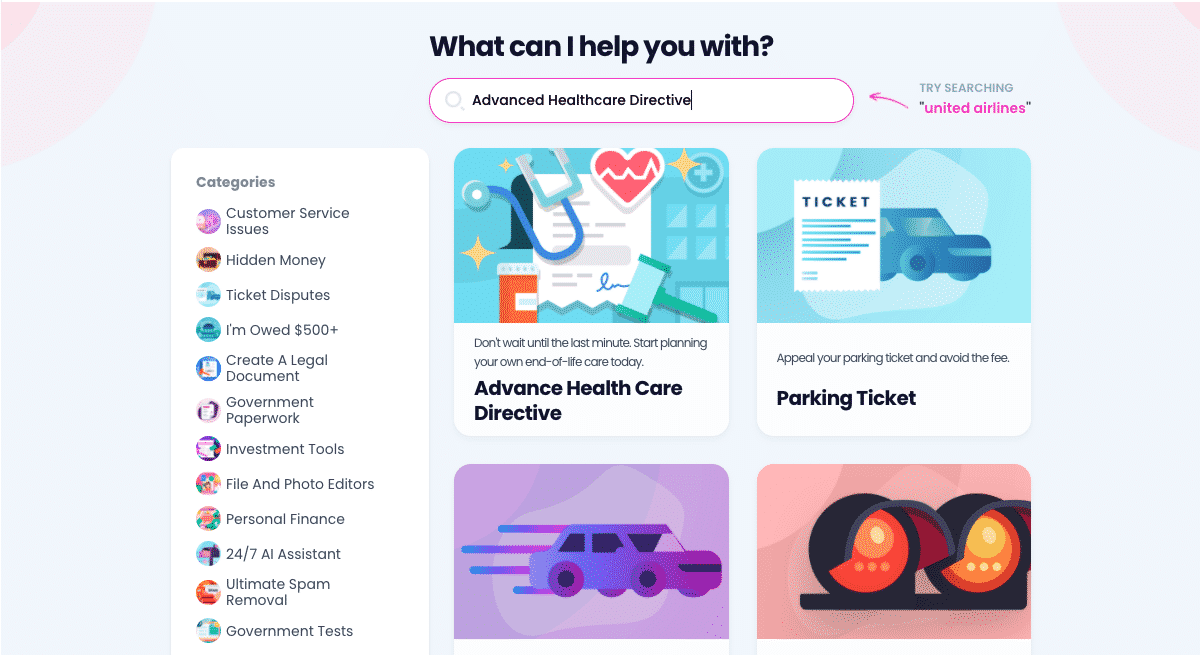 Our procedure is simple and fast—subscribe to DoNotPay and follow these steps:
Head to the Advance Health Care Directive product
Provide the name of your health care agent and relevant medical information
List the powers you wish to give to your agent
Enter the names of your witnesses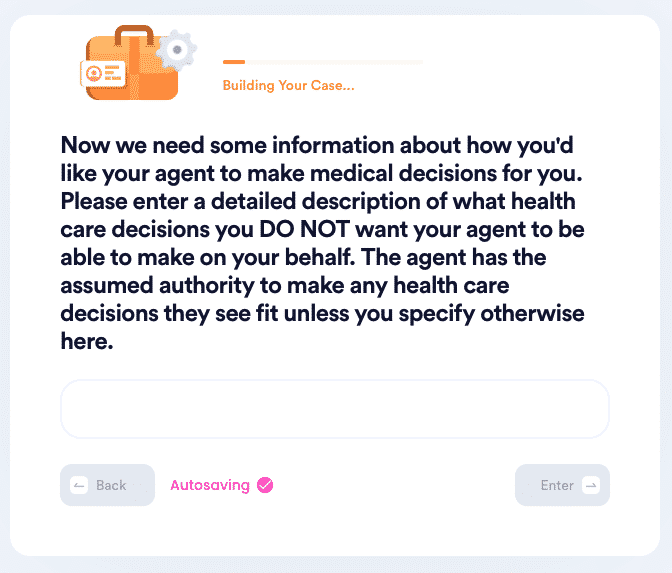 Would you like to have the document notarized? DoNotPay can also help you with that matter by connecting you with an online notary.
Solve Any Problem Within a Few Clicks
DoNotPay keeps adding new features that are designed to help you navigate your tasks and resolve issues. You can rely on your AI-powered app whenever you need to:
Earn and Save Money Using DoNotPay
When money is tight, every penny counts. DoNotPay can help you get what you're owed and also some extra cash.
Here are some of the ways our app can help you get paid:
We can also assist you in searching for your unclaimed funds, demanding a college fee waiver, and joining clinical trials.
If a company refuses to give you what you're owed, don't hesitate to file a complaint and take it to small claims court.