Pointers on a Medical Power of Attorney in Louisiana
Making plans about your health care should be on your list. You should prepare a health care proxy, living will, or advance directive to:
Ensure your wishes regarding medical treatment are honored in case you cannot communicate them
Prevent confusion or arguments among your family members
This article explains what a medical power of attorney in Louisiana should include and how you can draft this legal document smoothly.
When To Use a Louisiana Health Care Power of Attorney
You should use a Louisiana medical power of attorney to:
Authorize someone—an agent—to be in charge of your health care in case you're not able to make decisions for yourself
Indicate what types of medical treatment and procedures you would (not) want to receive if you're unable to express your opinion at a certain time
While a health care power of attorney can give broad powers to your health care agent—i.e., to make any and all medical decisions on your behalf—you could also list particular procedures you want and don't want to be provided with.
Louisiana Durable Power of Attorney for Health Care vs. Living Will
The following table outlines a key difference between these two forms:
Durable Power of Attorney for Health Care
Living Will
A Louisiana medical power of attorney form allows you to name a person to make health care decisions on your behalf if you cannot:

Make decisions for yourself
Communicate your preferences

A Louisiana living will lets you specify your wishes regarding life-sustaining procedures in case:

You get terminally ill
Your medical condition is irreversible
Keep in mind that a:
Who To Appoint as an Agent in a Medical Power of Attorney Form in Louisiana
Your health care agent should be someone you can trust to make informed decisions about your health care and who:
Is familiar with your values, beliefs, and wishes regarding health care
Will act in your best interest
While you should choose a person who lives nearby—so that they are available in case of an emergency—you need to make sure your agent is:
At least 18 years of age
Of sound mind and competent to exercise sound judgments about your medical treatment
You could select someone you are close with, including your:
Parent
Sibling
Spouse
Relative
Adult child
Close friend
Spiritual advisor
How To Prepare a Louisiana Health Care Power of Attorney
To create a Louisiana medical power of attorney, advance directive, or living will, you could select one of the following options:
Consult a lawyer—Keep in mind that:

State laws don't mandate you to hire a lawyer to draft a health care document for you
Legal services can cost a fortune

Do it by yourself—You could:

Go through different online templates
Check all forms thoroughly, pick one, and adjust it to fulfill state requirements and suit your case

Sign up for DoNotPay—Our robot lawyer can produce a watertight health care document for you in a flash
DoNotPay Creates a Rock-Solid Medical Power of Attorney
Our AI-powered app is familiar with relevant legal requirements and will ensure your health care document meets them.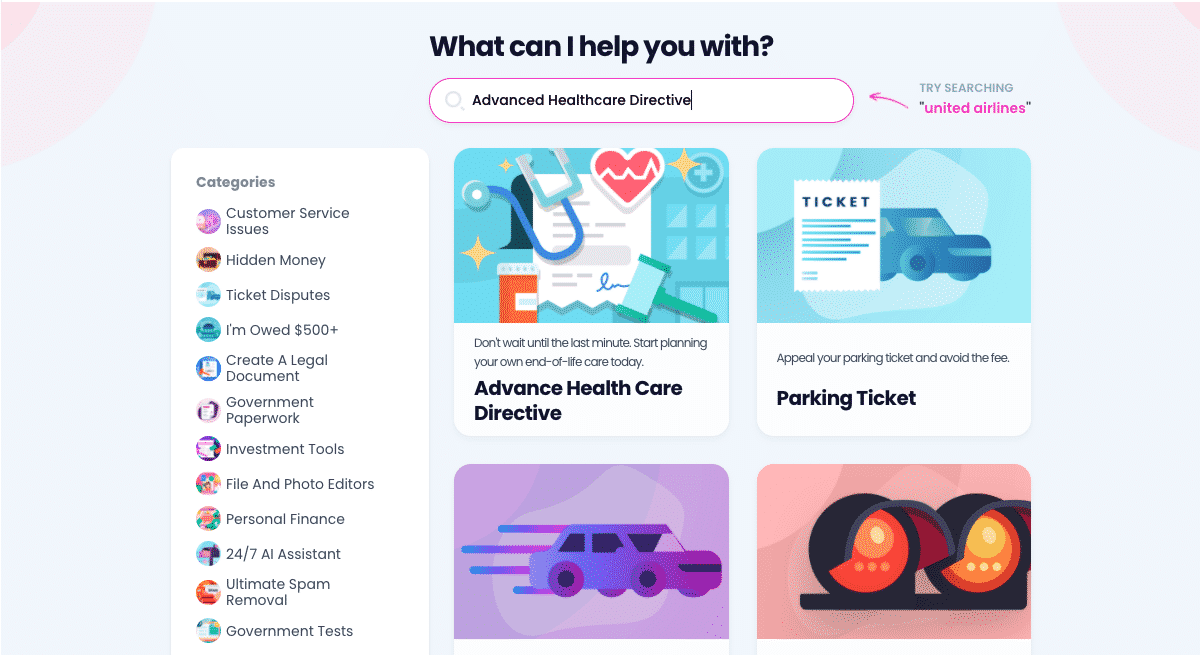 Register for DoNotPay and follow these steps:
Pick our Advance Health Care Directive product
Enter the name of your agent and the powers you're granting them
List your health care preferences
Type in the names of witnesses
Would you like to get the document notarized before you log out? DoNotPay can also help you with this matter by connecting you with an online notary public.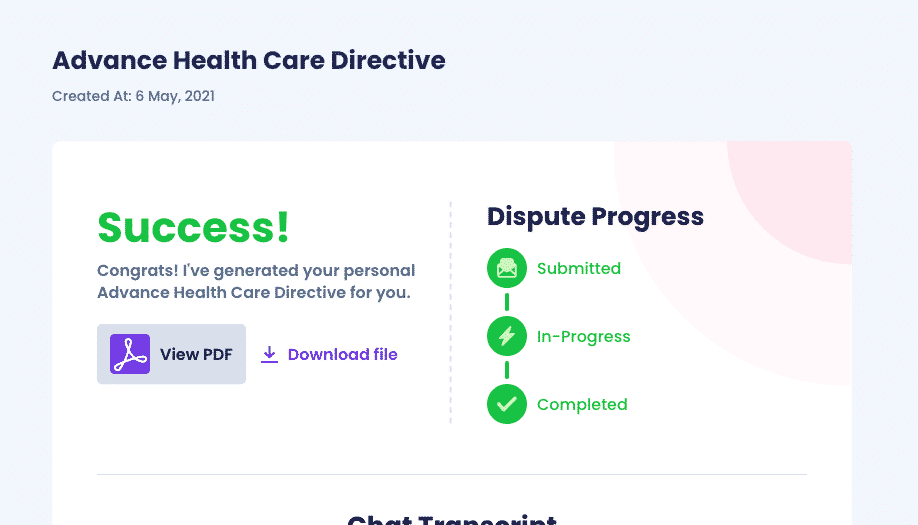 Our Virtual Lawyer Has Got Your Back
DoNotPay has solutions for all those burdensome tasks you would rather avoid or entrust to someone else. Our AI-empowered app can assist you with copyright protection, clinical trial applications, DMV appointments, FOIA requests, mailing services, item returns, and delivery refunds. It also generates standardized legal documents and gets them notarized or faxed with zero fuss!
Through the same app, you can:
Make Education More Accessible and Affordable With DoNotPay
College expenses can be quite a burden for the entire family. Luckily, DoNotPay can have your tuition expenses waived or assist you in applying for various types of financial aid, such as scholarships.
We also offer you a chance to prepare for government tests in a much simpler way or contact embassies or consulates quickly and efficiently if you want to travel abroad to continue your education. If you are a parent who wants to withdraw their kid from a standard school, we will help you draft a notice of intent to homeschool and send it to the local authorities with no stress!