Composing a Perfect Medical Power of Attorney in Kentucky
What is the purpose of a medical power of attorney in Kentucky? How does it help you define your medical care wishes and ensure your doctor complies with them if you get sick? What requirements do you have to meet to put this document into effect, and is it possible to revoke it? The questions are numerous, but you can find all the answers by reading through our guide! Check out the ultimate tips for drafting a flawless health care directive—a medical power of attorney or living will—in no time by !
Kentucky Medical Power of Attorney Explained
A Kentucky medical power of attorney is a document that designates a third party—a person of trust—to make medical care choices in your stead if you are unable to.
The person you choose becomes your health care surrogate or attorney-in-fact. Their primary goal should be to act according to your wishes and beliefs and convey them to medical personnel if you get incapacitated. If you want, you can choose two agents to make choices on your behalf, but the decisions must be unanimous.
This document is also called a health care proxy, medical proxy, or a health care power of attorney. It isn't the same as a standard power of attorney as it doesn't address financial but medical care issues. You can combine it with a Kentucky living will—a set of concise instructions concerning your future health care if you can't express your preferences to doctors.
Signing Requirements for a Kentucky Medical Power of Attorney
To understand the criteria you must meet to create an adequate medical power of attorney in Kentucky, refer to the following table:
Legal Requirements
Agent Requirements
Witness Requirements

The document must be created by a mentally capable adult
It must be written, dated, and signed by the principal—the person who delegates the decision-related powers to the agent
The principal can appoint only one health care surrogate

Must be an adult
Can be the principal's:

Legal guardian
Spouse
Adult child
Parent
Nearest living relative
Friend
Religious group member

Can't be:

Principal's health care provider
Owner, director, or employee in the health care facility where the principal resides

Must be of legal age
Can't be the principal's:

Relative
Heir
Spouse
Primary physician
Health care financier
Is There an Official Kentucky Medical Power of Attorney Form?
No, the state doesn't provide any approved medical power of attorney forms. You can choose one of the templates available online or draft the document yourself. Whichever option you choose, make sure your form has the following elements:
Your name and date of birth
Declaration confirming the designation of your primary health care agent
Name of the primary agent
Name of the secondary (alternate) agent who will act for you if the primary agent can't or doesn't want to do it
Your signature
Signatures of the primary/alternate agent and both witnesses
Ways To Revoke a Kentucky Health Care Power of Attorney
You can revoke your health care proxy fully or partially as long as you are capable of deciding for yourself. It can be done by:
Destroying the original health care power of attorney
Make an oral revocation statement in front of your designated physician and one other witness
Rocking a Medical Proxy Is Much Simpler With DoNotPay
Whether you want to create a living will or medical proxy in Kentucky or an advance directive in any other state, DoNotPay can help! We enable you to avoid immense legal fees and unsuccessful drafts by:
Gathering the necessary details about your health care agent and medical care preferences
Composing a personalized document according to the info provided
Arranging a video meeting with a remote notary to help you get the signed form notarized
All it takes is to:
Choose Advance Health Care Directive
Provide the required info by answering a few of our chatbot's questions
Your health care directive will be ready for signing in less than five minutes!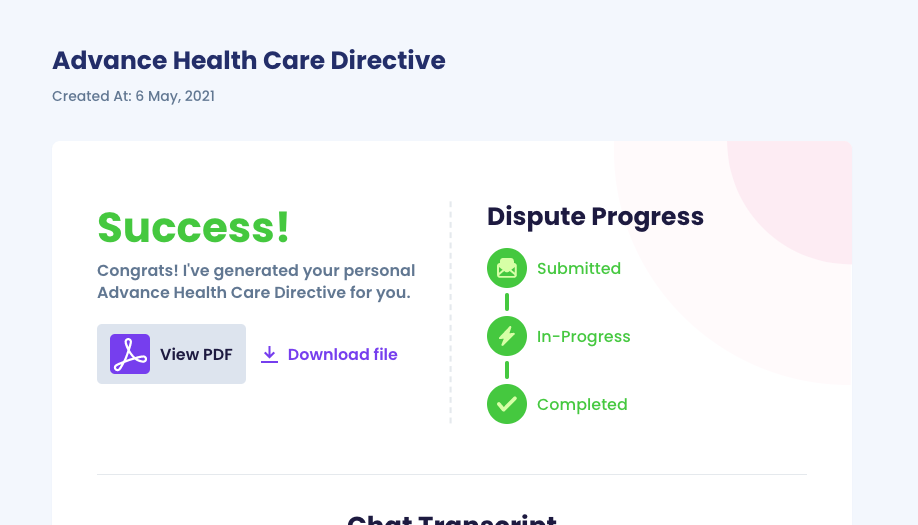 Save Time and Money Using DoNotPay
Being on hold while trying to reach customer service is no picnic. With DoNotPay, you can jump the phone queue and reach a rep with ease. Are you contacting a company to request a refund or cancellation? No need for that! Our app can get it done in a few clicks. We can also help you return an item or handle a late delivery.
Dispute parking tickets, claim your warranty or insurance, set up a DMV appointment, contact an embassy, and deal with any other task with our assistance.
You can also request access to public records, apply for tourist visas, or file complaints with the help of our AI-powered app.
We're Not Done Helping You!
Our multifaceted app keeps getting new features that can streamline numerous tasks and solve all kinds of problems.
Would you like to join sweepstakes or giveaways? Are you up for participating in clinical trials and earning some money? Are you interested in sending mail without visiting the post office? We've got it covered!
We will help you protect your privacy by putting an end to spam emails, incessant text messages, and robocalls. If you think you're being stalked, you can count on our assistance. You can also use our app to perform a sex offender search, fight workplace discrimination, and handle annoying neighbors.