Decoding a Medical Power of Attorney in Kansas
Severe injuries and medical conditions may prevent you from conveying your medical care-related wishes to your physician. The primary purpose of a medical power of attorney is to help you avoid such situations.
Many Kansans know this document exists but aren't familiar with its concept, requirements, and other specifics. This article answers all questions about a medical power of attorney in Kansas you may have. We will also show you how to create living wills, health care proxies, and related documents by signing up for DoNotPay.
What Is a Kansas Durable Power of Attorney for Health Care?
A Kansas medical power of attorney is called a power of attorney for health care decisions and is regulated by Section 58-632 of the Kansas Statutes. It enables you to name a health care representative (agent) who will make decisions concerning your future treatments and medical care. This document will ensure your doctor and dear ones act according to your wishes if you are:
In a coma or vegetative state
In the terminal phase of an incurable disease
Permanently unconscious due to an accident or illness
Unable to speak or think properly as a result of a mental illness
This document is usually a part of the state-specific health care directive along with a Kansas living will—a set of written guidelines about your medical preferences.
As per Kansas law, you can name any person above the age of 18 as your health care agent unless they are:
Mentally unstable
Your health care provider or anyone that works for them
Owner, employee, or officer of the particular medical care facility you reside in
What Rights Does Your Health Care Agent Have?
The duties of your health care agent in Kansas include:
Deciding about:

Desirable/undesirable treatments and medications
Medical care institutions where you should reside
Life support options—including mechanical ventilation and artificial nutrition
Life-sustaining interventions, such as CPR
End-of-life care
Comfort care and pain relief
Funeral organization
Autopsy
Eye, tissue, and organ donation

Hiring or firing medical personnel members
Receiving and reviewing your medical records
Communicating with your medical practitioner
Kansas Medical Power of Attorney Signing Requirements
The state law defines essential criteria you must meet when preparing a power of attorney for health care decisions in Kansas. The document should:
Be in writing
Have the same or similar form as the sample provided by Kansas Statute
Contain the exact signature date
Be witnessed by two adult individuals that aren't your heirs, relatives, or health care providers
Essential Parts of a Kansas Medical Power of Attorney Form
A complete medical power of attorney form in Kansas should contain the following details:
Section
Details
Introduction

Your name
Statement that authorizes the health care agent to make health-related choices in your stead
Name, address, and phone number of the agent

Powers

Transferred powers and rights
Limitations
Effective time
Revocation clause

Conclusion

Signatures of all parties involved, including both witnesses
County
Date of signature
Notary's signature and stamp (if you choose to have the document notarized instead of finding witnesses)
Dealing With a Lack of Writing Skills? Let DoNotPay Compose a Medical Proxy for You!
If creating a medical power of attorney or living will seems like too much hassle, you can get one by using DoNotPay! You don't have to write the document from zero or pay insane amounts of money to lawyers for drafting it. Our AI-empowered app offers you an inexpensive and efficient solution!
You should:
Choose Advance Health Care Directive
Appoint your primary agent and witness(es)
Give us a detailed description of your medical care preferences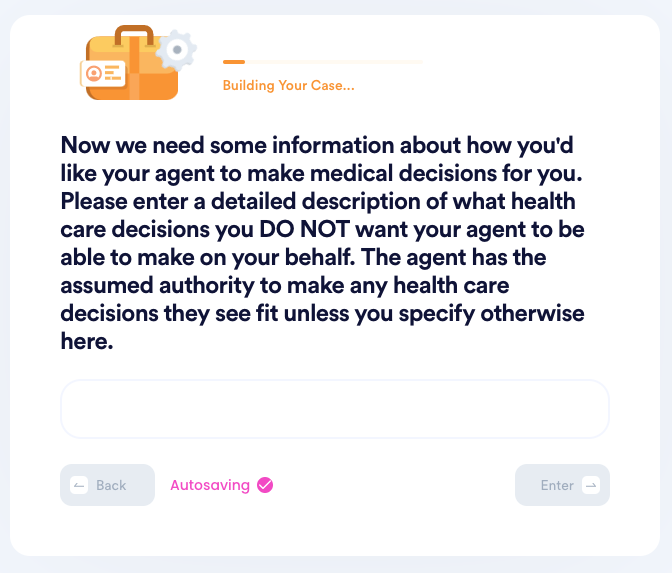 DoNotPay can also help you set an online meeting with a remote notary who will verify your signatures the easy way!
Make sure to check out our learning center—you will find handy info about state-specific advance directives, living will costs, differences between regular and health care powers of attorney, and much more!
Rely on DoNotPay and Get Rid of Administrative Issues
Are you tired of returning items, canceling subscriptions, fighting parking tickets, and mailing letters? We can help you fast-track all these tasks and more! Do you need help reaching customer service, fighting workplace discrimination, submitting defamation demand letters, or filing HR complaints? Use DoNotPay and solve any issue without a hitch.
Feel free to also use our app to study for government tests, apply for scholarships, appeal low financial aid offers, and request college fee waivers.
Do you need help paying bills? DoNotPay can assist you in lowering your property taxes, getting gift card cash back, entering sweepstakes and giveaways, and getting refunds.
With us, you'll be able to both earn and save money!
Say Goodbye to Spammers With DoNotPay's Assistance
Getting spammed on the daily? Our app can put an end to this annoying issue! Block spam emails, text messages, and robocalls in a few clicks. We can even help you deal with stalking and harassment.
Thanks to our Burner Phone product, you'll get a temporary phone number that you can submit when registering on different platforms and protect your privacy.
Another way to keep your privacy intact is using DoNotPay's virtual credit card. Signing up for free trials without hidden charges and revealing your contact details has never been easier!