Medical Power of Attorney in Iowa From A to Z
If you have specific wishes on what medical treatments you wish to receive when you can no longer communicate, you need to state them in writing.
The easiest way to do so is by creating a legal document called an advance health care directive, which usually consists of a living will and a medical power of attorney.
DoNotPay is here to provide you with the information about making a medical power of attorney in Iowa.
What Does a Medical Power of Attorney in Iowa Entail?
A medical power of attorney is a type of advance directive that lets you appoint a health care agent.
This individual will be in charge of making medical decisions in accordance with your wishes. They will also need to make choices regarding possible treatments in medical situations for which you haven't stated specific wishes.
A medical POA is especially important because it designates someone to act on your behalf when you cannot make your own decisions, not only at the end of life. This document is known by many names, including:
There might be a slight difference between a health care proxy and a medical POA.
Durable Power of Attorney for Health Care in Iowa—Who You Can Appoint as Your Agent
The individual you choose to make medical decisions for you is known as an agent or attorney-in-fact.
They should be older than 18 and trustworthy. Take a look at the table below to see who you can and can't appoint:
You Agent Can Be
Your Agent Can't Be

Spouse
Adult child
Another family member
Close friend

Your physician or other treating health care provider
An employee of your treating health care provider (unless they are related to you)
You can name another individual as your alternate agent. Their job will be to act in case the first agent is unable, unwilling, or unavailable to do their job.
What Other Type of an Advance Directive You Can Create in Iowa
In addition to a medical POA in Iowa, you can also create a living will.
A living will lets you state your wishes regarding life-sustaining procedures in case you develop a terminal condition. When drafting this form, you should consider:
A Medical Power of Attorney in Iowa—How To Make It Valid
You need to sign your medical POA in Iowa and have it witnessed and signed either by:
Two witnesses
The witnesses you choose cannot be your agent, doctor, or employee of a healthcare facility you are being treated at.
How To Create a Medical Power of Attorney in Iowa
To draw up a medical power of attorney in Iowa, you can:
Hire a lawyer—This option will leave you with an empty wallet due to their sky-high fees
Make this document on your own—If you choose to make one yourself, you should steer away from online forms because they will not replace your lack of legal knowledge
Use DoNotPay—This choice will provide you with a rock-solid document while also saving you time and money
Make a Medical Power of Attorney in Iowa in a Flash With DoNotPay
If you wish to get a rock-solid legal document and receive it as soon as possible, count on DoNotPay to generate a medical POA for you. Our app will make sure that all your wishes and directions are clearly stated. These are the only steps you need to follow:
Choose Advance Health Care Directive
Appoint your agent and include other necessary medical information, such as your doctor, hospital, etc.
Enter the names of your witnesses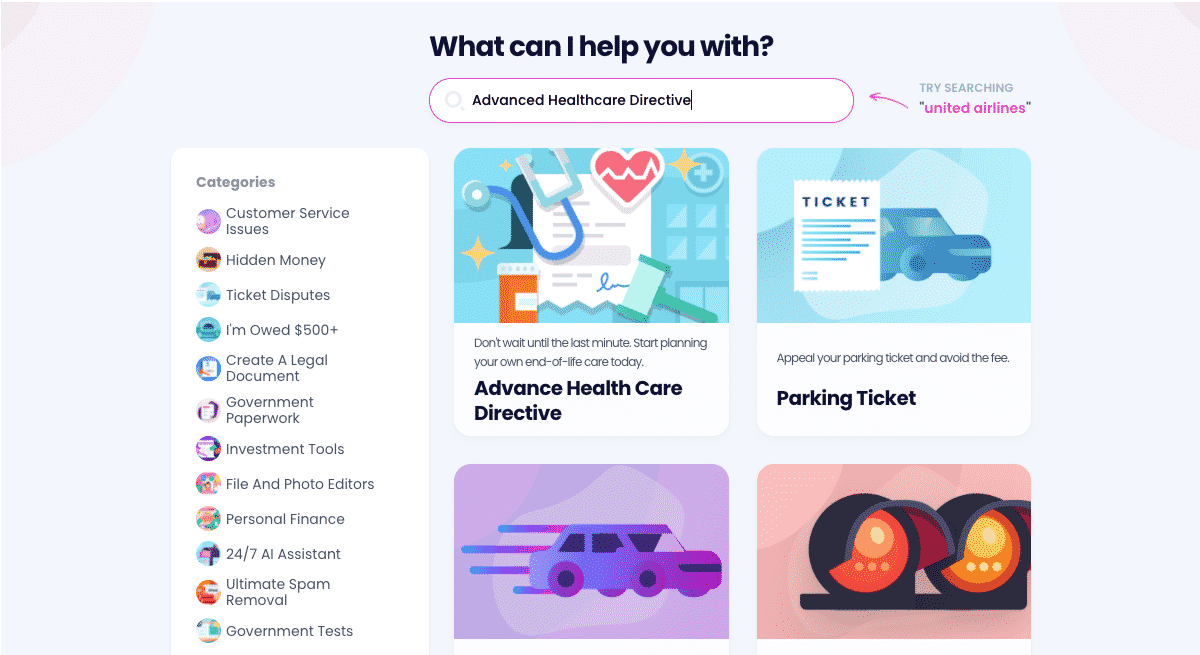 Skip the Bureaucratic Hurdles With Our Help
If your unfinished tasks are piling up each day, we can help save you time and energy. Let DoNotPay do the heavy lifting and complete the following for you:
| Bureaucracy | Spam and Harassment |
| --- | --- |
| | |
In one fell swoop, our app will draft legal documents, fax them online, and get them notarized. In case you need to request a college fee waiver, find unclaimed money, file a FOIA request, or contest parking tickets, you can count on DoNotPay's help.
We Offer Even More Ways To Assist You
Once you sign up for DoNotPay, there aren't many problems that we can't solve for you. Take a look at the table below to get an idea of what we can help you with: