The Best Way To Make a Medical Power of Attorney in Georgia
To make sure your wishes regarding medical treatment are honored when you become incapacitated to make them yourself, you must create an adequate legal document and appoint a proxy. It is crucial to understand what this document is and follow the rules imposed by the state you live in.
You can use DoNotPay to draw up a medical power of attorney in Georgia in a matter of minutes.
What Is a Health Care Power of Attorney in Georgia?
An advance directive is a legal document that goes by many names across the states, and in Georgia, it is known as a durable power of attorney for health care (DPOA-HC). The Advance Directive Act was passed in the 1990 legislative session, and it was revised in July 2007.
How Does a Durable Power of Attorney for Health Care in Georgia Work?
The DPOA-HC in Georgia designates an agent (health care proxy) to make medical decisions regarding your health. You can state your wishes on what medical treatments you do or do not want. It comes into effect when you can no longer speak or take care of yourself because of a serious illness or injury.
Should you decide to delve into the matter further, read our article on the difference between a health care proxy and a power of attorney.
Who Can Act as Your Agent in Georgia?
You have the right to choose anyone you see fit to be your agent as long as they are older than 18. The only person who you cannot appoint for this role is a health care provider, including:
Your doctor
An employee at a nursing home where you reside or a hospital where you are a patient
You should make your decision carefully and make sure the individual is reliable and trustworthy. People usually choose their spouses, family members, or close friends for this role, although legal professionals can also act as proxies.
What Decisions Can an Agent in Georgia Make?
Your agent can make decisions about various health care issues, including:
Whether you will be admitted or discharged from a hospital or nursing home
What treatments you may or may not be given
Who can have access to your medical records
How your body is disposed of after death
What Is The Difference Between a DPOA-HC and a Living Will in Georgia?
Georgia recognizes a slight difference between a medical power of attorney and a living will. Check out the table below for the crucial differentiating points:
Medical POA
Living Will

Assigns an agent who makes important medical decisions on your behalf
Applies to any condition you may have or treatment you may need
Requires a special document for children

States your wishes regarding certain types of care withheld or withdrawn in situations described in the document
Comes into effect if you have a terminal condition, are in a coma, or a persistent vegetative state
Doesn't require you to appoint an agent
You must create a living will or a medical POA properly to make them enforceable. It will not be enough to use a living will form or any other advance directive form. The process of creating these documents is complex and requires sufficient legal knowledge.
You should also consider the potential cost of creating the document, which can be astronomical if you decide to hire a lawyer. Instead, you should opt for DoNotPay and save some time and money!
Use DoNotPay To Create a Medical Power of Attorney in an Instant
DoNotPay offers a straightforward way to make a medical power of attorney. We will generate a legal document that contains all the information relevant to your case. To get a well-written medical POA, you only need to follow these steps:
Select the Advance Health Care Directive product
Type in relevant medical information and appoint your agent
Inform us about the powers you want to transfer to your agent
Enter the names of the witnesses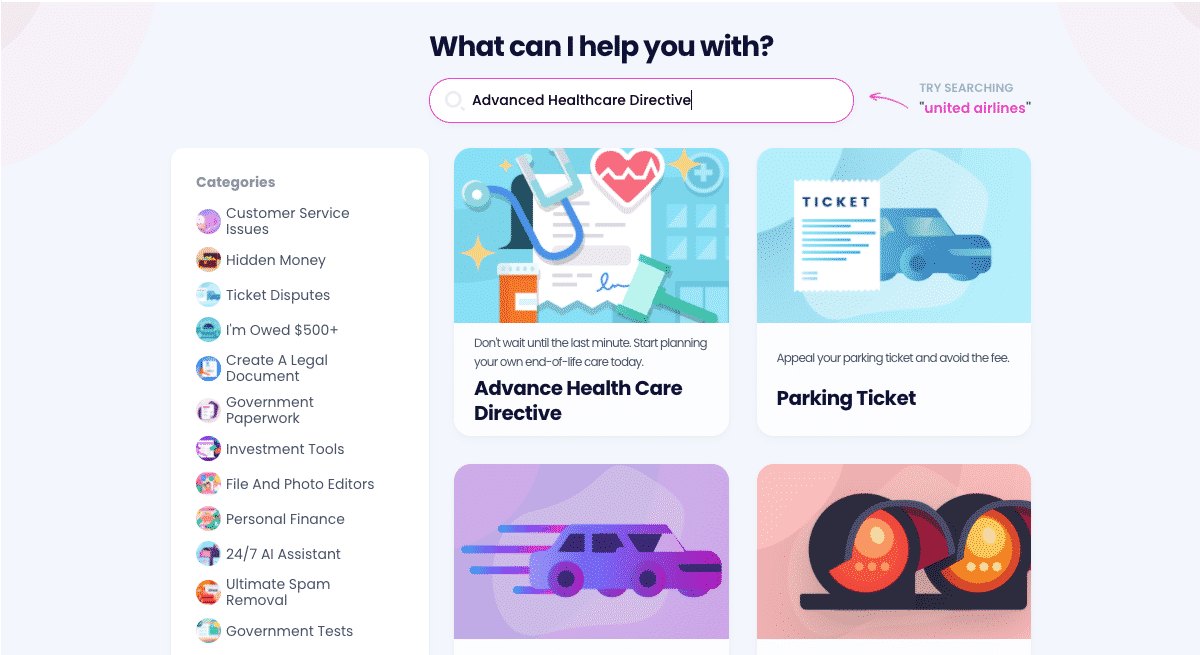 Deal With Administrative Issues With Ease
Drafting contracts and agreements, getting your documents notarized, disputing parking tickets, and creating passport photos will become a breeze once you sign up for DoNotPay.
We can also help you:
DoNotPay Helps You Protect Your Consumer Rights
Don't let companies take advantage of you! With our help, you'll be able to cancel any subscription or membership and request a refund.
As a consumer, you may be overwhelmed with endless steps and piles of paperwork you need to go through to get what you're owed. This is where DoNotPay comes in—let us be your assistant and fast-track the following:
Have you forgotten about a free trial you signed up for? Avoid being charged by using our app! With DoNotPay's virtual credit card, you'll get unsubscribed automatically without the company taking any money from you.
Are you getting spammed via email or text? Get rid of spam for good with our nifty app!