Why You Don't Need a Medical Power of Attorney Form in PA
If you are a Pennsylvania resident considering a medical power of attorney, you may have many questions.
How is a medical power of attorney/health care proxy in this state different from a regular power of attorney? What criteria do you have to meet to sign it, and who can be your health care agent? Do you need a particular medical power of attorney form in PA to create a top-notch advance directive?
Solve all these dilemmas by reading this manual and discover how to use DoNotPay to draft the document without effort or expensive legal services!
What Is a Pennsylvania Medical Power of Attorney?
In Pennsylvania, a medical power of attorney is a legal document that grants the powers to make health care decisions to another individual, called an agent. This person makes medical care decisions in your name if you are too ill to communicate with the medical personnel or have an end-stage medical condition.
A medical power of attorney, also known as a medical or health care proxy, is considered an advance directive in the Coal State. You can combine it with a Pennsylvania living will featuring a concise list of your health care preferences.
Who Can Be Your Health Care Agent in Pennsylvania?
When choosing a health care agent, you should consider mentally stable individuals who are aware of your health-related wishes and preferences. You should trust them enough to provide them with all the powers regarding your future health care.
It's possible to choose one primary agent and one or multiple successor agents that will assume the responsibility if the primary representative can't perform their duties.
Here's a table listing the people that can or can't be assigned as your agents in Pennsylvania:
Can Be Your Agent
Can't Be Your Agent

Parent
Brother
Sister
Cousin
Spouse, unless you are in the middle of a divorce process
Adult child or grandchild
Any other mentally competent person who knows about your religious and personal medical preferences

Your physician
Your resident care provider
Owner or the employee of the hospice or any other medical facility where you are residing
What Does a Medical Power of Attorney in Pennsylvania Include?
Section §5420 of the Statutes of Pennsylvania provides a sample of a Pennsylvania medical power of attorney form containing the following sections:
Introduction—including personal info of the principal and their written statement that confirms the transfer of powers to the primary agent
Powers you are transferring, such as making decisions about:

General medical care and surgeries
Radiation treatments and chemotherapy
Artificial nutrition, hydration, or breathing
Hospice and palliative care
Hiring and dismissing medical staff responsible for your health care
Resuscitation orders
Organ, tissue, or eye donation
Donation of hands and limbs

(Alternative) health care agent appointment
Optional living will provision
Signatures of all participating parties
Have Your Medical Proxy Created Fast With DoNotPay
Downloadable power of attorney forms are often generic and require a fair amount of customization and rewrite.
Do you feel like you aren't skilled enough to write your own medical power of attorney? No worries—you don't have to pay attorneys huge amounts to create a living will or any other similar document in your stead. DoNotPay will do it on your behalf at a much more affordable price!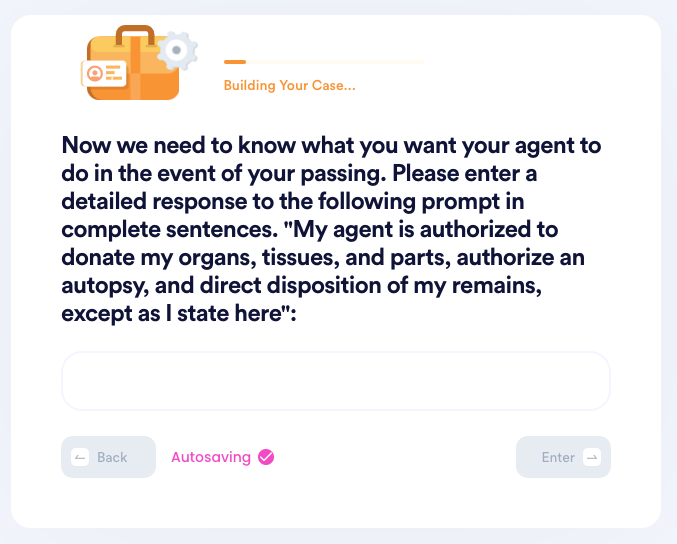 We can provide you with a lawful, personalized health care directive in less than five minutes. Here are the instructions you should follow:
Select Advance Health Care Directive
Provide the following details:

Name of your primary agent
Your medical preferences and wishes
Names of witnesses signing the document
All that remains is to download and sign your document. If you need to have it notarized, DoNotPay can help! We'll help you arrange a meeting with a remote notary so that you can have the signatures verified remotely!
Say No to Mundane Chores—Hand Them Over to DoNotPay
Have you resolved the issue at hand? You shouldn't stop there—our AI-enabled app has many more tricks up its sleeve.
If you're tired of waiting on hold when contacting customer reps or in endless queues at the DMV, you can rely on DoNotPay to cut these processes short. If you want to request a refund from an airline, file an anonymous HR complaint, connect with an inmate hassle-free, claim insurance or warranty, or contact government representatives, our app will lend a helping hand.
There's even more to our offer—you can request access to public records, practice for a government test, use snail mail efficiently, appeal any banned account, and track down local sex offenders without leaving the app!
DoNotPay Fights for Your Rights
If you're sick of companies taking advantage of you, subscribe to DoNotPay—we offer a plethora of products that will help you tackle any type of issue you could think of.
With the help of the world's first robot lawyer, you can file a complaint with any company, demand a refund from, send an item return request to, or sue it in small claims court if the issue escalates. We will draw up any legal document you may need for the suit, have it notarized remotely, and send it to anyone through online fax.