Deciphering the Medical Power of Attorney for Grandparents
What kind of document is a medical power of attorney for grandparents? As you can conclude from the name, it has something to do with the medical care of children. Wondering what it entails, which purpose it serves, and who needs one?
DoNotPay answers your burning questions and explains how to make a medical power of attorney for grandparents in no time!
What Is a Medical Power of Attorney for Grandparents?
A medical power of attorney (MPOA) for grandparents allows parents or guardians to transfer the responsibility regarding making health-care-related decisions about their child from themselves to the grandparents for a limited amount of time (usually six months). This document is also known as grandparents' medical consent form.
The following table contains answers to some of the most commonly asked questions about the medical power of attorney for grandparents:
Question
Answer
Do grandparents need a medical power of attorney?
Grandparents need a medical power of attorney to decide about the medical treatment of their grandchild.

Grandparents should present a completed and signed form every time the child is admitted to a treatment facility. While not a legal requirement, the document should be signed in front of a notary public and notarized

Is it necessary to make a medical power of attorney for a child traveling with grandparents?
Grandparents don't need to have a medical power of attorney when they're traveling with their grandchild. Still, it's highly recommended that they do have one in case a medical emergency arises.

A document that is mandatory for all children traveling without their parents is a minor travel consent form

When do you need to make a medical power of attorney for grandparents?
Parents and guardians typically create a medical power of attorney for grandparents when they're unable to take care of their child because of work, illness, or similar
How To Create a Medical Power of Attorney for Grandparents
To create a medical power of attorney for grandparents, you can:
Hire a lawyer—A reliable, but expensive method
Draft the document by yourself—A method that requires a lot of research on your part
Whichever method you opt for, keep in mind that every MPOA for grandparents has fields that are:
Mandatory—The document isn't valid without the:

Parent's or guardian's name
Grandparent's name
Child's address
Date the document takes effect and expiry date

Optional—These fields aren't required but help the medical staff inform parents and guardians about their child's condition and administer appropriate treatment:

Parents' or guardians' telephone numbers
Child's allergies (if they have any)
Child's blood type and any medication they're receiving at the moment of their admission
Names and phone numbers of the child's physician and insurance provider
DoNotPay Creates Advance Directives for Adults in a Jiffy
Sometimes, children aren't the only ones in need of extra help. Creating living wills, health care proxies, and medical powers of attorney helps adults express their wishes and concerns regarding medical treatment but often comes at a sky-high price. Our app makes advance directives more available, and you can get yours in a snap if you visit DoNotPay and:
Search for Advance Health Care Directive
Specify types of treatment you wish to receive or reject
Name your health care agent
Enter the names of your two witnesses
Before you know it, your advance directive form will be ready for you to complete and sign.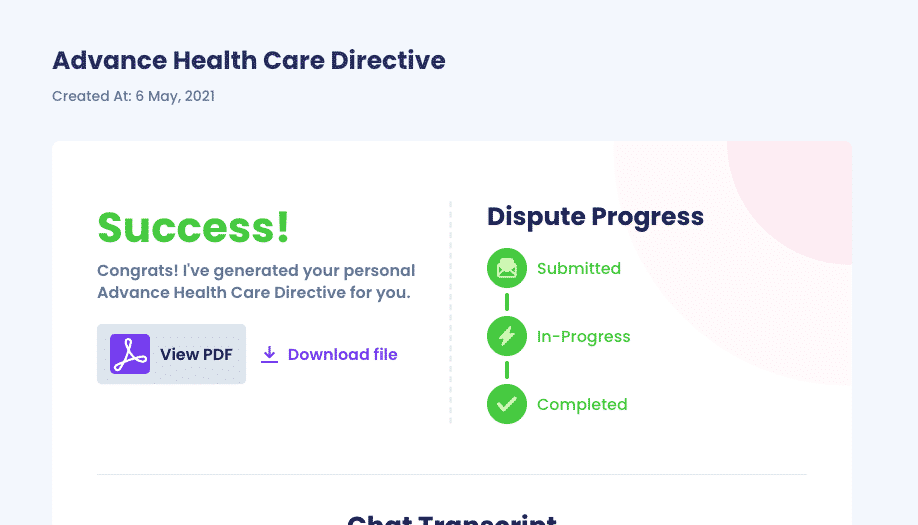 Are you new to advance directives? Explore our knowledge base and find out: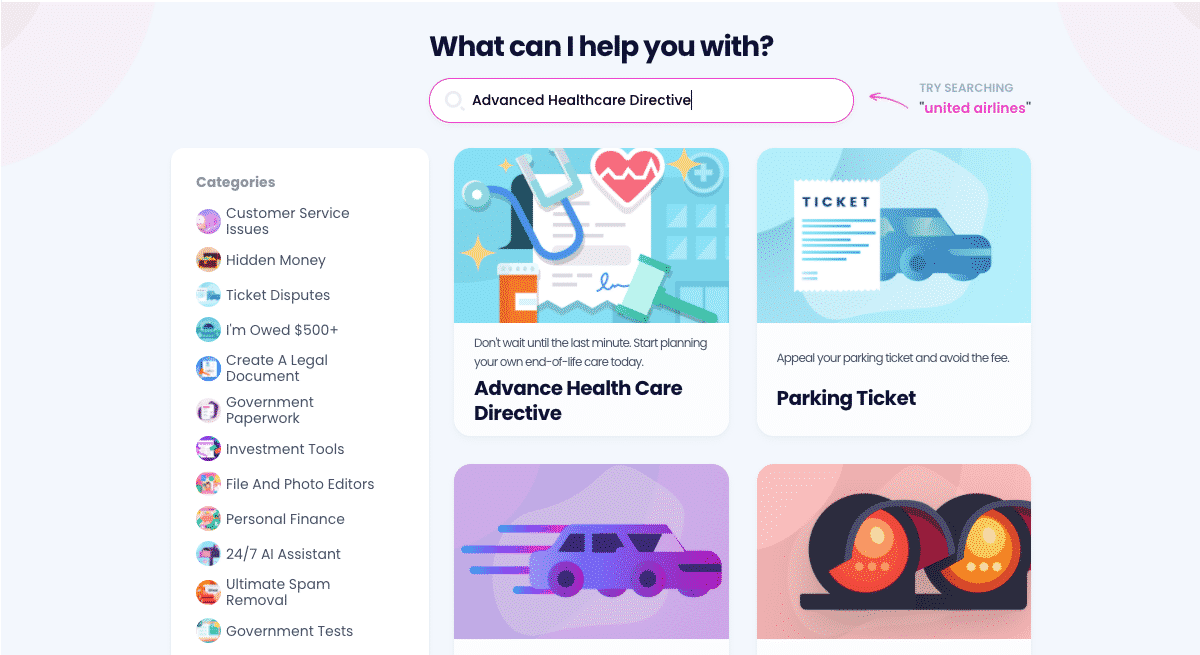 Turn to DoNotPay and Remove Bureaucratic Issues in a Snap
Does paperwork bring you to the edge of a nervous breakdown? With our help, you will skip all administrative impediments and get ready-made legal documents before you know it! No failed drafts or huge legal fees!
DoNotPay can generate:
Once you create the desired document, you can fax it online without a faxing machine or have it notarized with zero complications in the same app!
Your Info Is Safe With Our App
You don't need to leave your credit card info or personal details if you want to start free trials that won't turn into paid subscriptions without notice. DoNotPay will create a virtual credit card with a fake name and generic credit card number for you in just a few clicks. This way, greedy companies won't take a single penny from your account without your authorization!
Our app can also help you file anonymous HR complaints or create burner phone numbers to avoid disclosing your real info when signing up for apps and platforms.