A Simple Guide to a Medical Power of Attorney for College Students
Seeing your child go to college marks a new and exciting era for them, but it also comes with a lot of new worries for you. This especially applies to situations when the child goes far away from home and is out of your reach. What happens if they have a medical emergency?
If you want to be in charge of making health care decisions for your adult child, you should help them create a medical power of attorney for college students. DoNotPay can assist you with this task!
What Is a Medical Power of Attorney Used For?
A medical power of attorney is a type of advance directive used to appoint a health care agent. This person will be in charge of making medical decisions for the one making the legal document. A health care agent can be any reliable adult individual, and people usually opt for their spouses or other family members.
A medical power of attorney is known by various names across the states, including:
Health care power of attorney
Health care proxy (different from a medical power of attorney in some states)
Personal directive
Why Is It Important To Make a Health Care Power of Attorney for College Students?
Since college students are legal adults, you may not have the ability to make medical decisions for your child if necessary. In case your child does not have a spouse and you're not nearby, doctors may have to make important decisions regarding their health care on the spot.
The worst part about your child not having a medical power of attorney is that their wishes about specific medical procedures may be overlooked if you have never discussed them beforehand.
What if Your Child Is Studying in a Different State?
Since medical powers of attorney are state-specific, you should help your child make this document in accordance with the local laws of the area they currently reside in.
The best option would be to make one for the state you're from as well—it is not unusual for hospitals to discharge seriously injured individuals into rehabilitative or long-term care. This step will ensure that you're in control of your child's health care at home as well.
How Is a Living Will Different From a Medical Power of Attorney?
A medical power of attorney is more suitable for college students and potential medical situations they can find themselves in. Take a look at the table below to better understand the difference between a medical POA and a living will:
Medical POA
Living Will

Lets you appoint a health care agent
Is used in various medical situations
Goes into effect after doctors certify that the student is unable to make their own decisions

Does not appoint an agent
Is used only in end-of-life situations
Goes into effect when a doctor determines that the patient is:

Terminally ill
In a persistent vegetative state
Creating a living will may require specific forms and comes with an additional cost.
DoNotPay Helps College Students Create Medical Powers of Attorney
If you want your child to make an airtight health care proxy, but they don't know much about bureaucracy and applicable laws, you should tell them about DoNotPay. Our app will ensure the laws of the state they need it for are respected. Students can also avoid using unreliable advance directive forms, which may be too generic for their needs.
To get a medical POA with DoNotPay's help, the student in question will only need to:
Find our Advance Health Care Directive product
Appoint you as the health care agent
Choose the powers they want to transfer to you
If the state laws require witnesses when signing the document, you can specify their names while completing the questionnaire.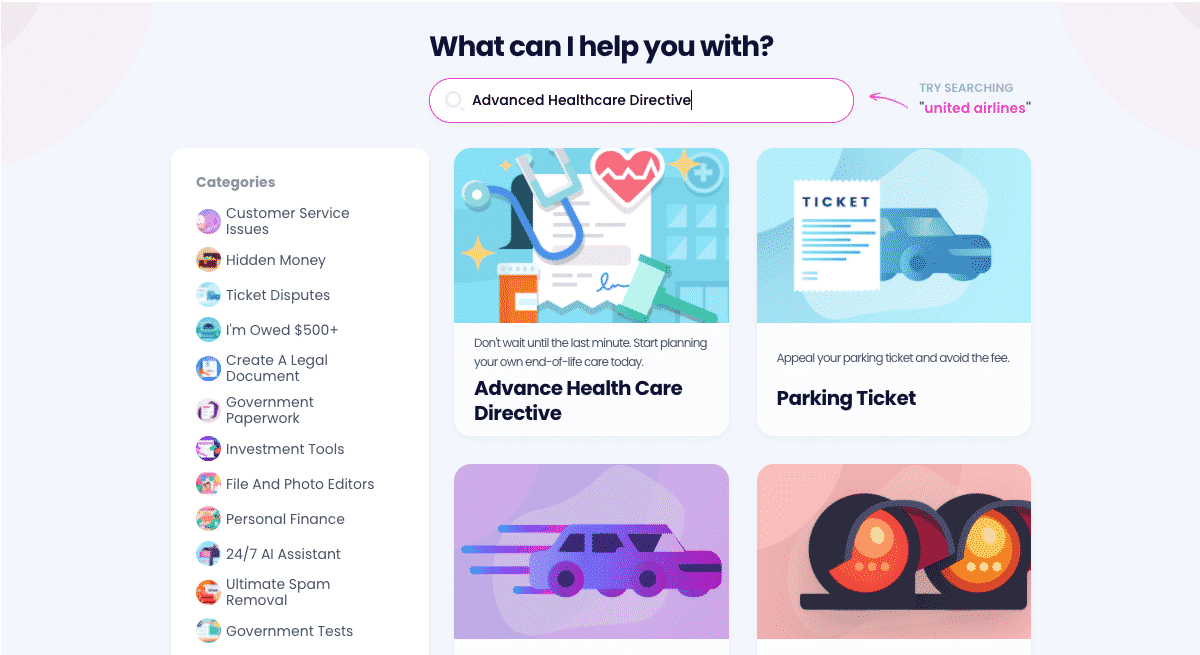 DoNotPay Handles Lengthy and Challenging Tasks on Your Behalf
No time to dedicate yourself to drawn-out procedures or solve administrative issues yourself? Keep calm—that's why DoNotPay is here! By creating an account on our platform, you will be able to:
Keep the Cash in Your Pockets With Our App
DoNotPay doesn't bring you money-saving hacks—it actually assists you in cutting out expenses and living more economically. The tools we provide are made to help you pay less for utilities, end unwanted paid memberships, have college fees waived, or get lower tax bills. You can also save more on education-related costs by applying for scholarships and other financial aid via our app!
If you have a few forgotten gift cards lying around, don't let them go to waste. DoNotPay can cash them out and send the remaining funds to your home address!