The Know-It-All Guide to the Medical Power of Attorney for a Child
What happens if your child suffers an accident or any other medical emergency when you are not around? Thinking about such scenarios isn't pleasant, but you must be prepared for them to ensure the best care for your little one. The preparation process usually involves creating a specific advance/health care directive—a medical power of attorney.
This article focuses on the essentials of creating a solid medical proxy for a child and explains:
What this term means
When you need to assign medical power of attorney for your child
What the document should include
How to create it yourself
We will also explain how to draft an advance directive flawlessly by using DoNotPay!
What Is the Medical Power of Attorney for Children?
By creating a medical power of attorney/medical proxy for a minor, you authorize a person of trust to decide about your child's health treatment in your absence. The person you name as a healthcare agent informs the doctors treating your kid about what treatments you do and don't allow.
A medical power of attorney shouldn't be confused with guardianship. Guardianship refers to assigning parental authority to another individual, leaving you with no right to decide for your child. This isn't the case with the medical power of attorney, as it gives another person temporary authority. The parent has the right to revoke a power of attorney at any time.
When Do You Need Medical Power of Attorney for a Minor?
Here are the most common situations when you need to create a health care power of attorney for your child:
You are out of town, leaving your little one with your family members or friends
The child has been sent to another town to live with friends or relatives
You are leaving your child with a babysitter or in a daycare facility while you are away
How To Create Medical Power of Attorney for Your Child
The available ways of making the medical power of attorney are presented in the table below:
Method
Details
Create the document yourself
To draft the medical power of attorney manually, you must know which elements it should contain. Medical proxy forms for children are different for each state, but some general requirements include:

Personal info of the parent and agent, such as:

Legal names
Home addresses
Contact information—phone numbers or email addresses

Names and birth dates of each child whose health care is covered by the document
Start and end authorization dates
Powers the parent delegates to the agent
Signatures of the parent(s) and witnesses

Complete an online medical proxy template
Many websites offer free samples and templates you can customize. While they represent a quick and affordable solution, these forms are often too general, contain errors, or need to be updated
Hire an attorney to draft the document for you
Professionals can assist you with creating the medical power of attorney or write the entire document in your stead for a specified fee
DoNotPay Offers the Simplest Way To Craft Advance Directives
Now you know how to compose a medical power of attorney for your kid, but what about creating one for you? Health problems can occur unexpectedly, and you should ensure your medical care wishes are honored if you become incapacitated.
DoNotPay can create a comprehensive advance health care directive, including:
Living will—a set of instructions regarding your preferred medical treatment in case of debilitating illness or injury
Health care proxy—a document naming a trusted individual (a health care agent) to make medical decisions for you if you're unable to
To get the document you need, follow these steps:
Go to Advance Health Care Directive
Name your primary agent
Answer several questions related to your medical preferences
Provide us with the names of the witnesses who will sign the document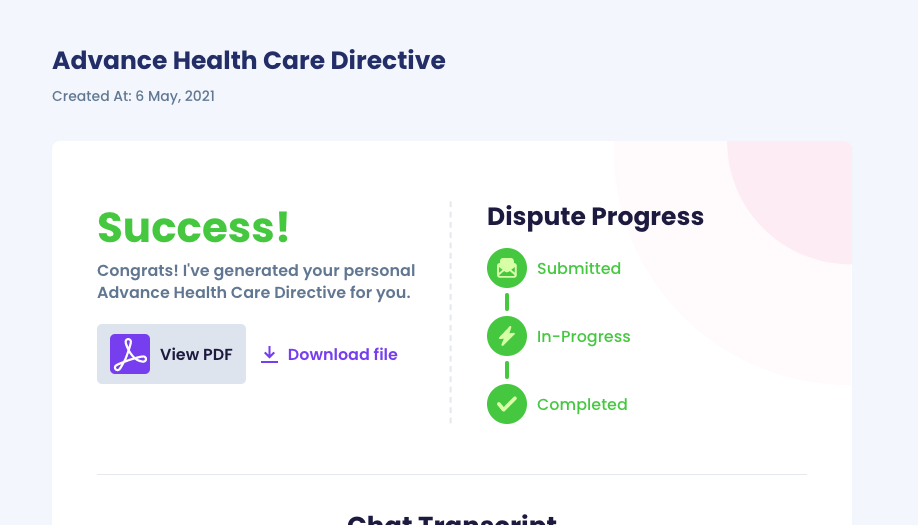 Upon finalizing the process, you will get a completed medical proxy, but most states require the document to be signed and notarized.
Interested to know the difference between a health care proxy and power of attorney or what a living will form should look like? Consult our knowledge base for answers!
DoNotPay Offers More Assistance!
Our app boasts many features that can make your life easier.
Do you need help searching for unclaimed money or covering bills? Are you looking for clinical trials you can sign up for to earn some extra money? We can help you out in a flash!
Other tasks we can streamline for you are the following:
Forget Hiring a Lawyer—Use DoNotPay Instead
You don't want to spend a fortune on lawyer fees? No problem! DoNotPay—the world's first robot lawyer—is here to assist you! With our help, you'll be able to file complaints, sue anyone in small claims court, handle stalking and harassment, get crime victims' compensation, and draft numerous documents, including:
If you need to get a document notarized, you can also count on our help. We'll connect you with an online notary who will notarize your document in a flash.