The Secret to a Seamless Medical Power of Attorney in Florida
Planning future medical treatment preferences or end-of-life care seems scary, which is why many people refuse to think about it. Only a small percentage of Florida residents are informed about the advantages of the medical power of attorney. This document helps you preserve your health-related rights in the best possible way—all you need to know is how to create it and put it into effect.
In this article, you will find out:
What Is a Medical Power of Attorney in Florida?
In Florida, the medical power of attorney is called a designation of health care surrogate. It allows you to name a specific person as your agent and grant them rights to decide on your health treatment options if you can't express your own wishes. This way, you can be sure that your medical care preferences will be honored even if you can't communicate them effectively with your health care providers.
A medical power of attorney—or a medical proxy—shouldn't be confused with a regular power of attorney as they refer to different types of powers.
Signing Requirements for a Medical Proxy Form in Florida
According to the health care directive section of the Florida Statutes, the only requirements for signing a designation of health care surrogate are the following:
The medical proxy must be in written form
As a principal, you must sign the document along with two adult witnesses that shouldn't be:

Under the age of 18
Your health care surrogates
Related to you by blood
Married to you
Who Can Be Your Health Care Surrogate?
Entrusting your medical treatment preferences to another person may seem scary but will work well if you choose the right person as your health care agent. It can be your:
Parent
Sibling
Cousin
Other relative
Spouse
Adult child or grandchild
Friend
What Are the Sections of a Florida Medical Power of Attorney?
To help you understand the standard structure of a medical proxy in Florida, we explained it in more detail in the following table:
Section
Details
Statement
In the introductory part, you should confirm that you are naming a particular person as your health care surrogate. You need to add the crucial info, such as:

Your legal name and age
Legal name, physical address, and contact details of your health care agent

Alternative agent provision
This section should state the name, address, and contact details of the person who can take over the powers if your primary agent is unable to
Transferred health care powers
The next part contains all medical care aspects within which the agent can make decisions in your name, such as life support or treatment options
Signatures
Besides the witnesses' signatures, the document should contain their printed names, addresses, and dates of signature
No Time To Write a Medical Proxy? Sign Up for DoNotPay and Get the Document in Minutes
To avoid paying an attorney to compose a living will or a medical proxy, people often decide to make one from scratch. Even though manual drafts are a cheaper option, creating them on your own may be time-consuming and exhausting. With DoNotPay, you can skip the hassle and have your document created in a few easy steps!
Here is how we can help:
Go to Advance Health Care Directive
Name your primary agent
Specify your medical care preferences
Tell us who your witnesses are
This way, you can generate living wills and health care directives in Florida or any other U.S. state!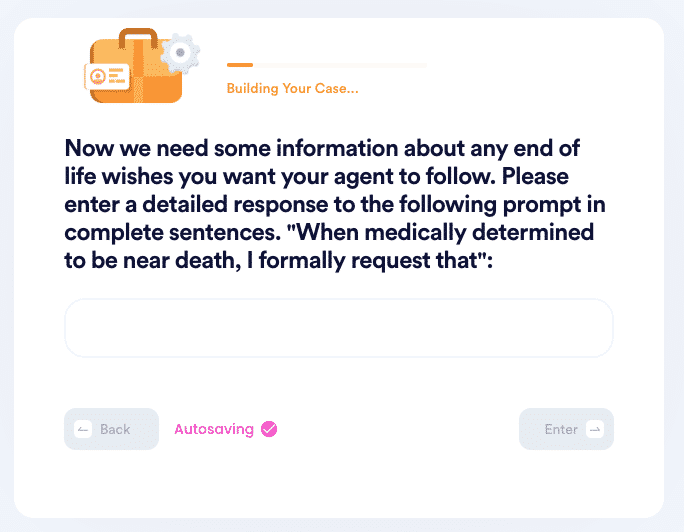 Save Time and Money Using DoNotPay
Being on hold while trying to reach customer service is no picnic. With DoNotPay, you can jump the phone queue and reach a rep with ease. Are you contacting a company to request a refund or cancellation? No need for that! Our app can get it done in a few clicks. We can also help you return an item or handle a late delivery.
Dispute parking tickets, claim your warranty or insurance, set up a DMV appointment, contact an embassy, and deal with any other task with our assistance.
You can also request access to public records, apply for tourist visas, or file complaints with the help of our AI-powered app.
We're Not Done Helping You!
Our multifaceted app keeps getting new features that can streamline numerous tasks and solve all kinds of problems.
Would you like to join sweepstakes or giveaways? Are you up for participating in clinical trials and earning some money? Are you interested in sending mail without visiting the post office? We've got it covered!
We will help you protect your privacy by putting an end to spam emails, incessant text messages, and robocalls. If you think you're being stalked, you can count on our assistance. You can also use our app to perform a sex offender search, fight workplace discrimination, and handle annoying neighbors.