Understanding the Medical Power of Attorney in Colorado
Have you ever wondered what would happen to you if you were in a coma and needed to be on a ventilator? Who will give consent to your medical treatment, and for how long? You can make your medical treatment preferences known—including naming someone who will make health care decisions on your behalf—by completing an advance directive.
This guide will cover the specifics of a medical power of attorney in Colorado and show you how to get the document in less than five minutes using DoNotPay.
What Is a Colorado Medical Power of Attorney?
A medical power of attorney (MPOA) is a document that enables you to name someone who will make your health care decisions if you become incapacitated and unable to communicate them yourself. The person you appoint is called a health care agent (also known as a health care proxy, attorney-in-fact, surrogate, or representative—depending on the state). A medical power of attorney can also be called a:
Health care power of attorney
A durable power of attorney for health care
Medical directive
Advance decision
A MPOA is one type of health care directive recognized in Colorado. Others are:
Living will—Allows you to list the end-of-life treatment options that you would and wouldn't want to receive
Cardiopulmonary resuscitation (CPR) directive—Instructs medical professionals not to resuscitate if your heart stops
Medical Orders for Scope of Treatment form (MOST)—Provides instructions to the physician regarding which treatment to avoid or perform in case of an emergency
A Colorado advance directive differs from a standard power of attorney, as the latter is also used for managing financial affairs.
Who Can You Name as Your Agent?
Colorado law doesn't provide restrictions on who you can choose as your agent, but they must be:
At least 18 years old
Mentally competent
Willing to serve as your health care agent
You can also select more than one agent, but consider the complications that would have on the decision-making process—such as disagreements regarding the best medical care options. It's preferable to name an alternate agent who can take charge if the primary one is unable or unwilling to assume their role.
In Colorado, the agent's authority can take effect immediately or when you become incapacitated. If you don't specify the effective date or conditions, it takes effect upon signing.
Colorado Medical Power of Attorney Form
While there is a suggested medical power of attorney form in Colorado, you can draft one that meets your specific needs. The basic sections of the form are outlined in the table below:
| MPOA Form Sections | Details |
| --- | --- |
| Appointment of agent and alternates | Provide personal info of your agent and alternate agent, such as name, phone number, email, and home address |
| Date of effect | Identify the conditions under which the document goes into effect |
| Instructions to the agent | List your wishes regarding the preferred medical treatment, including life-sustaining procedures. You can also limit the agent's authority |
| Sign and date | Sign and date the form to make it legally binding |
Does a Medical Power of Attorney Need To Be Notarized in Colorado?
Colorado is more flexible regarding witness and notary requirements than most states. In Colorado, medical power of attorney doesn't need to be witnessed or notarized. Having the document notarized is recommended as the act adds legal weight to the document.
The Best Way To Create Any Advance Directive—Use DoNotPay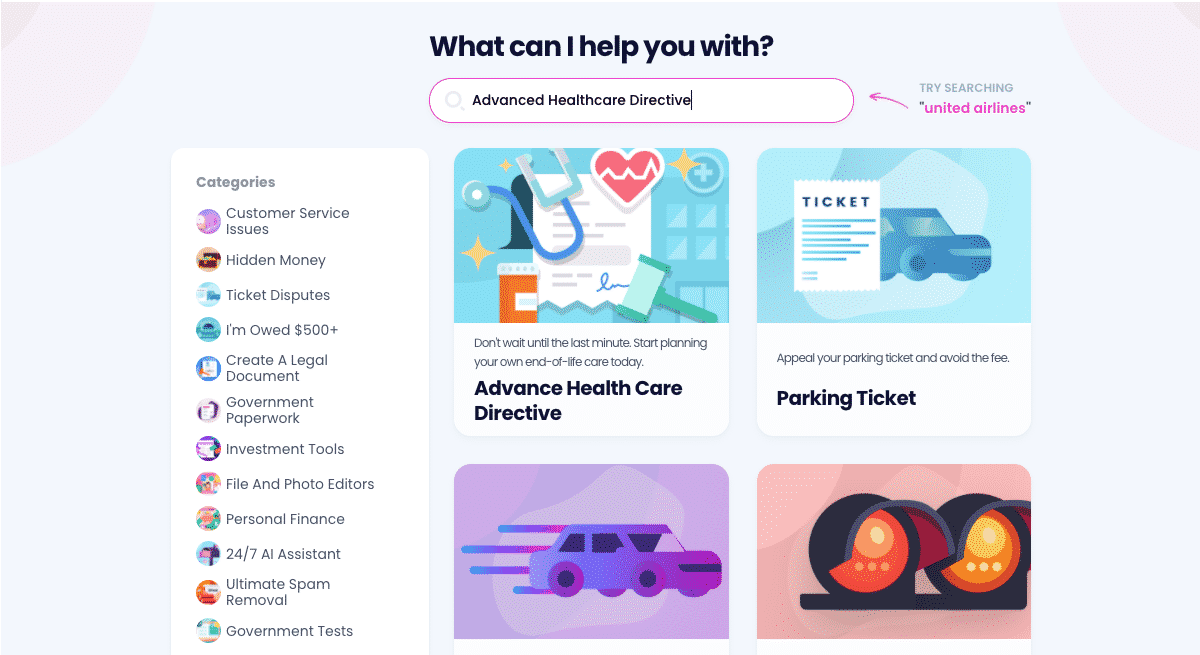 Would you like to get a health care proxy or living will tailored to your needs? Look no further than DoNotPay. Our AI-powered app will generate ready-to-sign documents for you in a matter of minutes.
Once you provide us with essential info regarding your health care wishes, we will generate a document that is:
Lawful
Personalized
Comprehensive
Here are the steps you need to take:
Select the Advance Health Care Directive feature
Answer our chatbot's questions
You can answer more questions by checking out our knowledge base, for instance: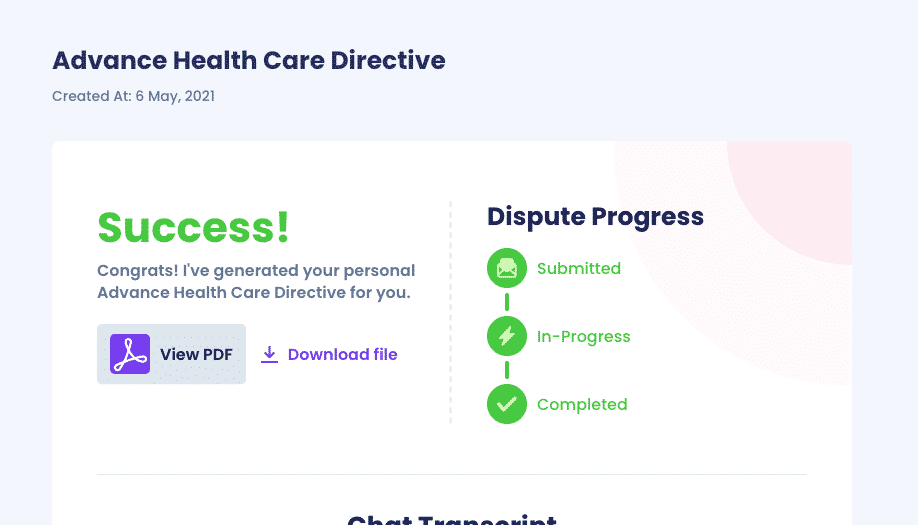 Say Goodbye to Boring Tasks
When a task takes up too much time, you may give up or procrastinate incessantly. We have a solution—use DoNotPay to manage numerous administrative or bureaucratic errands.
No more waiting in neverending DMV lines or staying hours on the phone waiting for a customer service rep to pick up. You can even skip going to the post office. We can help you send letters and even online faxes in a flash. If what you're sending needs to be notarized, use our app to schedule an appointment with an online notary.
Traveling soon? Get your passport photos ready, apply for a tourist visa, contact embassies, and draw up a child travel consent form—all within the same app.
What Else the World's First Robot Lawyer Can Do for You
When you need legal assistance but you can't afford to hire a lawyer, rely on DoNotPay. With our legal expertise, we can help you do the following: