Prepare in Time—Create a Medical Power of Attorney in California in a Snap
Every state has its own form of advance health care directives—legal documents that allow you to plan your medical treatment ahead. Inform your loved ones about your wishes—learn the easiest and quickest way to create a medical power of attorney in California!
What's the Purpose of a Medical Power of Attorney in California?
A medical power of attorney (also known as a health care proxy in some states) allows you to designate a health care representative to make decisions regarding medical treatment on your behalf. The representative also goes by the names of:
Health care agent
Medical proxy
Patient advocate
Attorney-in-fact
Health care surrogate
Your health care proxy takes effect from the date you state on the document or, more often, when you become too ill or unable to express your wishes yourself.
The purpose of a medical power of attorney is to ensure you designate a person who will carry out your wishes regarding medical treatment—whether you want to receive it or not. The duty of your medical practitioner is to follow through with the instructions they receive from your health care agent, and the agent should act in your best interest—as agreed in the document.
Medical Power of Attorney for California—Who Can Be Your Medical Agent?
The law prohibits people who have a direct impact on your health from being your medical agents. Find out who else can or cannot be your medical representative in the table below:
Who Can Be Your Health Care Agent?
Who Cannot Be Your Health Care Agent?
Your agent must be older than 18 and can be:

A family member
A close friend

The agent must act in accordance with your instructions, not their personal beliefs and opinions

Your assigned physician
An employee of your assigned physician
An operator of a community care or medical care facility

These rules don't apply if any of the people mentioned above happen to be your relative
What's the Difference Between a Living Will and Medical Power of Attorney in California?
A California medical power of attorney regulates only the designation of your health care representative, while the California living will allows you to specify the types of treatment you wish to receive (or reject). The living will form is usually a part of the advance health care directive form in California.
To prepare for the worst-case scenario, you should have both of these documents at hand when you're being admitted to a medical institution. Some of the ways you can approach creating a living will and medical power of attorney in California include:
Writing the documents by yourself
Downloading and completing online premade forms and templates
Hiring a lawyer to do the hard work for you, but at a high cost
Using DoNotPay
With DoNotPay, you only need to provide basic information—our app will take care of the rest!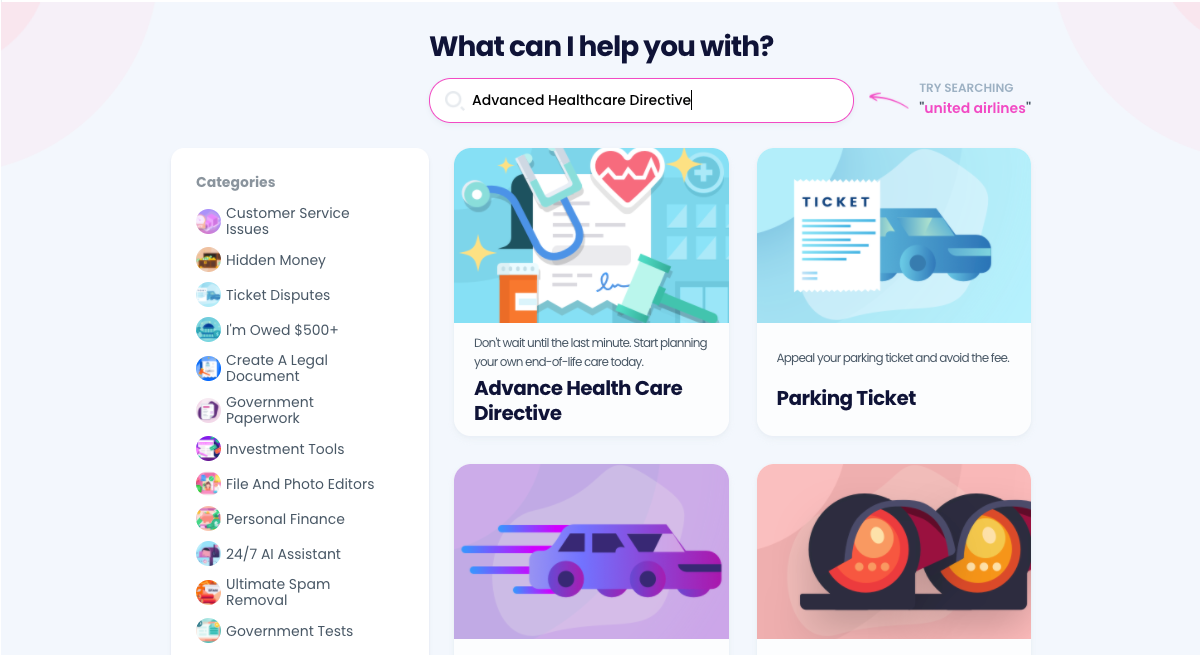 Create Your Medical Power of Attorney in California NOW With DoNotPay
Talking about end-of-life healthcare is difficult as it is, so completing your advance health care directive forms shouldn't be another energy-draining process. With DoNotPay, you can plan your treatment ahead and speed up the formalities—no fuss involved. To get started:
Search for Advance Health Care Directive
Enter the name of your health care agent and specify the treatment options you wish to receive or reject
After you complete these steps and sign the document electronically, our app will create the document for you right away.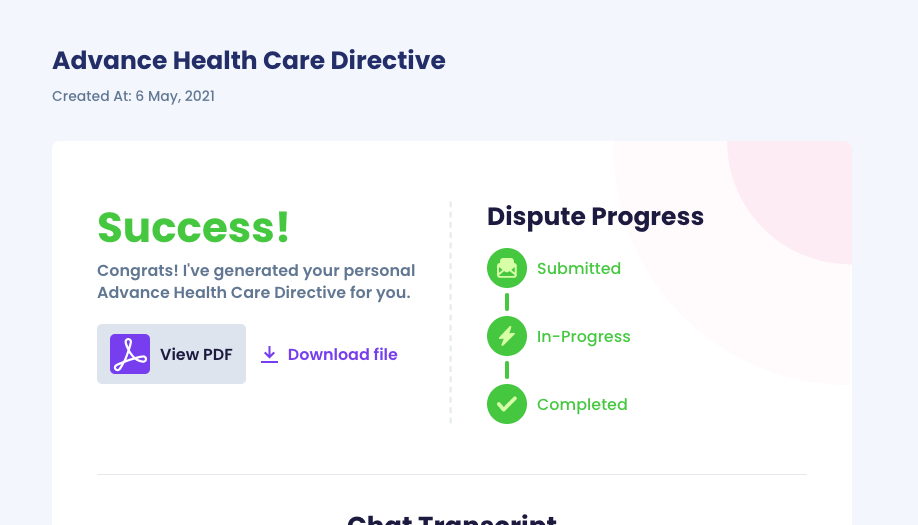 The next steps include:
Finding two witnesses to sign the document as well
With DoNotPay, There's Always a Way
There's so much more we can do for you! As soon as you sign up for our AI-powered app, you will have a myriad of nifty products at your disposal. We can do any of the following and more:
Tired of Companies Mistreating You?
If you're sick of dealing with greedy companies, subscribe to DoNotPay—we'll assist you with any issue at hand.
If you want to get a refund, send an item return request, file a complaint, claim insurance or warranty, get a free trial without getting charged by using our virtual credit card, or put an end to robocalls, your AI-powered assistant will be there to help.
When you decide to take legal action, our app will support you along the way. Sue any company in small claims court worry-free!