A Medical Power of Attorney—Arkansas Regulations
Thinking about unfortunate events that might affect your health seriously isn't pleasant, but it might be the right path to take. You don't have to leave all the decisions about your health care in the hands of your family members or spouse.
Why wouldn't you list your preferences in an advance directive, living will, or medical power of attorney? Since each state has different rules, this article helps you understand what to include in a medical power of attorney in Arkansas.
What Is an Arkansas Durable Power of Attorney for Health Care?
An Arkansas medical power of attorney is a legal document that lets you name a person—called a health care agent—to make decisions about your medical care in case you can no longer make them for yourself.
A medical power of attorney—together with an Arkansas living will—constitutes an advance health care directive. Keep in mind that:
Some states use the following names for a medical power of attorney (POA):

Durable health care power of attorney
Power of attorney for health care

There might be a slight difference between a health care proxy and POA
You should not confuse a:

Living will with a (last) will
Health care power of attorney with a financial POA
Who To Choose for an Agent in an Arkansas Power of Attorney for Health Care
When selecting a person to act as your health care agent, you should consider the following:
Ask the Following Questions
Details
Does that person understand your health care wishes?
You should speak with a person you'd like to appoint as an agent to make sure they are aware of and accept your medical wishes
Is the person trustworthy?
Since your agent will be in charge of your medical treatments in case you are unable to communicate your wishes, they need to be someone you can rely on and who will:

Respect your preferences for health care
Act in your best interest

Who can you choose?
You can delegate anyone to serve as your agent as long as they are over 18 years of age. For instance, you could appoint your:

Parent
Sibling
Relative
Adult child
Life partner
Close friend
How To Create a Medical Power of Attorney in Arkansas
If you are wondering how to prepare an Arkansas health care power of attorney, here are some options you could take:
Consult a lawyer—While any law office could create a living will, advance directive, or medical power of attorney for you, you should know that:

There is no need to hire a lawyer to draw up these documents
You will need to settle hefty attorney fees for this type of service

Download an Arkansas medical power of attorney form—You could:

Go through numerous available online templates
Inspect them carefully to check whether they meet legal requirements
Adjust a preferred form to fit your specific needs

Use DoNotPay—Our robot lawyer:

Is familiar with different state laws and ensures your medical preferences meet them
Can generate a medical power of attorney, living will, and an advance health care directive in minutes!
Choose DoNotPay To Draft a Medical Power of Attorney Efficiently
Our AI-powered app has a vast database with up-to-date legal requirements throughout the States. We will ask you a few questions to make sure all your preferences for health care are incorporated in the document.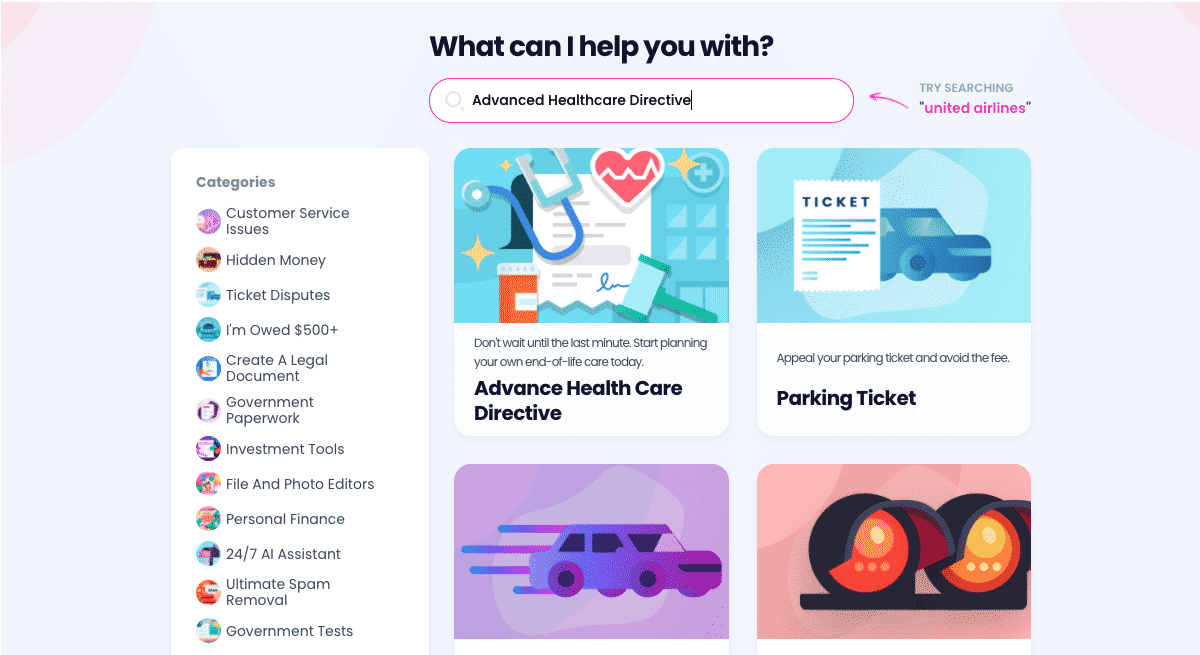 The whole process is smooth and fast—Sign up for DoNotPay and take these steps:
Navigate to the Advance Health Care Directive product
Provide the name of your health care agent and indicate your medical care wishes
Enter the powers you are giving your agent and health care treatments you want and do not want to receive
Choose to have the document notarized or type in the names of the witnesses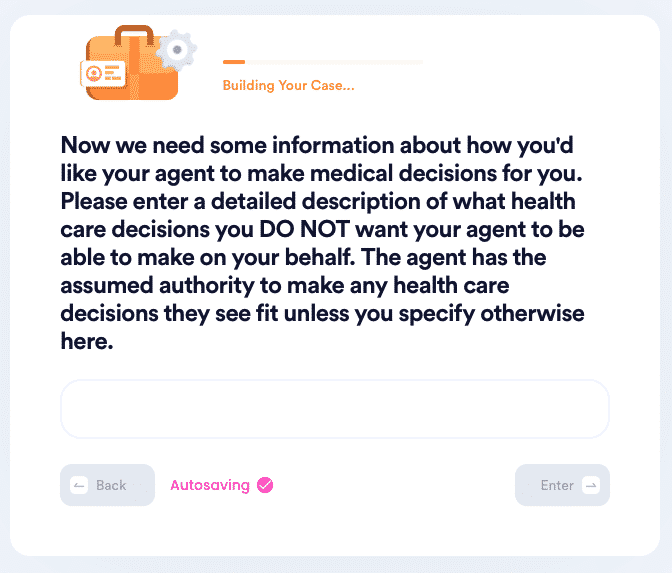 If you select to get the document notarized, DoNotPay will also help you with that matter by connecting you with an online notary public.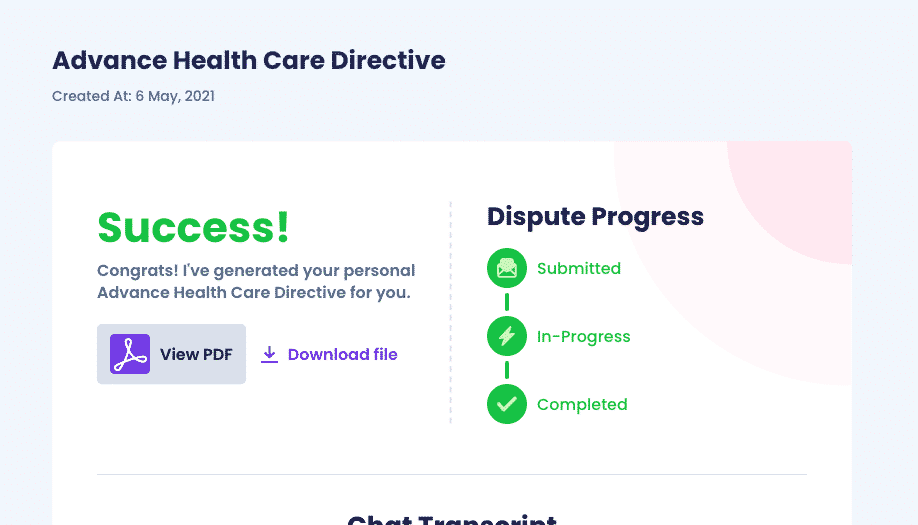 Our App Generates Legal Documents and Letters in Your Stead
If you do need some important paperwork, DoNotPay can generate it for you in record time! The tools we feature can assist you in drafting the following categories of documents:
| Legal Documents | Appeals and Letters |
| --- | --- |
| | |
All legal documents you create can also be notarized and faxed online in our app!
Administrative Issues Are No Longer A Problem With DoNotPay
By signing up with DoNotPay, you can say goodbye to tiring bureaucracy and: