A Practical Guide to a Medical Power of Attorney in Arizona
Would you like to put your mind at ease by choosing a reliable person to make health care decisions in case you cannot? In this case, you need a medical power of attorney but could also supplement it with a living will and advance directive.
As you need to pay attention to state laws when drafting a health care document, this article explains the requirements for a medical power of attorney in Arizona.
Do You Need an Arizona Medical Power of Attorney?
You should create an Arizona medical power of attorney (POA) to:
Appoint a person—an agent or health care proxy—to make decisions about your medical treatment in case you:

Are unable to express your wishes
Cannot make decisions for yourself
Are incapacitated or terminally ill

Specify the powers you grant your agent and restrictions you impose on their authority
Provide your explicit health care instructions
Keep in mind that a medical power of attorney in Arizona can also be referred to as:
Who To Name for an Agent in a Health Care Power of Attorney in Arizona
Your health care agent should be someone you can trust to make informed decisions about your medical affairs. This person should also be familiar with your beliefs and values.
Keep in mind that:
A person whose fiduciary license has been revoked cannot act as your agent (unless they're related to you)
You could appoint an alternate agent who can take over in case the primary agent is unavailable, unable, or unwilling to make certain health care decisions on your behalf
A Medical Power of Attorney Form in Arizona and Related Documents
When creating an AZ medical power of attorney, you could also consider drawing up the following forms:
How To Create a Durable Health Care Power of Attorney in Arizona
To draft a medical power of attorney in Arizona, you could:
Use services—While any lawyer can prepare a legal document for you, you need to be aware that you:

Don't have to use their services for a health care document
Will need to cover high attorney fees

Search for Arizona medical power of attorney forms—You could prepare a medical POA on your own by:

Checking available online templates
Amending the chosen form to comply with state law and reflect your needs

Access DoNotPay—Our AI-powered app:

Knows what legal requirements a health care document needs to fulfill
Uses the information you provide to generate a medical POA tailored to your health care wishes
DoNotPay Delivers a Watertight Medical Power of Attorney in a Flash
Our robot lawyer can help you get a rock-solid medical power of attorney, living will, and advance directive in minutes!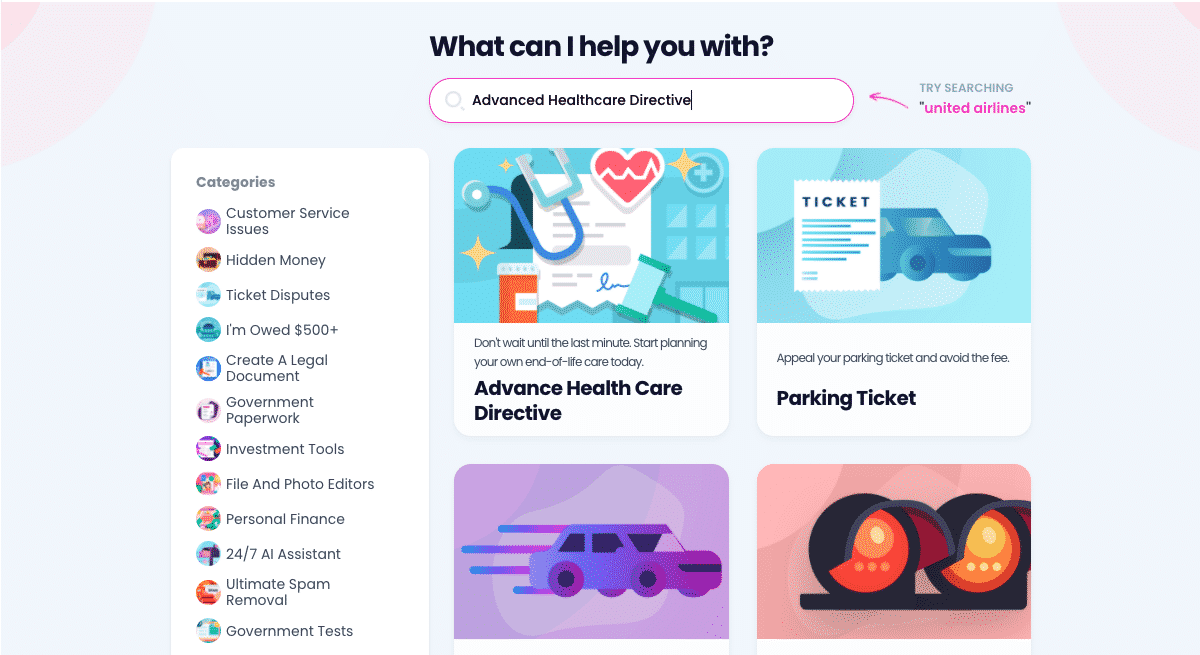 Open the Advance Health Care Directive feature
List your health care preferences and provide your agent's name
Indicate what powers you (don't) want to grant your agent
Let us know if you'd like to have the document notarized or provide the name(s) of your witness(es)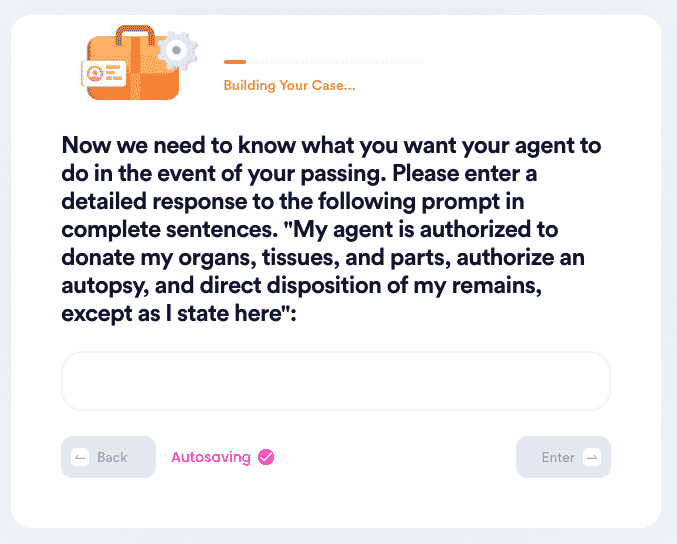 DoNotPay Handles Lengthy and Challenging Tasks on Your Behalf
No time to dedicate yourself to drawn-out procedures or solve administrative issues yourself? Keep calm—that's why DoNotPay is here! By creating an account on our platform, you will be able to:
Keep the Cash in Your Pockets With Our App
DoNotPay doesn't bring you money-saving hacks—it actually assists you in cutting out expenses and living more economically. The tools we provide are made to help you pay less for utilities, end unwanted paid memberships, have college fees waived, or get lower tax bills. You can also save more on education-related costs by applying for scholarships and other financial aid via our app!
If you have a few forgotten gift cards lying around, don't let them go to waste. DoNotPay can cash them out and send the remaining funds to your home address!