Set Up a Safety Net With a Medical Power of Attorney in Alabama
If you have decided to plan your health care ahead, you need to start with an advance health care directive. This legal document usually includes two key parts—a living will and medical power of attorney.
Since different states have different forms, this article sheds light on a medical power of attorney in Alabama.
What Is an Alabama Medical Power of Attorney?
An Alabama medical power of attorney (POA) is a document that lets you name a person—called an agent—to make medical decisions for you if you:
Become ill or incapacitated
Cannot speak for yourself any longer
In Cotton State, this form also goes under the following names:
Keep in mind that in some states, there is a slight difference between a health care proxy and medical power of attorney.
Key Parts of Alabama Durable Power of Attorney for Health Care
Before you start looking for the most suitable ways to prepare a medical power of attorney, you should first choose an agent.
The following table outlines some important aspects you need to consider before appointing a person who will be in charge of your health care:
Who Should Be Your Agent
What Powers To Grant and Restrict
Your agent should be a person that:

Is trustworthy
Will respect your wishes
Will act in your best interest
Can make medical decisions for you

Keep in mind that your agent cannot be:

Your health care provider
A person under 18 years of age
An employee or operator of your health care provider (unless they are your spouse or family member)

You should indicate your preferences for health care and which decisions your agent:

Can make for you
Cannot make while you are incapacitated

Keep in mind that wishes specified in a durable power of attorney for health care in Alabama—or any other advance directive form—do not apply when you get pregnant
Documents That Can Supplement an Alabama Health Care Power of Attorney
Aside from creating a medical power of attorney in Alabama, you could also consider drawing up the following legal documents:
Additional Documents
Details
Living will
A living will is another advance directive part that often goes together with a health care POA.

By creating this document, you will:

Express your wishes regarding end-of-life procedures and treatment
Instruct your agent and health care provider on how to behave in case you are nearing the end of your life

Financial power of attorney
While it is also called a power of attorney, this document differs from a medical POA as it grants your agent powers to make financial decisions on your behalf if you are not able to make them for yourself
Sign up for DoNotPay to create a financial or health care POA, living will, or any other advance directive to:
Devise a clear plan for future events
Prevent wrong decisions
Relieve your family members of that burden
DoNotPay Generates a Medical Power of Attorney Automatically
There is no need to:
Head to a law office and spend a lot of money to have a lawyer draw up this document for you
Google and inspect various online templates that often turn out to be unsuitable for your state laws or your personal needs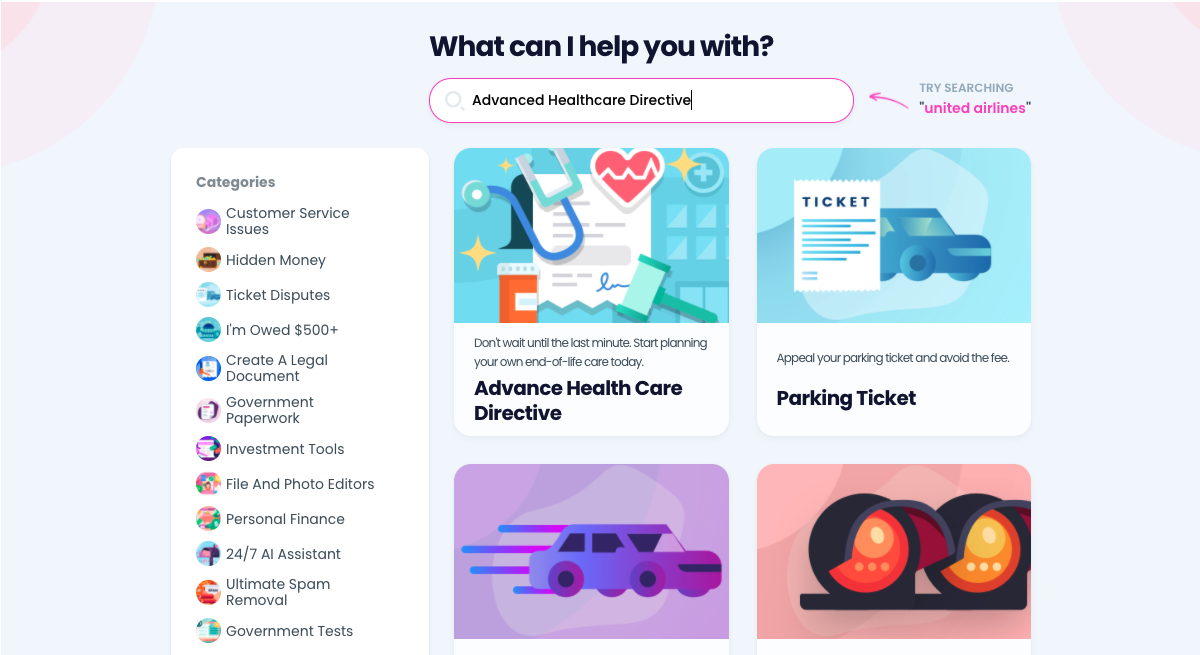 Regardless of whether you live in Alabama or anywhere else, our AI-powered app is familiar with different state regulations and can help you draft an airtight advance health care directive tailored to your specific wishes.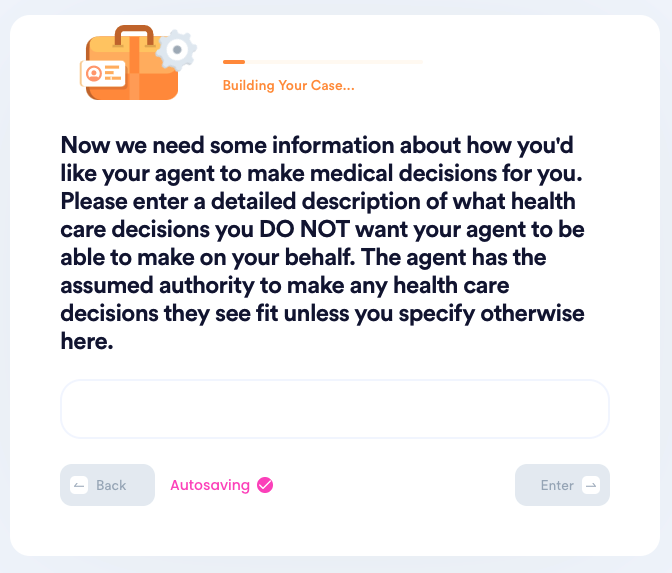 Here is a simple procedure you will go through—access DoNotPay and:
Find our Advance Health Care Directive product
Provide your agent's name and your wishes regarding health care
Specify what powers you are granting your agent and what treatments you authorize
Enter the names of the witnesses
You should know that DoNotPay can help you get the document notarized fast as well.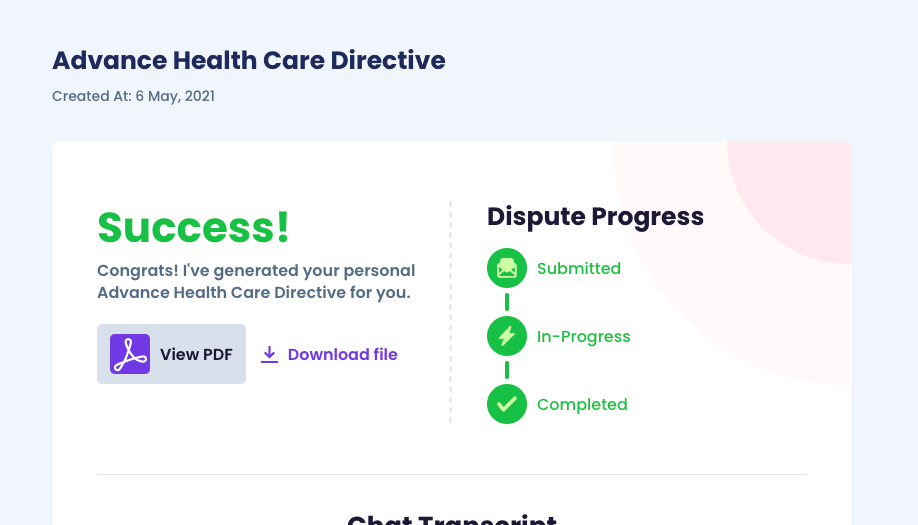 Solve Any Problem Within a Few Clicks
DoNotPay keeps adding new features that are designed to help you navigate your tasks and resolve issues. You can rely on your AI-powered app whenever you need to:
Earn and Save Money Using DoNotPay
When money is tight, every penny counts. DoNotPay can help you get what you're owed and also some extra cash.
Here are some of the ways our app can help you get paid:
We can also assist you in searching for your unclaimed funds, demanding a college fee waiver, and joining clinical trials.
If a company refuses to give you what you're owed, don't hesitate to file a complaint and take it to small claims court.