Medical Durable Power of Attorney—Definition and Details
When someone becomes seriously injured or permanently unconscious, medical treatment decisions are made in their stead. What if there was a way to write down your preferences if you ever find yourself in such a situation? To avoid confusion and protect your wishes, you must create a specific legal document.
DoNotPay breaks down a medical durable power of attorney—the definition and scope of which are tricky to grasp without help. Sign up for our app to draft this document in a matter of minutes.
What Is a Durable Medical Power of Attorney?
A durable medical power of attorney (medical POA) is a legal document used to appoint a person to make medical decisions for you if you are incapacitated. This document should contain the instructions about the treatments you would like to receive or forbid.
Even if you don't have specific wishes about your health care, a medical POA will ensure that a person you trust makes the hard decisions if you cannot do so.
You can also create a medical POA for children if you want to appoint someone to decide for your kids when you are away or unable to participate in their health care for whatever reason.
A medical power of attorney goes by many other names, including:
Advance directive (we have the info about the forms as well)
Medical directive
Personal directive
Health care power of attorney
Advance decision
Durable power of attorney for health care
Some states might recognize slight differences between the mentioned documents. A power of attorney and a health care proxy are common examples. If you're creating this sensitive document yourself, check your local laws beforehand.
Who Can You Appoint as the Agent?
Your agent must be older than 18. It is imperative to choose a person of trust who will respect your wishes and make appropriate decisions. People usually appoint:
A spouse or domestic partner
Close friends
Siblings
Adult children
Nearest living relatives
Even a third party, like a legal professional, can act as your agent if you decide that an objective individual would be better suited for the role.
Types of Power of Attorney: Medical and Financial POAs—How Are the Two Different?
A medical power of attorney appoints someone to make decisions only about your health care. A financial power of attorney authorizes someone to act on your behalf in financial and other matters. You can make both documents and assign different agents for each.
The Difference Between a Medical POA and a Living Will
A living will is another way to ensure your demands are not overridden if you cannot take care of yourself. The difference between a living will and a medical POA is that the former does not require an agent. Take a look at the table below for a closer understanding:
Medical POA
Living Will

Appoints a person to make health care decisions if you cannot act for yourself
Covers more conditions and treatments compared to a living will

States your choices to have certain types of care withheld or withdrawn in specific situations
Is used mostly for terminal illnesses or permanent comas
Doesn't require you to appoint an agent
It is essential to know how to create a living will or a POA properly and what costs the documents entail. You should avoid using online forms and opt for more reliable solutions.
Use DoNotPay To Make a Medical Power of Attorney
Our app can provide you with a legal document you need, no matter the official name in your state. The entire process is straightforward, and you only need to follow these instructions:
Type in Advance Health Care Directive in the search box
Choose your agent and enter other relevant medical information (hospital, doctor, etc.)
Inform us about the powers you want to transfer to your agent
Some states require you to have witnesses present when signing the document. If that is the case, our chatbot will ask you to enter their names.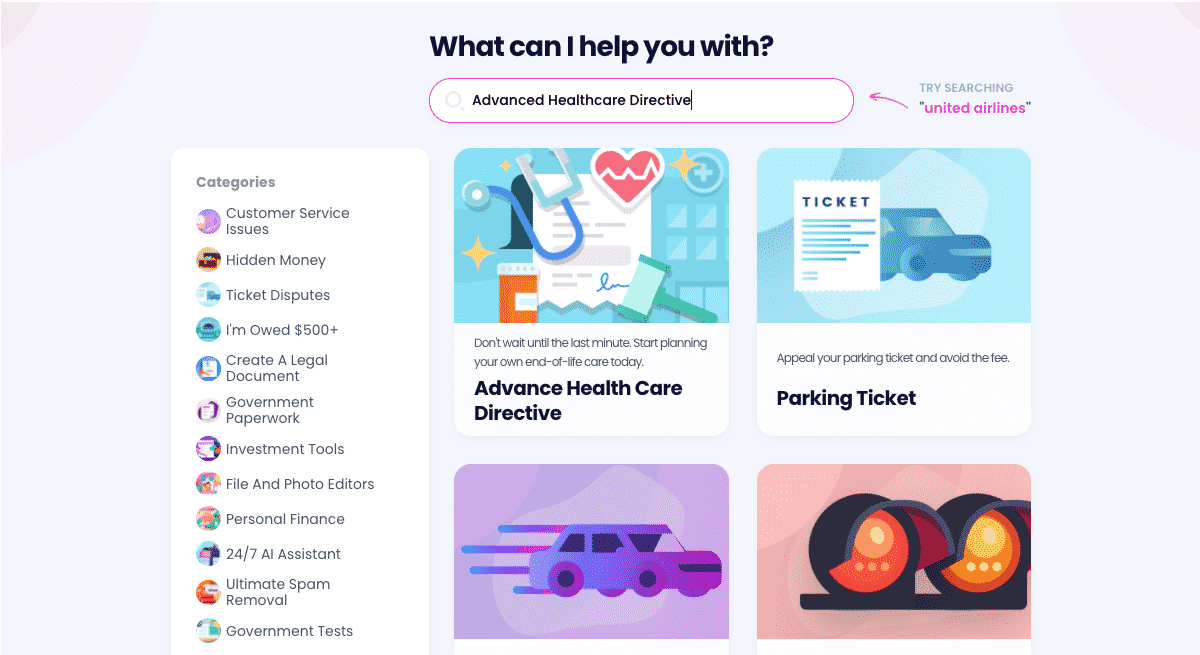 Deal With Administrative Issues With Ease
Drafting contracts and agreements, getting your documents notarized, disputing parking tickets, and creating passport photos will become a breeze once you sign up for DoNotPay.
We can also help you:
DoNotPay Helps You Protect Your Consumer Rights
Don't let companies take advantage of you! With our help, you'll be able to cancel any subscription or membership and request a refund.
As a consumer, you may be overwhelmed with endless steps and piles of paperwork you need to go through to get what you're owed. This is where DoNotPay comes in—let us be your assistant and fast-track the following:
Have you forgotten about a free trial you signed up for? Avoid being charged by using our app! With DoNotPay's virtual credit card, you'll get unsubscribed automatically without the company taking any money from you.
Are you getting spammed via email or text? Get rid of spam for good with our nifty app!