A
Medical Consent Form for Minors Traveling Without Parents
Explained
When a child is traveling without one or both parents, all sorts of documents—such as a passport and birth certificate—are necessary. Writing a minor travel consent form is also a must, but a parent can consider adding a child medical consent form for emergency cases.
Do you want to know what a medical consent form for minors traveling without parents consists of? DoNotPay can explain the basics and give you tips for finding a reliable form! 
What Is a
Medical Consent Form for a Child Traveling Without Parents
?
If you are sending your child on a trip without you, a child medical consent form authorizes the accompanying adult to make healthcare decisions for your child. The form grants a temporary power of attorney to the chaperone in case of a medical emergency. 
What Should Be Included in a
Child Travel Medical Consent Form?
Creating a comprehensive child medical consent form will leave the parent with peace of mind that their child will be taken care of in case of a medical emergency. Omitting an important detail can cause a delay in providing the necessary medical care to the child. 
Check out the crucial sections of the form in the table below:
Elements of a Child Medical Consent Form

Details

Authorized caretaker

This section should include information about the designated caretaker in case of a medical emergency. The accompanying adult should confirm that they understand the parents' wishes regarding their child's medical care

Child's medical history

The parent or legal guardian should provide details about the child's health background, such as:

Health issues, like asthma or diabetes

History of vaccines

Allergies to food or antibiotics

Medication that the child is currently taking

Date of the last tetanus shot

Medical treatments allowed

Parents must specify if the caretaker is authorized to make medical decisions regarding:

Prescribing and administering medications 

Allowing anesthesia or surgical procedures

Providing dental care

Performing diagnostic imaging, such as an X-ray or an MRI

Giving blood transfusions

Administering emergency medical treatments, including CPR, or allowing hospitalization

Allowing emergency medical transportation

Giving routine examinations

A parent needs to indicate the period during which the authorized adult can make medical decisions for the child

Additional items

The form can include the following items:

Assurance that the parent has legal rights to make authorizations regarding their child

A statement that the child's health is a priority

Assurance that the financial responsibility of the treatment is with parents and the child's health insurance

Religious or moral beliefs that may influence the treatment
Where Can I Find a
Free Medical Consent Form for a Minor Traveling Without Parents
?
You can find free medical consent forms for minors online. They are fairly general, so you might need some time to find the one that fits your needs. 
You can make the most of using free online templates by:
Taking the time to choose a template that suits your needs the most

Checking if there are no hidden costs for downloading it

Customizing the form by adding and removing sections if necessary
Does a
Minor Travel Medical Consent Form
Have To Be Notarized?
A parent and the accompanying adult should sign the child medical travel consent form in the notary's presence. A notary verifies the authenticity of the signatures on the document, which provides additional security. In case of a medical emergency, a medical professional is more likely to accept a notarized form. 
You don't have to worry about notarizing the child medical consent form in person. We are aware of how tiresome and complicated the notarization process can be for a busy parent. DoNotPay helps you get the form notarized online, which simplifies the procedure significantly.
Get a
Medical Consent Form for a Minor Traveling Without Parents
Notarized With DoNotPay
DoNotPay has created a handy feature to help you get your medical consent form notarized in a few steps! Our app will connect you to an online notary if you:
Find our

Notarize Any Document

feature

Upload your document

Type in your email address
Click on the link to schedule an appointment with the online notary. He or she will meet you on a video call and notarize the form with an electronic signature and stamp. 
Create a Child Travel Consent Form With DoNotPay
When a child is traveling with one parent, an authorized adult, or alone, having a child travel consent form is obligatory. Many countries, such as Canada or the UK, have strict policies regarding child travel and may detain the child and the accompanying adult if they can't present proper consent documentation.
Creating a child travel consent form requires some finesse. Relying on a free online template would not be the smartest choice. Your best bet is to get a tailor-made form that fits your specific needs!
DoNotPay can create the child travel consent form for you and have it notarized at the same expense.
All you need to do is:
Open DoNotPay

in a web browser

Find the

Child Travel Consent

product 

Enter the relevant information to help us customize the document

Specify that you want the document notarized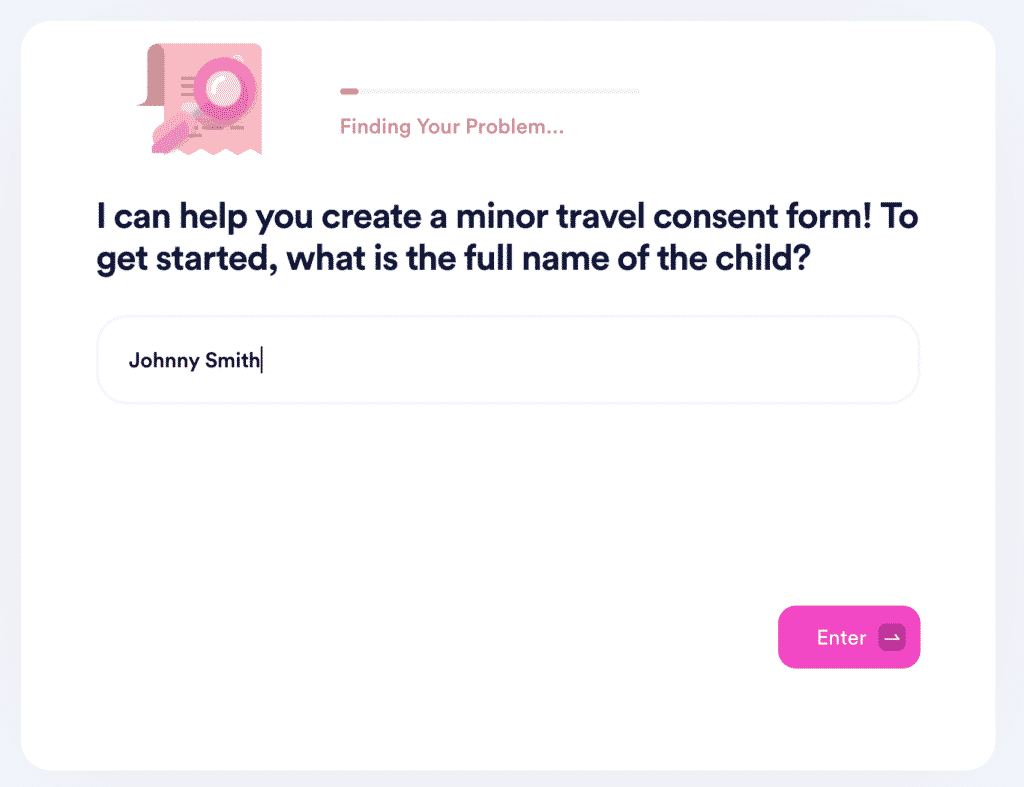 Our app will generate a personalized form based on the information you provided. Follow the link to complete the notarization process as described above.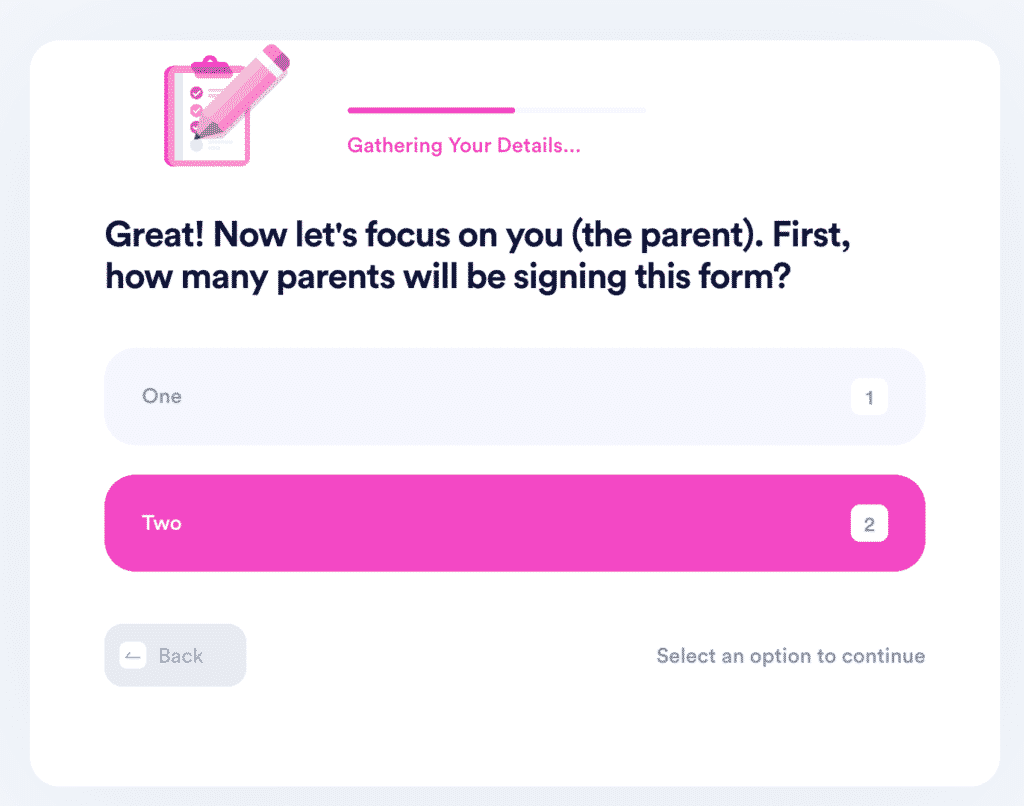 Organize Your Day With DoNotPay
Using DoNotPay to draft travel consent forms for your child is only a fraction of what you can do with our app. 
Discover an assortment of fascinating time-saving features DoNotPay offers.
You'll never have to spend hours navigating a phone tree of a company to reach a customer service representative. We do it all for you:
Anything you need, you can do from the app!
You will also never have to go out of your way to get a document notarized or use a fax machine! DoNotPay lets you draft, notarize, and fax any document using only your phone! 
Get That Cash With DoNotPay!
Do you know that DoNotPay can find any unclaimed money under your name in any state and claim it.
How else can you get your hands on some cash with DoNotPay? You can:
You can also avoid spending extra money by reducing your property taxes, disputing parking tickets, or signing up for free trials with our virtual credit card.