Medical and Financial Power of Attorney—What's the Difference?
Powers of attorney are legally binding documents that authorize other people to act on your behalf if necessary. Among various types, people usually opt for financial and medical powers of attorney (also known as health care proxies), which have a similar structure but serve a different purpose.
This article will illustrate the difference between a medical and financial power of attorney. We will also explain why you should avoid generic templates of this document and get a personalized one .
What Is a Financial Power of Attorney?
A financial power of attorney is a document that appoints another person to handle financial and estate matters in your stead if you can't. The agent you choose should be able to:
Pay bills and sign checks
File tax returns
Deposit your Social Security checks
Sort through your letters and mail
Close real estate deals
Manage your business affairs
You can choose whether you want to sign a:
Limited power of attorney, which typically applies to a specific situation or period when you are unable to handle your financial responsibilities
Durable power of attorney, which serves to manage all your financial affairs, even after you become permanently incapacitated
How Does a Medical Power of Attorney Differ From a Financial One?
While a financial power of attorney refers to legal and financial matters, a health care proxy serves to appoint a person who will make medical care choices in your stead. The designated health care agent can decide on:
Medical staff members that should be hired or dismissed
Suitable health care facilities for you
Treatments and medications you should and shouldn't receive
Comfort and end-of-life care
Life-sustaining procedures
Organ and tissue donation
Who Should Be Your Agent?
Whichever power of attorney you want to prepare, choosing an adequate agent is a vital part of the process. The person you designate as your representative must be an individual of trust.
The table below offers some suggestions on who you should pick as your agent, but also shows who wouldn't be a good choice for such an assignment:
Your Representative Can Be
Your Representative Shouldn't Be

Parent
Adoptive parent
Sibling
Adult child (adopted or biological)
Husband or wife
Long-term partner
Trusted friend
Fellow community member
Priest or any other clergy member
Professional acquaintance, such as a banker, attorney, or accountant

Person under the age of 18
Untrustworthy person
Individual who isn't familiar with your financial or medical care preferences
Medical staff member that treats you or the owner/employee in the nursing home or medical care facility you attend (for medical powers of attorney)
Witness to your power of attorney
Can a Financial and Health Care Power of Attorney Be in a Single Document?
In theory, it's possible to combine a financial and medical power of attorney in one document, but it isn't recommendable. There are two main reasons for avoiding this option:
Person you choose as your health care agent may not be familiar enough with your finances or able to perform related tasks well. The same applies to a financial power of attorney agent—they might not be the best choice when needing to decide on your health care treatment if you suffer permanent incapacitation
Medical powers of attorney may also include personal details you don't want to share with the individual who manages your finances and vice versa
With all this in mind, appointing a separate agent for each document typically brings the best results.
Get a Flawless Medical Power of Attorney Using DoNotPay
Do you need a solid medical power of attorney or living will but are too busy to create them yourself? No worries—DoNotPay has developed a unique tool that can generate any advance/health care directive in your stead in less than five minutes. No need to pay exorbitant amounts to attorneys or use suspicious online templates!
Here's what you should do:
and go to Advance Health Care Directive
Provide us with the names of your agent and the chosen witnesses
Answer a few of our chatbot's questions
Besides creating a living will or a medical proxy for you, DoNotPay can help you get them notarized by connecting you with a remote notary!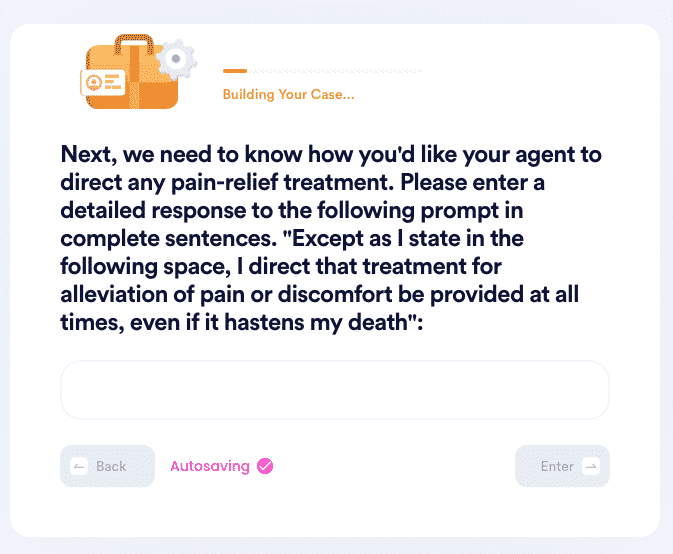 DoNotPay Offers More Assistance!
Our app boasts many features that can make your life easier.
Do you need help searching for unclaimed money or covering bills? Are you looking for clinical trials you can sign up for to earn some extra money? We can help you out in a flash!
Other tasks we can streamline for you are the following:
Forget Hiring a Lawyer—Use DoNotPay Instead
You don't want to spend a fortune on lawyer fees? No problem! DoNotPay—the world's first robot lawyer—is here to assist you! With our help, you'll be able to file complaints, sue anyone in small claims court, handle stalking and harassment, get crime victims' compensation, and draft numerous documents, including:
If you need to get a document notarized, you can also count on our help. We'll connect you with an online notary who will notarize your document in a flash.