Drafting a Mediation Agreement Couldn't Be Easier!
Do you have a dispute you want to settle but don't want to trouble yourself with going to court? We can help you out! In our guide, you can learn about a mediation agreement and how to draft it. DoNotPay will decipher various legal documents and assist in writing any contract.  
What Is a Mediation Agreement?
Mediation agreements—also known as mediated settlement agreements—are the result of negotiations between two parties under the guidance of a skilled third party, known as the mediator. The purpose of these documents is to resolve conflicts, negotiate the terms of the arrangement, and protect both parties' interests. 
Mediation agreements are different from other legal documents in both language and content. The language of mediated agreements is more straightforward and does not contain heavy legal jargon. Each agreement is different in content because it defines a unique dispute resolution process.
Advantages of a Mediation Agreement
If you opt for a mediation agreement instead of going to court, you can enjoy many benefits. Check the table below for details:
| | |
| --- | --- |
| Mediation Agreement | Court Settlement  |
| Fast outcome due to mediation | The slow process of reaching a verdict |
| Greater control over negotiation and decision-making | No impact on the decision |
| Confidential | Proceedings have the potential to be public |
| Cheaper | Higher costs |
| Both parties can decide on a convenient venue | You have to appear in court, even if it is not convenient |
How Does a Mediation Agreement Work?
The following issues need to be addressed in a proper mediation agreement:
Naming all active parties 

Detailing the mediation agreement

Identifying topics and interests

Interim agreement

Revisions

Final document
Naming All Parties 
If you're drafting a private mediation contract, you can identify parties by their given names. Private mediation includes disputes like family or interpersonal conflicts.
In the case of business-related mediation, the authority of the person representing the company needs to be clearly defined. This should ideally be done before entering their name into the contract.
Detailing the Mediation Agreement
The detailing involves creating a framework with the following points:
An outline of the main points of conflict

A statement confirming both parties are comfortable with the negotiations

A resolution statement 
The mediation agreement does not include any details of the actual dispute. 
Identifying Topics and Interests
The mediator explains the rights and responsibilities of both parties. The terms and conditions should be as detailed as possible for effective mediation.
Interim Agreement
If any suggestion appeals to both parties during the settlement process, it is laid out as a written agreement. This is called a provisional agreement and has the potential to turn into a final settlement after further discussions.
The interim agreement is not legally binding. It is a process of cultivating a resolutory environment for conflict resolution to acknowledge mutual legal interests. The interim agreement needs to be clear, concise, and transparent. 
Revisions
Revisions are turned to clauses in the interim agreement to formulate a final agreement acceptable to both parties. 
Final Document
It is the responsibility of the mediator to make sure both parties understand the contract. If deemed necessary, the mediator will read out the document to each party separately. Once both parties agree, they should also consult their respective lawyers before signing the document. The signatures confirm the signers understand and agree with the terms and conditions of the contract.
The final agreement should ideally contain a clause for future conflict resolution. 
Although it is not mandatory, get your mediation agreement notarized by a notary public to confirm that both parties have willingly signed the document.
Is a Mediation Agreement Legally Binding?
If the mediation contract is court-ordered and contains adequate signatures, it becomes legally binding and is enforceable in a court of law. If any party fails to honor it, they are liable to disciplinary action, including fines and imprisonment. 
If it is not court-ordered, it is not applicable in a court of law, and it is up to the parties whether they will honor the contract.
DoNotPay Can Help You Make Legal Documents Quickly
Creating legal documents can be quite a hassle if you don't have the right resources. You can hire a lawyer, but they tend to charge a fortune. Online contract templates are cheap but usually fail to meet the requirements of a valid agreement. DoNotPay can help you out! In a few quick steps, we can generate an agreement for you:
Enter the name of the document

Converse with our chatbot to disclose all the details

Receive your personalized document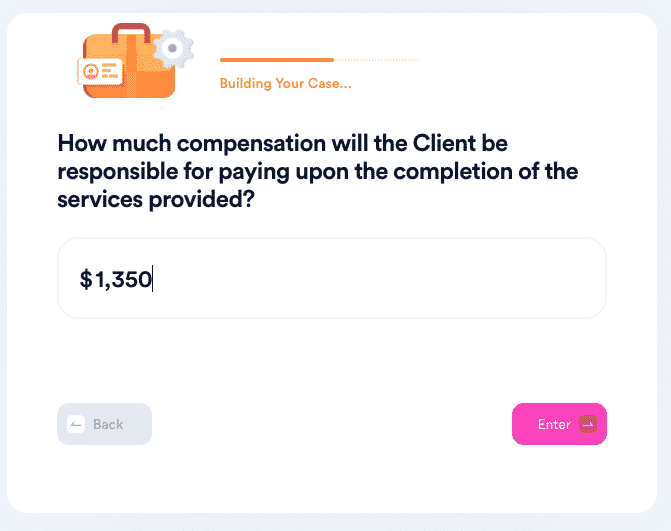 You might have to get the document notarized as well. Our Standardized Legal Document tool is integrated with the Notarize Any Document feature, so you can do both in the same app!
Here is a list of the documents DoNotPay can draw up for you:
Real Estate
Business
Other

Quitclaim deed

Intent to purchase real estate

Promissory note

General affidavit
Don't worry if you can't find a specific document in the table. We're continually working on updating the list, so stay tuned to find out more!
More Nifty Solutions to Annoying Problems
If you're dealing with problematic neighbors or coworkers, you're not alone—our app can help you handle these issues with our Neighbor Complaints and Fight Workplace Discrimination products.
No problem is too big or too small for DoNotPay! Check out the best time- and money-saving solutions to different nuisances:
An Array of Hacks To Help You Deal With Greedy Companies
Nobody likes to spend more money than they have to. DoNotPay is here to offer many penny-pinching hacks and also stop companies from taking advantage of you.
Almost every free trial nowadays isn't really free. Companies request your credit card info and auto-renew subscriptions. Fight this sneaky practice by using DoNotPay's virtual credit card next time you want to snatch a free trial. We'll also uncover any unwanted memberships you have mooching off of you and help you cancel them in a few clicks.
If you need to contact a company's customer service, avoid wasting your time and money on hold and count on our app to wait in your stead.
Do you need to get your money back, but you don't know how? Use DoNotPay to: