How You Can Secure a Mechanical Engineering Scholarship With DoNotPay
Once they're out of college, mechanical engineers earn a great living. To call themself a mechanical engineer, however, one needs to pay a hefty price for their education, which can put them under financial strain. This is no secret, and that's why many institutions, organizations, and companies offer scholarships and grants to college students enrolled in this field.
In this article, DoNotPay will show you how to obtain a mechanical engineering scholarship by telling you:
What types of financial aid exist
A Quick Glance at Mechanical Engineering Scholarships
Mechanical engineers are in high demand. This results in a high number of programs available to students who need help covering their tuition fees.
Scholarships for mechanical engineering are hard to get because of their competitiveness—even harder than regular engineering awards.
To be eligible for these programs, you need to be an undergraduate or a graduate school student enrolled in mechanical engineering, or you can be a high school senior looking to pursue the same career.
Note that individual scholarships usually focus on specific groups of students—such as women, veterans, minorities, and international students—so make sure you qualify before applying.
Since these programs are highly competitive, scholarship providers offer lucrative rewards that can reach up to $50,000.
Types of Mechanical Engineering Scholarships
Mechanical engineering scholarship providers usually grant financial aid based on:
Merit
Need
Merit-Based Scholarships for Mechanical Engineering
Merit-based scholarships come from various sources, namely:
Federal and state institutions
Non-government organizations
Private companies
To secure a scholarship, you will need to show an impressive academic standing and be superior to other applicants—fulfilling the minimum requirements is unlikely to land you an award.
In this table, you can see some of the more eminent merit-based scholarships and find out what they demand of applicants:
Scholarship Name
Requirements
Award
University of Houston Mechanical Engineering Scholarship

High school senior
Minimum GPA of 3.25
Top 25% of the graduating class
Minimum ACT of 24 or SAT of 1170
Enrolling at the University of Houston

$1,500
Kenneth Andrew Roe Scholarship

College juniors or seniors
U.S citizens or North American residents
Enrolled in a program accredited by the Accreditation Board for Engineering and Technology (ABET)
Award given based on:

Character
Integrity
Scholastic ability
Demonstrated leadership

Competitive GPA

$13,000
The National Action Council for Minorities in Engineering (NACME) Scholars (Block Grant) Program

Member of the following minorities:
First-year students recognized by NACME
Transfer students from two-year colleges
Competitive GPA

$16,000
The Mississippi Space Grant Consortium (MSSGC) Graduate Fellowship Program

Graduate students
U.S. citizens
Enrolled at one of the MSSGC universities:

The University of Mississippi
Jackson State University
The University of Southern Mississippi

Minimum GPA of 3.0

$22,000
The Edison Scholars Program

High school seniors in Southern California
Enrolled in a full-time undergraduate program
Proven financial need
Competitive GPA

$40,000
The Davidson Fellows Scholarship

18 years of age and under
U.S. residents
A score of 145+ on accepted IQ tests
Portfolio of academic work samples

$50,000
Need-Based Scholarships for Mechanical Engineering
These programs allow students who don't have high grades to pay for their education, provided that they demonstrate financial hardship. To prove your financial need, you will need to fill out the Free Application for Federal Student Aid (FAFSA) form.
Note that some need-based financial programs are loans, while others are nonrepayable.
Where To Find a Mechanical Engineering Scholarship
Like with all other financial aid programs, mechanical engineering scholarships can be difficult to find. You can begin your search in various places, but here are a few examples that can be good starting points:
Your school's financial aid office—You can talk to a financial aid officer in your school for advice on getting a scholarship. They can help you single out some programs and fully understand the requirements
University website—If you're a college student or already have an idea where you'd like to study, you can visit your university's website to check out some of the available scholarships
DoNotPay—You can bypass the manual search process with DoNotPay. Our app will provide you with a personalized list of all available scholarships for which you can apply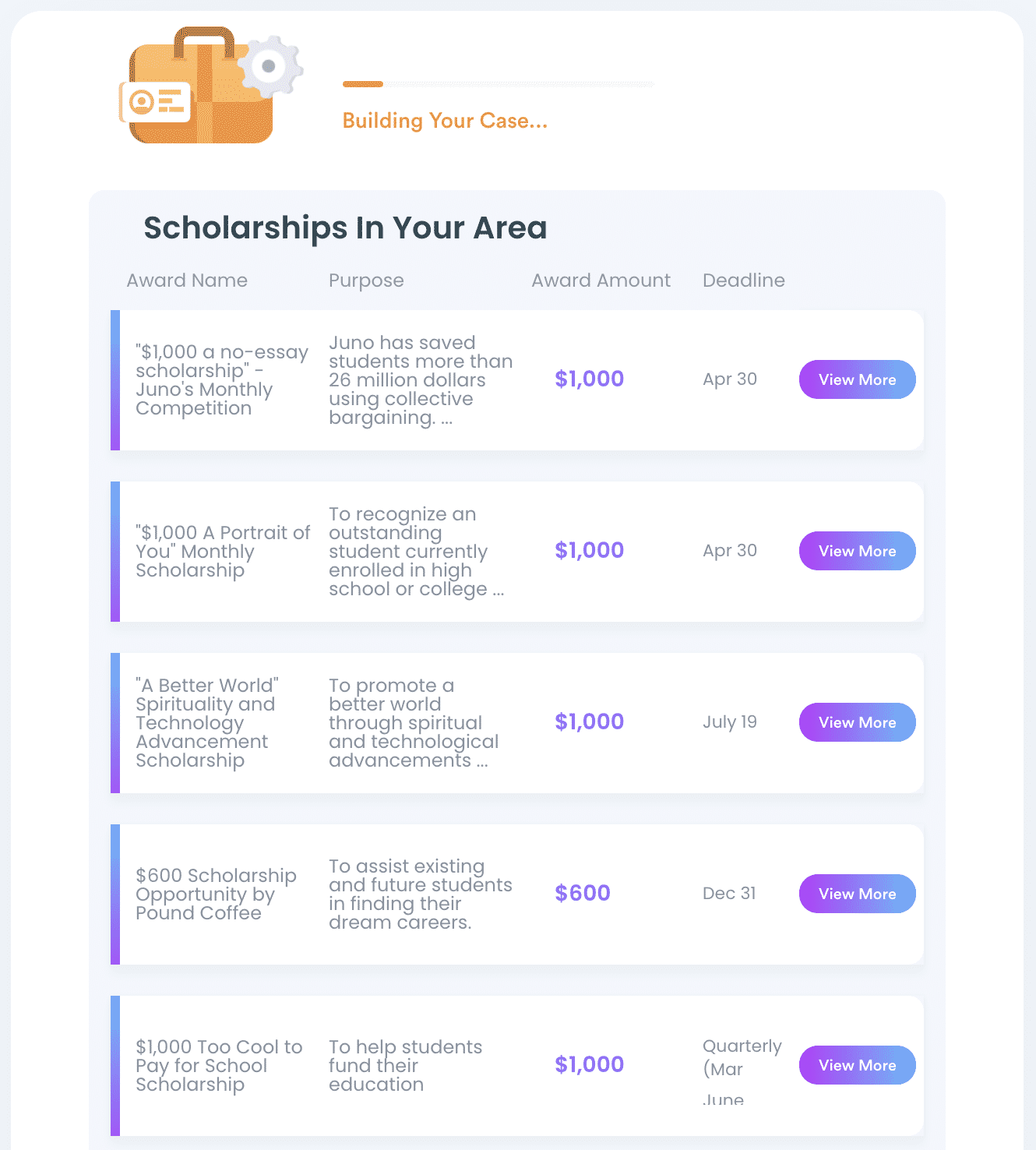 How To Apply for a Mechanical Engineering Scholarship
Each scholarship program has its own set of rules and a different application process, but there are some general steps that you have to take to apply for most of them:
Fill out the FAFSA form
Write an essay
Submit your grade transcripts
Get your mentors to write a letter of recommendation
Attach your resume
Write a cover letter
Fill out the application form
Find a Mechanical Engineering Scholarship With Ease Using DoNotPay
Finding a mechanical engineering scholarship can be a struggle because information about various programs is all over the Internet. You need to do your research, which can take months. With DoNotPay, you can speed up the process and learn about hundreds of scholarships in under five minutes!
To get a list of all mechanical engineering scholarships you're eligible for, you need to:
Navigate to our Apply for Scholarships feature
Answer a few questions regarding your level of study and academic performance
If some of the scholarships on the list don't require you to write an essay, you can apply automatically within our app by giving us permission to do it on your behalf.
Managing Everyday Tasks With DoNotPay Is a Breeze
Completing mundane tasks doesn't have to be a nightmare! With our help, you can relax and finish them in a few taps! All you need to do is register for DoNotPay and let us help you with:
Have Your Documents Drafted and Notarized With Our Help!
If you need to draft a legal document, such as a divorce settlement agreement, power of attorney, or a child consent form, hiring a lawyer to assist you is probably the first thing that comes to mind. What if we told you that spending hundreds of dollars on legal services is unnecessary? Not only can DoNotPay draft contracts and agreements in a few minutes, but it is also your most affordable and effortless option!
The benefits our app provides don't stop there! After we generate your document, we'll connect you with a remote notary and show you how to get it notarized online without leaving the comfort of your home! You can even fax the document online and skip dealing with outdated fax machines.