MDDSS Revocable Trust 
You might have seen or heard about the term "MDDSS revocable trust" and have no idea what it means. An MDDSS revocable trust is a term often used to describe an anonymous lottery winner when they claim their prize, or the kind of trust a lottery winner can use to claim their winnings. To understand what an MDDSS revocable trust is, first you need to know what a revocable or living trust is, and how it can manage your assets. To read more about living trusts, how they can help you, and how DoNotPay can create a living trust for you, keep scrolling. 
First Things First - What is a Living Trust?
A living trust, also known as a revocable trust, is one way for you to manage your assets and property legally. There are two major kinds of living trusts, known as:
Revocable living trusts

Irrevocable trusts
A revocable living trust is a trust that you can place your assets in to manage them while you are alive as well as after you have passed away. You can name either yourself or a third party as your trustee to manage your assets, as well as naming beneficiaries for your property after your passing. An irrevocable trust also does this, but unlike with a revocable trust you can not modify or change the terms of an irrevocable trust after you have created it. With a revocable living trust, it is easy to adapt your trust terms, beneficiaries, and assets after you first make your trust. To read more about the difference between the two trust types, click here. 
What is a MDDSS Revocable Trust?
You may have seen the term MDDSS revocable trust in relation to lotteries around the country. MDDSS revocable trust is often used to describe an anonymous lottery winner who has collected their prize in place of their name. Depending on your state and the terms of your state lottery, you may or may not be able to collect lottery winnings anonymously. To find out how to collect lottery winnings and place your newly acquired assets into a revocable trust, you can search the terms of whichever lottery you are participating in online. To read about how you can make your own revocable trust, whether you have won the lottery or not, you can see more below. 
What's the Difference Between a Trust and a Will?
When you think of how to manage your estate after your death, the first legal document that might come to mind is a will. While a will is a good way to ensure that your property is handled the way you want after you die, a revocable living trust can be more beneficial for managing your assets than a will alone. The table below can help you understand the differences between a will and a living trust:
| | |
| --- | --- |
| Living Trust | Will |
| In effect while you are alive, alive and incapacitated, as well as after your death | Only in effect after your death  |
| No need for any probate | Must go through probate |
| Can help your beneficiaries avoid future costs | Can create future costs for your beneficiaries |
| Will not publish your personal information | Makes your documents and information public record |
| Avoids potential court disputes | Potentially creates disputes in court |
Making a living trust does not mean you can't or should not also make a will for yourself. But, a living trust can help you be sure that your assets are handled well throughout all stages of your life, and can make the process smoother for your beneficiaries after your passing. To read more about the difference between wills and living trusts, click here. 
How Can I Draw Up a Living Trust?
You might be wondering how you can create a revocable living trust for your property. There are a lot of different ways you can start your living trust, with some being easier than others. To draw up a living trust, you can:
While you can write your living trust documents yourself, it is not advisable as they are important legal documents. However, hiring a lawyer to write your living trust documents can be very expensive and is not necessary. DoNotPay can help you create well-written living trust documents without all of the expensive legal fees and time-consuming process of hiring a lawyer. DoNotPay's easy to use process only takes you a few minutes, and can save you lots of money. Read more about living trusts and answer your questions about the process with the articles below.
Set Up a Living Trust with DoNotPay
Setting up your revocable living trust with DoNotPay is an easy process that can save you tons of time and money. To make your living trust using DoNotPay, all you have to do is:
Create an account with DoNotPay and go to the living trust service
Tell us which state you reside in

Assign trustees and beneficiaries

Distribute your assets as desired

Tell us where you are getting the document notarized
That's all you need to do! Take the document to a notary to make it official!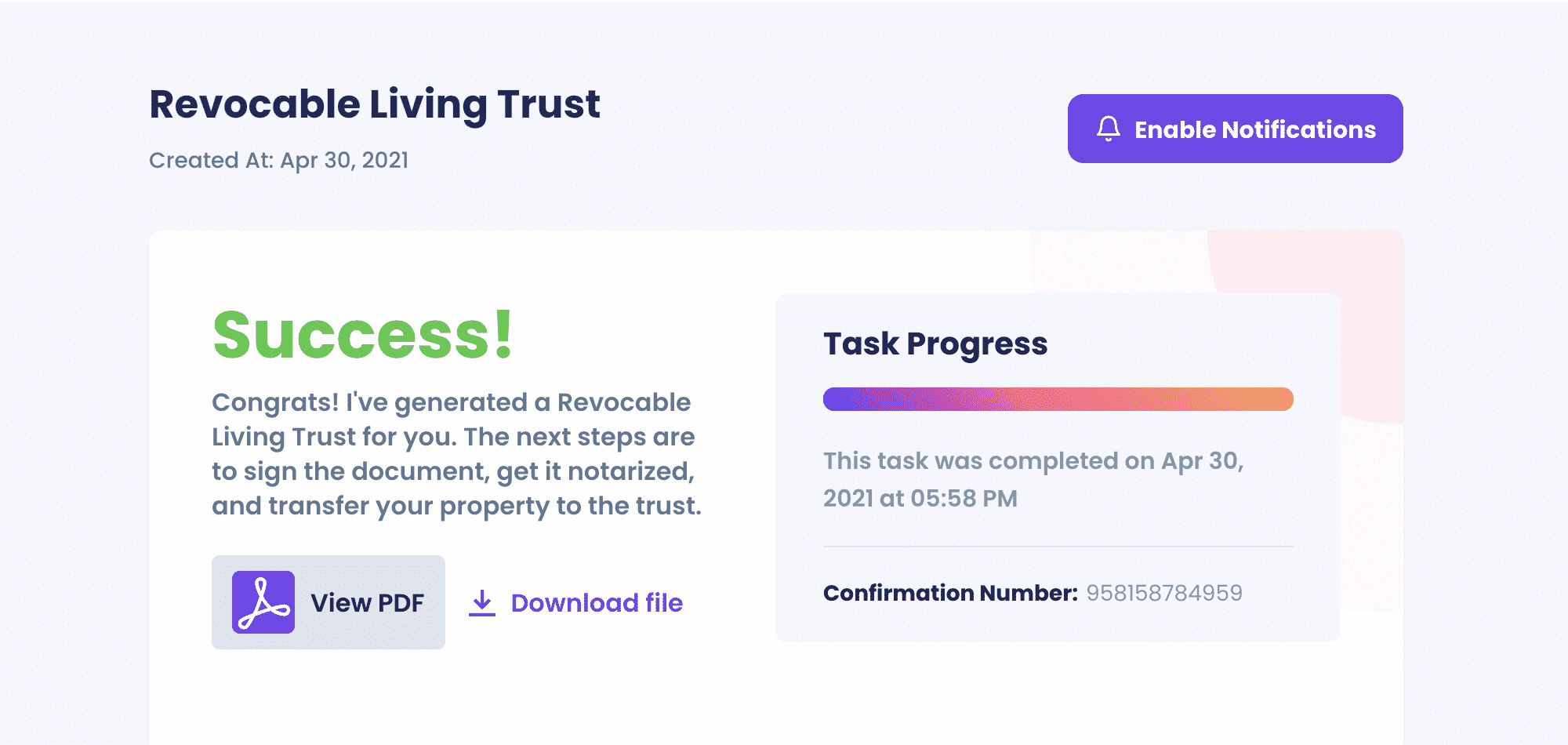 DoNotPay Can Help With Much More