MD State Tax Assessment for Real Property Summed Up

Taxes are a fact of life, but if there is a way to reduce the amount you have to pay, you should know about it.
Your starting point is understanding what a tax assessment is. We have looked at the MD state tax assessment for real property process and come up with these insights to help you.
What Is a Real Property Assessment?
A real property assessment is an estimation of the value of a property. It is used as the basis for calculating property tax, which is collected by a state and used to fund local government amenities such as the police, fire service, or street lighting.
How Do the Maryland Property Tax Assessments Work?
Maryland's Department of Assessments and Taxation (DAT) assesses property values for its two million properties every three years, administering the process through its network of 24 State assessment offices.
The assessments aim to find a fair market value for each property using one of three methods:
| | |
| --- | --- |
| Approach | Explanation |
| Sales comparison approach | This is a comparison of the property with other similar properties in the area that have sold recently |
| Cost approach | The cost approach attempts to estimate what a property would cost to build at today's prices |
| Income approach | The income a property generates is used to estimate a fair value. This approach is typically used for commercial properties |
Once your property has been assessed, the Maryland DAT informs you of any changes and passes the results on to local governments that apply the correct tax rates and create a property tax bill.
What Are the Due Dates for MD Property Tax Assessments?
Successfully filing a claim for reassessment depends on meeting deadlines. Here are the key annual property tax deadlines in Maryland:
| | |
| --- | --- |
| Date | Action |
| July–August | Property tax bills issued |
| September 30 | Annual tax bill or semi-annual first installment due |
| October–November | Property assessments |
| By December 15 | Notification of changes to assessments |
| March 31 | Semi-annual second installment due |
How Can I Lower My Property Tax Assessment in Maryland?
The most common ways to reduce your property tax liability are avoiding home improvement projects, making sure your tax bill is accurate, and being present while the assessment is taking place. There are some methods specific to Maryland that may be of use to you:
Looking for property tax exemptions

Appealing your tax assessment
Looking for Property Tax Exemptions
You may be eligible for property tax exemptions or credits based on your personal circumstances. These options are listed below.
Appealing Your Tax Assessment
If you feel your property tax assessment is unfair, you can appeal it. We have given you tips on the appeals process below.
What Are the MD Property Tax Exemptions?
If you fall under the following categories, you may qualify for a tax credit or exemption that can reduce your tax bill:
Exemption Type
Explanation

This is available to homeowners aged 65 or older for whom the property is their main residence

Income-based tax credit

Homeowners can seek a tax credit if their property tax bill exceeds a certain percentage of their annual gross income, which must be below $60,000. The full sliding scale can be found

here

Homestead tax credit

Large increases in your assessments are applied in phases that are limited to a maximum of 10% each year

Renters' tax credit

Renters who meet certain requirements can apply for tax credits, as the state feels that they already pay property tax through their rent

Veterans' tax exemption

Veterans with 100% disability and some veterans' spouses may qualify for full property tax exemption in Maryland
DoNotPay Helps You Reduce Your Maryland Property Tax Bill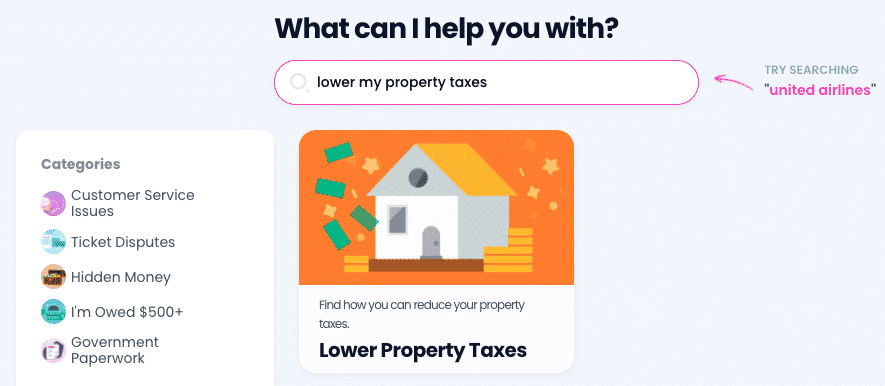 Property tax can be confusing at the best of times, but DoNotPay is here to help. Use our tips, and you will find your property tax woes can become a thing of the past.
Our app features a Property Tax tool that can create a customized guide to how you can reduce your property tax bill. The guide comes with two sections:
Property Tax Exemptions
Property Assessment Appeals

Information about Maryland's property tax exemptions that may apply to you

Guidelines for the paperwork you must submit

Instructions on how to submit your application

How to negotiate with a property assessor

Guidelines for lodging an assessment appeal
How Do I Get DoNotPay's Property Tax Guide?
Getting our guide is easy and quick. Simply follow these instructions:
Sign up for DoNotPay in any

web browser

and locate the

Property Tax

feature

Answer the questions about yourself and your property

Wait for the app to generate your

personalized guide

to property tax reductions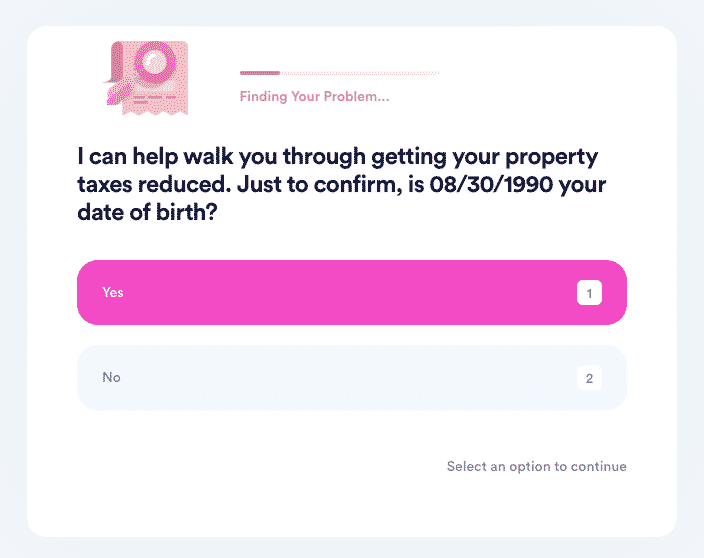 Can I Appeal Maryland Property Tax Assessments?
If you feel your assessment is unfair, you can appeal it. This should only be done as a last resort, though.
You can lodge an appeal on three occasions, namely:
When you receive an assessment notice—this will usually be in December

By a

petition for review

If you purchase a property between January 1 and June 30
An appeal in Maryland can proceed in the following ways:
Personal hearing

Phone hearing

Written appeal
Written appeals mean you do not need to attend a hearing or phone in, and written appeals are usually given priority.
You can view the full details of the Maryland property tax appeals process here.
You can lodge an appeal at any one of the 24 local assessment offices, a list of which can be found here.
DoNotPay—The Easy Way To Save Money
If it looks like your wallet has a hole and the money keeps pouring out for unnecessary expenses, it might be time to come up with a better saving strategy. 
DoNotPay uses AI-powered technology to identify the best opportunities for some serious penny-pinching or earning a few extra bucks:
| | |
| --- | --- |
| Saving Money | Earning Money |
| | |
Do You Need Help With All That Paperwork?
Saving money is great, but cutting the time wasted on bureaucracy sometimes sounds even better. DoNotPay joins the best of both worlds and helps you avoid boring paperwork while preventing future unnecessary charges and expenses. 
With our help, you can enjoy free trials without any risk, file insurance claims, or handle issues with credit cards. 
You won't have to waste time on researching the right procedures or pay for help if you need to stop stalkers and harassers or put together all sorts of legal documents.