Save Money in Alaska With a
Mat-Su Borough Property Tax Exemption
Matanuska-Susitna borough—commonly known as Mat-Su—has a growing population, low poverty, high rates of homeownership, and rising median household income.
House values are also rising by 3% per year, though, which is a higher rate than the rise in income. This means that your property tax bill as a resident of Mat-Su will have a steadily greater impact on your household finances.
While Alaska is not seen as one of the states with low property tax, its rates are not excessive, sitting at an average of 1.18%. Mat-Su's rate is slightly lower at 1.17%.
DoNotPay is here to help you find ways to lower your property tax or get help paying your annual tax bill in Mat-Su Borough.
How Does Property Tax Work in Mat-Su?
Mat-Su's property tax is calculated by multiplying your property's assessed value by the local tax rate. The principle underlying this is that you should pay for the local services you need in proportion to the value of your home. Here's how each is determined.
Assessed Value
Your property's value is assessed by the Borough Assessor, who uses three different approaches to determining how much your home is worth:
Approach

Explanation

Sale price comparison

This approach identifies nearby properties of a similar size that have sold recently and logs their sale prices. Several factors are also taken into account, namely:

Extenuating sales circumstances, such as a fast sale, that affected the price

Condition of houses sold compared to your property

Time of sale—typically, house prices in Mat-Su rise with demand and peak around March each year before tailing off

Build cost estimate

The assessor uses local expert opinion to determine how much your property would cost to build new at today's prices

Income-based valuation

If your property is rented out or used for commercial purposes, the assessor determines a value based on the income it generates
Your assessed value is reviewed every year in Mat-Su.
The local economy also plays a part in the valuation, so your assessment will increase as your area becomes more sought-after.
Tax Rate
Mat-Su Borough funds schools, local services, the police and fire departments, and civic amenities through your property tax contributions, and the tax rate is set by the Borough Assembly.
The Assembly comprises seven members, who are elected on a three-year basis, and is highly inclusive in its methods. This means that any major financial decisions are made with the involvement of the public in general assembly meetings.
This gives you a degree of control over the property tax rate in Mat-Su Borough and ensures that it is set per residents' wishes.
Your property tax in Mat-Su is payable in two installments, the due dates being:
August 15

February 15
Failure to pay your property taxes can be a serious matter, but there are ways you can reduce your property tax bill in Mat-Su Borough.
What Property Tax Exemptions Are Available in Mat-Su Borough?
Mat-Su Borough offers the following property tax exemptions to relieve your annual tax burden.
The exemptions on offer are as follows:
| | |
| --- | --- |
| Exemption | Explanation |
| Senior citizen exemption | Mat-Su residents over 65 are eligible for a $150,000 state-wide reduction on the assessed value of their home. Mat-Su Borough voted to increase this by an additional $68,000 in 2014, meaning that senior residents with property worth $218,000 or less pay no property tax |
| Disabled veteran exemption | The same exemption applies to certified disabled veterans or their surviving unremarried spouses |
There are no other exemptions available, but all residents of Alaska benefit from the state's tax-friendly legislation. The state does not collect income tax, and it also runs a so-called "permanent fund," which distributes annual dividends of up to $2,000 to all adult residents. This windfall effectively offsets any property tax you have to pay.
How Can You Claim a Property Tax Exemption in Mat-Su Borough?
Claiming anything to do with taxes is always complicated, but DoNotPay is here to help. We can give you a customized property tax guide that advises you on what you can claim based on your location and personal circumstances.
Our guide features two sections:
Property tax exemptions

Property tax appeals
Property Tax Exemptions
This section advises you on:
What exemptions are available in your area

Which documents you will need

How to lodge your appeal
Property Tax Appeals
In this section, we advise you on:
How to negotiate with the Borough Assessor

How to lodge an appeal
Where Can You Get DoNotPay's Property Tax Guide?
You can get your tailor-made property tax guide easily. All you have to do is follow these steps:
Sign up for DoNotPay

and look for the

Property Tax

product

Give us some personal details

Wait while your personalized guide is created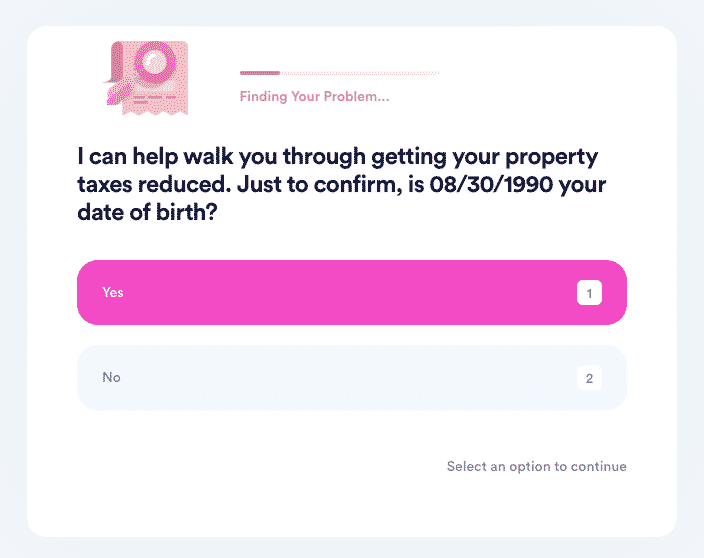 Can DoNotPay Help With a Property Tax Appeal?
If you have tried all other options to reduce your property tax bill, you can appeal your property assessment to have it reduced.
DoNotPay can help you:
Understand the appeal process

Check the document requirements

Find out where to lodge your appeal
Explore the Full Range of DoNotPay's Services
Don't let annoying bureaucracy stop you from exercising your rights or finding new opportunities. DoNotPay—the world's first robot lawyer—comes with a diverse portfolio full of practical shortcuts for:
Struggling with finances? Our app will help you manage unpaid bills, find and claim lost money in any state, or get college application fee waivers. 
Minimize Paperwork With DoNotPay
Writing letters, filing claims, sending requests—these chores are nobody's idea of fun. Thanks to DoNotPay, you can bypass these menial tasks with a few clicks in your browser. 
Our platform is full of useful tips and features for filing insurance and warranty claims, dealing with parking tickets, getting refunds and chargebacks, or writing harassment cease-and-desist letters. 
DMV offices don't have to be the place where hope goes to die. With DoNotPay, you will be able to schedule any DMV appointment without the nightmare of waiting in lines. While you're at it, you can check out our guides and practice tests for the best driving exam preparation!