What Information Do You Need in Your Master Service Agreement Template?
The internet is full of contract templates for all kinds of legal documents you can use in your personal and professional life. The problem with using a service contract template for a master service agreement (MSA) is that these templates are often too generic and incomplete.
If you don't feel like emptying your pockets on hiring a pricey lawyer, learn how to customize your master service agreement template. DoNotPay will help you learn:
What master service agreements are

Why

writing the contract

on your own is the optimal choice

How to generate a number of other documents you need to attach to your MSA
What Is a Master Service Agreement?
A master service agreement is a contract that outlines the terms and conditions of a provision of services between two or more parties.
A good MSA is a detailed contract since it serves to make any future negotiations easier. Everything about how the parties will work together should be in your agreement. The agreement also predicts any issues that may arise during its term and determines how they will be dealt with.
Why Do You Need a Master Service Agreement?
If you are a project manager or own a company that's about to enter into a business with another organization for the provision of services, you should use an MSA.
An MSA works to:
Establish the type of service that's going to be provided, explaining it in great detail

Set the price one party will pay to another for the scope of work

Make easier the creation of any future contracts between the parties

Mitigate risks of lawsuits and create a clear-cut plan for resolving conflicts

Determine how and when the agreement amendments will be made

Protect the seller's intellectual property rights
How To Personalize Your Master Service Agreement Template
Since a lot of factors go into a master service agreement, you should draft it carefully. 
Start with including the following basic information in your template:
Full legal names of the parties, along with their addresses and contact information

Date when the agreement goes into effect and its duration

Governing law
The sections that require more detail in a master service agreement are:
Scope of work

Compensation

Confidentiality

Warranties and liability

Intellectual property

Disputes

Indemnification

Termination
The Scope of Work Clause
You should describe the provision of services that the agreement is referring to in detail. This includes:
What the type of work to be done is

How often the work will be performed

Who is providing the service to whom
You can use the term Performing Party to refer to the company or individual doing the work, and the Engaging Party to refer to the company paying for the service. 
The Compensation Clause
Besides the exact price of the service, include information about the payment method and payment schedule in your contract.
The Confidentiality Clause
If necessary, write a confidentiality clause in your agreement to legally bind your partner not to reveal any information about your company to third parties.
The Warranties and Liability Clause
Establish which party is responsible for providing warranties when service products are damaged—this is usually the seller. You should also agree with your partner who is going to be responsible for any failures. 
The Intellectual Property Clause
Agree with your partner who is going to get intellectual property rights. The seller may decide to give full rights of ownership of their property to the client. In other instances, the client may regulate the copyrights and patents, but the seller retains ownership. 
The Disputes Clause
The disputes clause has to explain how the disputes will be resolved if they arise. For example, if one party breaches the terms of the agreement, you may hire a mitigator or resolve the issue through arbitration. This information needs to be included in your MSA.
The Indemnification Clause
The indemnification clause should state which party is going to answer for any mistakes that either party makes. The party that takes on liability will be held accountable even if the other party is actually responsible for the damages.
The Termination Clause
If a seller or client has to write a service contract cancellation letter when they wish to terminate the agreement, you should write that in your MSA. You should also set the rules and timeframe for canceling the agreement in advance.
Make Other Contracts With DoNotPay in a Blink of an Eye!
Master service agreements also serve as an anchor document for other contracts you're going to have to negotiate, sign, and attach to them.
When you , you can generate and customize all these legal documents:
Agreement Type
Agreement Name

Real estate

Estoppel certificate

Quitclaim deed

Intent to purchase real estate

Business

Other

Promissory note

Child care authorization form

General affidavit
How To Get Personalized Legal Documents from DoNotPay
As soon as you , take these short steps to generate a customized contract:
Type in the name of the document you need in the

Search

tab

Answer our chatbot's questions to personalize your document

Download the document
You can now e-sign your documents, get them notarized, and fax them using our Online Fax and Notarize Documents features all in one go!
The best part is that you will not be charged any additional costs to use all our products with one account!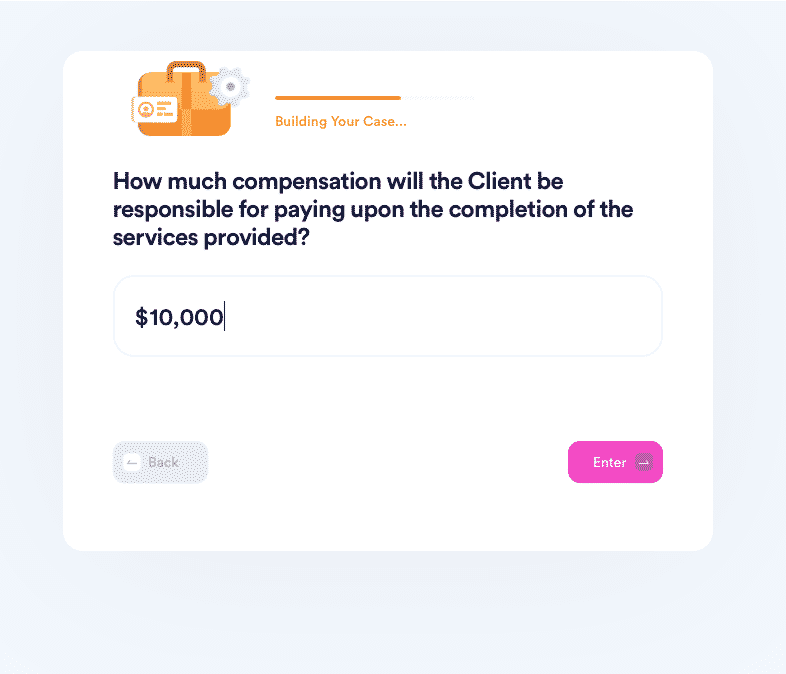 Do Not Let Companies Burn Your Pocket—Fight Back With DoNotPay
In the golden age of consumerism, it's easy to fall for greedy corporations' tricks and waste your money, sometimes without even knowing it. We are here to nip the money-grabbing techniques in the bud!
With your DoNotPay account, you'll be able to sign up for free trials without worrying about losing money once the trial expires. Are you also concerned about your privacy since most free trials require credit card info? With DoNotPay's virtual credit card, your privacy will remain intact.
Say goodbye to drawn-out refund and cancellation processes with the virtual assistant extraordinaire by your side.
If you need help returning an item or claiming its insurance or warranty, we'll help you throughout the entire procedure.
Need Some Extra Money? Find Unclaimed Funds or Get Compensations
Whether you need help with bills, you're strapped for cash, or you just want to get your money back but you can't bear dealing with customer service, we know what to do!
DoNotPay can help you overturn your parking tickets, apply for a college fee waiver, lower your property taxes, and get free raffle tickets. We can also show you the best way to discover your unclaimed money and obtain different types of refunds and compensation involving airlines, gift cards, and late deliveries.