An Examination of Massachusetts Sick Time Law
Not feeling your best this morning? Then you need to take time off work.
Whether you're dealing with a sore back or the common cold, you should know what Massachusetts sick time law covers and what it means for you.
As an employed resident in Massachusetts, you have access to paid sick leave. Given that this type of legislation can vary from state to state, it's important that you take the time to find out how it works for you.
Calling in sick can be more complicated than you assume—find out how DoNotPay can help in this article.
Details About Massachusetts Sick Time Law (2015) Explained
In 2015, Massachusetts made its most recent updates to its sick leave legislation. While other emergency sick leave laws are still in partial use due to the COVID-19 pandemic, the primary state law will be of most use to you.
Massachusetts' earned sick leave law can be complicated to understand—you likely have a few questions about how it works, such as:
How much sick leave can I use?
How much does sick leave pay?
What if my employer won't give me sick leave?
Massachusetts Sick Leave Details
Massachusetts paid sick leave is available to the following types of workers:
Full-time
Part-time
Temporary
You have the legal right to earn one hour of sick leave for every 30 hours worked, at a maximum of 40 hours accrued and used every year.
Massachusetts Sick Leave Payment
What you earn while away on sick leave depends on how you are employed:
| Employment Type | Leave Pay |
| --- | --- |
| Hourly | According to usual wages and schedule |
| Part-time | According to usual wages and schedule |
| Salary | According to a 40-hour workweek |
| Commission | Base pay or minimum wage (whichever is greater) |
| Tip-based | Minimum wage |
Employer Obligations
Employers cannot force you to work while sick. If you have earned paid sick leave, your boss cannot prevent you from using it.
In case you are punished or fired for missing work because of an illness, you have legal grounds to sue your employer. DoNotPay's Small Claims Court product can help you manage the process with ease.
When Should You Call in Sick?
Regardless of whether you have come down with the flu or a minor case of the sniffles, experts agree that the best course of action is to stay home. Coming to work while sick can result in a range of negative consequences:
You will take longer to recover without proper rest
Your quality of work will drop
You will infect other coworkers
How To Call in Sick
Once you have confirmed that you have earned the necessary sick days, you need to inform your employer about your impending absence. If your company lacks a formal company policy, you can instead get in touch with your boss in one of three ways:
These methods can be time-consuming and challenging to manage if you've never done so before. That's why you should use DoNotPay instead.
DoNotPay Will Assist With Your Sick Leave Request
Our AI-powered app comes with a Request Sick Leave product to help guide you through the process of drafting a professional letter.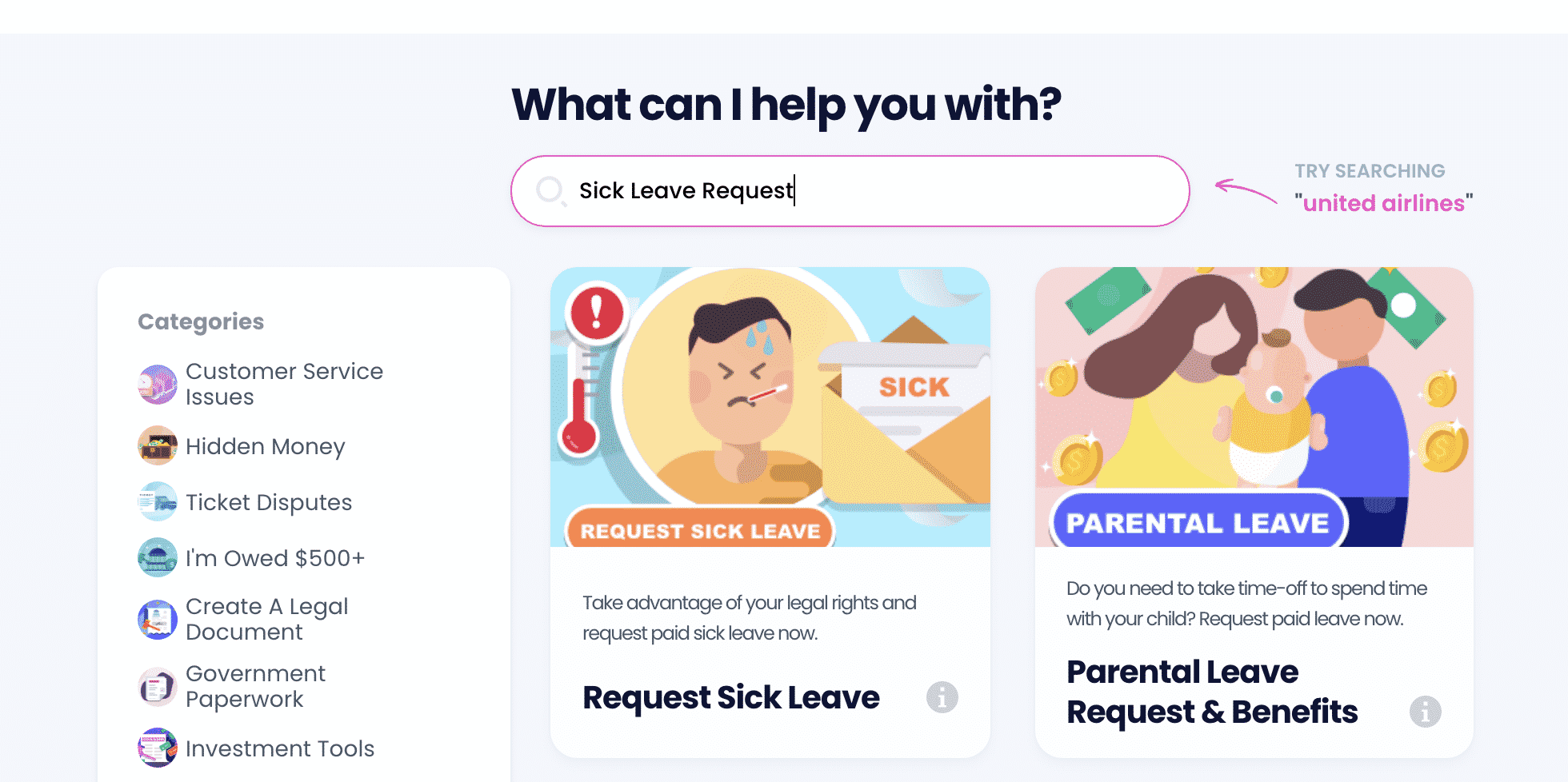 Follow these five easy steps to get your time off request letter:
Choose the Request Sick Leave product
Provide a few details about your job
State how many days you will be away
Upload a photo of your doctor's note
You can then have DoNotPay send the letter to your employer on your behalf or download a copy to take care of this on your own.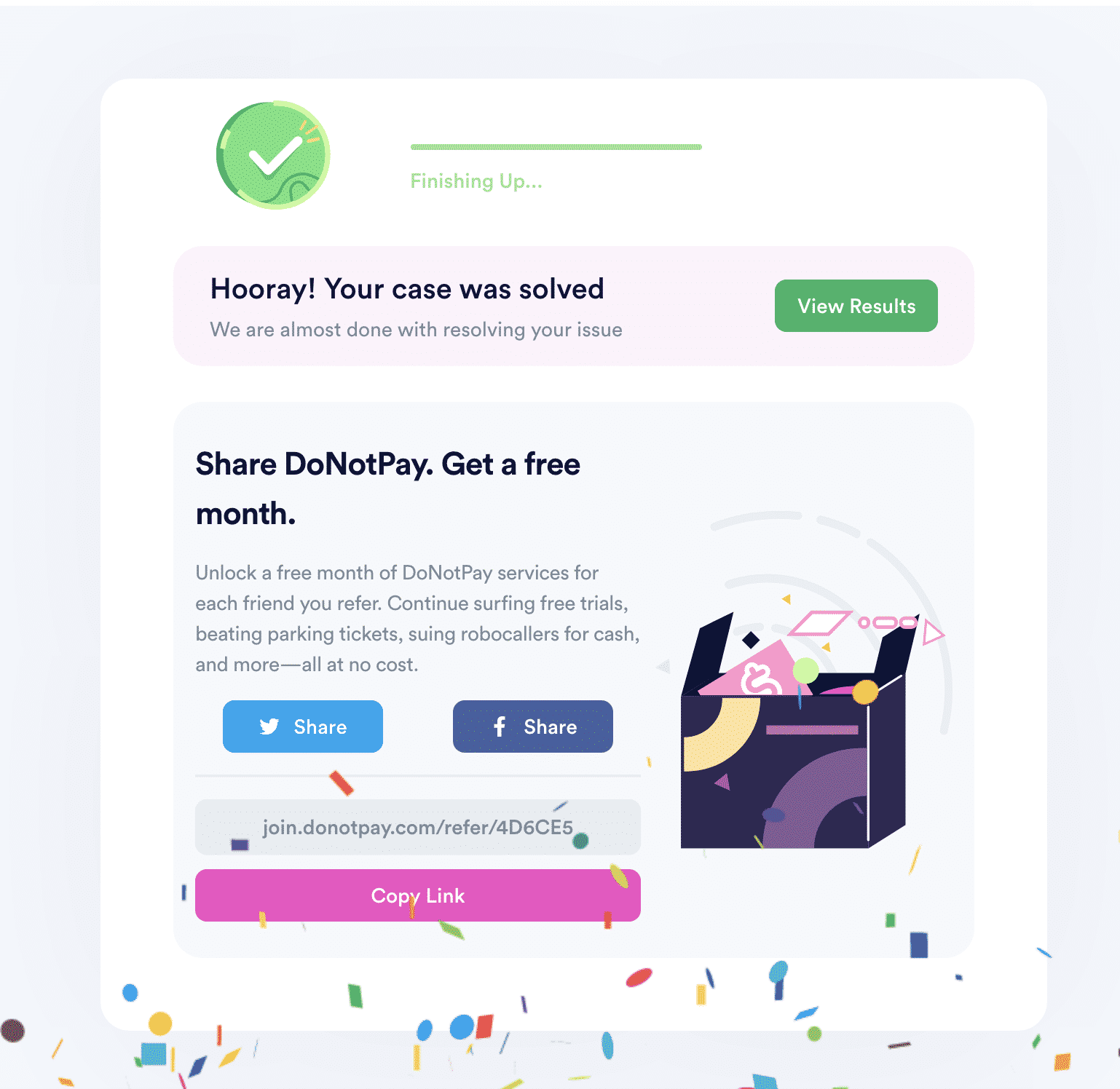 Our Virtual Lawyer Has Got Your Back
DoNotPay has solutions for all those burdensome tasks you would rather avoid or entrust to someone else. Our AI-empowered app can assist you with copyright protection, clinical trial applications, DMV appointments, FOIA requests, mailing services, item returns, and delivery refunds. It also generates standardized legal documents and gets them notarized or faxed with zero fuss!
Through the same app, you can:
Make Education More Accessible and Affordable With DoNotPay
College expenses can be quite a burden for the entire family. Luckily, DoNotPay can have your tuition expenses waived or assist you in applying for various types of financial aid, such as scholarships.
We also offer you a chance to prepare for government tests in a much simpler way or contact embassies or consulates quickly and efficiently if you want to travel abroad to continue your education. If you are a parent who wants to withdraw their kid from a standard school, we will help you draft a notice of intent to homeschool and send it to the local authorities with no stress!