How To Find the Perfect Massachusetts Scholarship
Massachusetts is home to many prestigious public and private schools, including an Ivy League member—Harvard University. Apart from offering top-tier education, those schools impose a hefty tuition price—causing aspiring students to lean on scholarships and grants to help them afford substantial educational prices.
Fortunately, candidates of all backgrounds and levels of study can find and apply for plenty of scholarships for Massachusetts residents. Learn all you need to know about Massachusetts scholarship programs in this guide!
Where To Find Scholarships for MA Students
Check out the table below to learn about the resources that can help you find scholarships in Massachusetts:
Resource
Description
Scholarship search engines
Many online scholarship search tools are not reliable sources of information—they often display scholarships that aren't active anymore. If you're going to use scholarship search engines, proceed with caution and double-check all information you come across
Organizations in charge of distributing Massachusetts state scholarships
Notable examples include:

Massachusetts Educational Financing Authority (MEFA)
Massachusetts Department of Higher Education—Office of Student Financial Assistance (OSFA)

Financial aid departments of colleges and universities in Massachusetts
Some of the colleges and universities in Massachusetts that provide substantial amounts of financial support include:
Nonprofits dedicated to students of particular demographic groups and fields of study
Some of those nonprofits include:

The American Association of University Women of Massachusetts for all female students seeking higher education
The African Community Education for students with African roots

Massachusetts Department of Veterans' Services
Many veterans are offered scholarships in Massachusetts as a sign of gratitude for their service. The Massachusetts Department of Veterans' Services distribute those awards on a state level
How To Qualify for a Massachusetts Scholarship
Scholarship committees typically consider financial needs and academic merit when picking recipients, but they can also take various other criteria into account:
Your ethnic background can work in your favor—Whether you're of Native American, Italian, Hispanic, African, or Asian and Pacific Islander heritage, you can receive scholarships from organizations dedicated to helping international and minority students
Your religious affiliation can also land you scholarships—Students of Christian, Muslim, and Jewish affiliation can turn to their communities and places of worship to look for scholarship opportunities
Organizations supporting particular fields of study typically award scholarships to promising students—Whether your field of study is art, math, music, science, psychology, engineering, or any other, extend your search to vocational scholarships. The chances are those scholarships have fewer participants and are far less competitive
It's difficult to remember all criteria when you're searching for scholarships, which can cause you to miss promising opportunities. You can put your mind at ease—DoNotPay offers a feature that ensures you'll find all opportunities you qualify for in mere minutes! Sign up and answer a few questions to receive a personalized list of Massachusetts scholarships and grants!
How To Apply for a Massachusetts Scholarship Program
To ensure your application for all Massachusetts scholarships you end up choosing is flawless, you should prepare in advance.
If you're a high school senior or an undergraduate or graduate college student, follow these steps to apply for college scholarships in Massachusetts:
Complete the Free Application for Federal Student Aid (FAFSA)
Log in to the MassAid portal to check your eligibility for Massachusetts state scholarships, grants, and loans
Check your email for additional instructions on information and documentation you might need to submit or correct
Wait for your Student Aid Report (SAR)
Those steps don't apply to you if you're a K-12 student, though. If you're a middle schooler or high schooler, you can do the following to apply for scholarships:
DoNotPay Finds Massachusetts Scholarships Tailored to Your Needs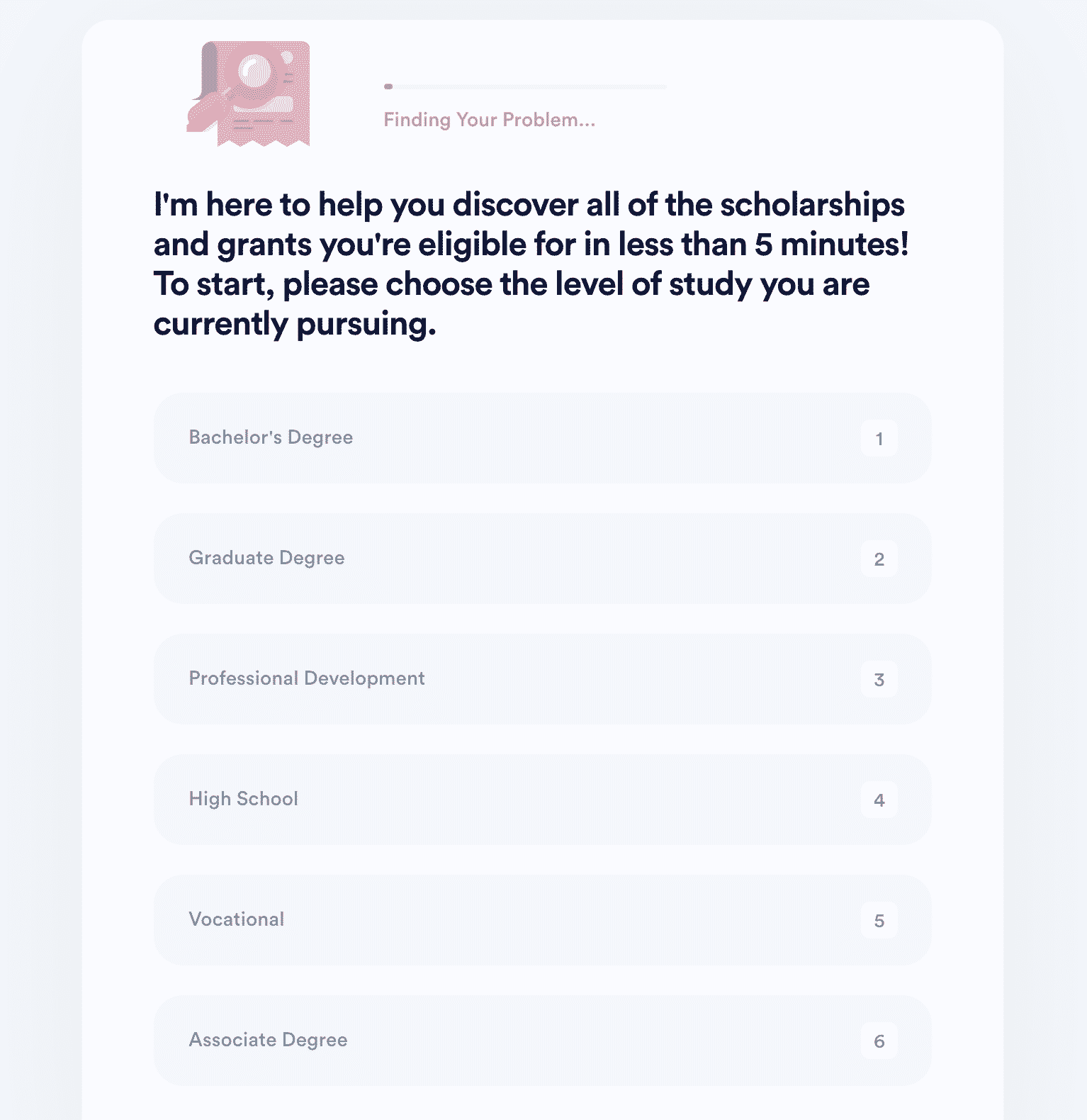 Finding Massachusetts scholarships you qualify for might require a substantial amount of your time and effort. Not only do you have to do tremendous research, but you also have to keep an eye out for scholarship scams that could compromise the safety of your personal information.
If you want to conduct a time-efficient and safe scholarship search, DoNotPay can help! With our app, you don't have to worry about finding scholarships and grants for your level and field of study—we will do all the work for you!
You're only a few short steps away from getting a personalized list of scholarships in Massachusetts:
Search for the Apply for Scholarships feature
Complete a brief questionnaire
If you choose to apply for no-essay scholarships, all you need to do is select the ones that appeal to you. We will send as many applications as you want on your behalf!
What's Next?
Once you complete the task at hand, you don't have to stop there—we offer a myriad of products that can relieve you of the stress that comes with dealing with admin and legal hurdles.
DoNotPay can assist you in drawing up a divorce settlement agreement, child travel consent form, power of attorney, and other legal documents, contacting government representatives, getting tourist visas, fighting workplace discrimination, getting a burner number, appealing banned accounts, getting access to public records, scheduling a DMV appointment, and much more.
Tackle Any Energy-Draining Task With DoNotPay
With DoNotPay by your side, you don't have to worry about how you'll cover your utility bills at the end of the month—we'll provide swift assistance as soon as you sign up!
Wondering what else our app is capable of? Check out how we can: