Join the (Tea) Party With
Massachusetts Property Tax Exemptions
Massachusetts is a great place to live, with a stable and diverse economy, a great balance of urban and rural environments, and a world-class range of schools, hospitals, and amenities to make life pleasurable.
It's not cheap, though. House prices are rising on average by 4.5% per year, and the median house price for a single-family home in 2020 reached nearly $680,000.
Add to that average property tax rates of 1.17% across the state, and you could be facing a punishing annual tax bill to live there.
Massachusetts wants to attract residents, though, as house sales are dropping sharply. For this reason, the state offers a range of property tax exemptions that can ease your annual tax burden. DoNotPay will help you check your eligibility and apply for any exemptions you qualify for.
What Is Property Tax?
Property tax is a levy on the real estate you own and is essential for local authorities to balance their budgets. Communities are duty-bound to provide certain amenities to their residents, and these have to be funded adequately to ensure the public services are efficient.
Property tax is used to fund:
Public schools

Libraries

Police

Fire department

Garbage collection

Street lighting

Road maintenance

Libraries

Public recreation facilities
Property tax means that all these services get the money they require to make your life in Massachusetts comfortable.
Massachusetts Property Tax Calculations Explained
Property tax in Massachusetts is calculated by multiplying the value of your property by the local tax rate.
The local tax rate is on the decrease in Massachusetts, having been reduced by about 1.5% on average since 2019. If the trend continues, Massachusetts may become one of the states with below-average property tax rates.
This doesn't necessarily mean you will pay less, though. The tax rate is only one part of the equation.
The other part of the equation is the value of your Massachusetts property as assessed by the state. Every property in the state is appraised to determine its fair market value, and assessors use one or all of the following methods to come up with a number:
| | |
| --- | --- |
| Approach | Explanation |
| Sales comparison approach | Compares each property with similar-sized properties in the area that have sold recently |
| Cost approach | Calculates how much a property would cost to build at today's prices |
| Income approach | Bases a commercial property's value on how much income it generates |
Property values in Massachusetts are appraised each year by local assessors and the value set as of January 1. The assessments are run at a local level and are overseen by the Bureau of Local Assessment (BLA).
You can take a look at the BLA's guidelines here.
Are Any Property Tax Exemptions Available in Massachusetts?
As a Massachusetts resident, you may be eligible for the following property tax exemptions:
Senior exemption

Veterans' or surviving spouses' exemption

Blind persons' exemption

Surviving spouses of firefighters or police officers exemption

Hardship exemption
Senior Exemption
Persons over the age of 65 may be eligible for an exemption of up to $1,000, depending on their assets and income.
Veterans' or Surviving Spouses' Exemption
Massachusetts looks after its veterans and their spouses with a range of available exemptions. The Commonwealth of MA website can give you all the details.
Blind Persons' Exemption
Certified 100% blind people may qualify for an exemption of up to $500.
Surviving Spouses of Firefighters' or Police Officers' Exemption
The surviving spouses of public law enforcement or protection officers who have died in the line of duty may qualify for a total property tax exemption.
Hardship Exemption
Local initiatives have been set up to ensure that people experiencing hardship due to age, illness, or poverty can apply for various property tax exemptions.
The above are state exemption programs, but many local authorities offer additional programs for special circumstances. You can find more details here.
How Can I Get a Massachusetts Property Tax Exemption?
You have to apply to your local authority in Massachusetts to receive a property tax exemption.
Your application has to be submitted every year in the town where you live and must be filed by April 1. Under state and federal law, you can only receive one exemption per fiscal year. If you qualify for more than one, Massachusetts will grant you the largest one for which you are eligible.
DoNotPay Is Here To Help You Claim a
Property Tax Exemption in Massachusetts
Property tax exemption applications can be complex, but DoNotPay makes the process simpler.
Our app can check your location and give you customized advice on what exemptions are available in your area. The guide comes with two sections:
Property Tax Exemptions
Property Assessment Appeals

Information about the property tax exemptions available in Massachusetts

A list of documents for you to fill in and submit

Instructions on how to submit your application

How to negotiate with a property assessor

How to appeal an assessment you think is wrong
How Do I Get DoNotPay's Property Tax Guide?
Our guide is easy to get—here's what you need to do:
Go to DoNotPay using any

web browser

, sign up, and find the

Property Tax

feature

Answer the questions about yourself and your property

Wait for the app to give you a customized guide to property tax reductions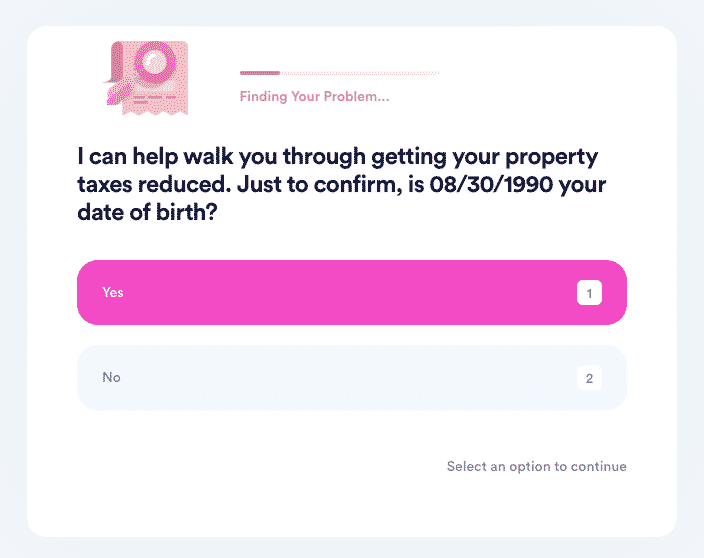 Further Tips From DoNotPay To Reduce Your Property Tax in Massachusetts
As a Massachusetts resident, you may be looking for other ways to lower your property tax bill or get help paying your property tax. Check out the table below for more tips:
| | |
| --- | --- |
| Action | Explanation |
| Avoiding property upgrades | Anything you do to improve your property could increase its value, and this will result in a higher property assessment. Try to avoid renovations or additions that will result in this |
| Checking your tax bill | Everyone makes mistakes, and you should check your tax bill to make sure all the details are correct, the assessment is as expected, and all the calculations are above board |
| Working with the assessor | Try to accompany the assessor as your property is appraised. This ensures you can point out any factors that may influence the value assigned to your real estate |
Your last course of action is to appeal your property tax assessment if you feel your real estate has been overvalued. DoNotPay can help you understand the appeal procedure, prepare the necessary documents, and launch your appeal.
DoNotPay—The Easy Way To Save Money
If it looks like your wallet has a hole and the money keeps pouring out for unnecessary expenses, it might be time to come up with a better saving strategy. 
DoNotPay uses AI-powered technology to identify the best opportunities for some serious penny-pinching or earning a few extra bucks:
| | |
| --- | --- |
| Saving Money | Earning Money |
| | |
Do You Need Help With All That Paperwork?
Saving money is great, but cutting the time wasted on bureaucracy sometimes sounds even better. DoNotPay joins the best of both worlds and helps you avoid boring paperwork while preventing future unnecessary charges and expenses. 
With our help, you can enjoy free trials without any risk, file insurance claims, or handle issues with credit cards. 
You won't have to waste time on researching the right procedures or pay for help if you need to stop stalkers and harassers or put together all sorts of legal documents.