All You Need To Know About a Massachusetts Living Will
Urgent medical procedures and quickly progressing terminal illnesses bear the risk of making the patient incapacitated before they eventually reach the end of their life. A living will can help patients make their final days bearable and even request particular after-death and memorial procedures to be carried out.
Take matters into your own hands—learn how to create your Massachusetts living will and make the most of it!
What Is a Massachusetts Living Will Form?
A living will form is a document that helps you convey your wishes regarding end-of-life health care to:
Your loved ones
The medical personnel administering your treatment.
Unlike in many other states, a living will isn't legally binding in Massachusetts, which means that your assigned doctor doesn't have to abide by your wishes. Your living will can help medical personnel with making decisions regarding your further treatment.
Is Creating a Living Will in Massachusetts Worth It?
A living will is one of the two advance health care directives available in Massachusetts, the other one being a health care proxy (essentially the same as a medical power of attorney, but the difference is that a health care proxy is the only legally binding advance directive in MA).
This document allows you to designate a person to partially or entirely decide about your treatment and wellbeing. Despite the living will not being legally binding, it's still a very helpful document to have so your health care agent understands your wishes and the reasons behind them better. A living will even contains details regarding:
Emotional care
Spiritual care
Memorial preferences
Organ donation
A good practice is to create both documents before any health risk occurs, so you're prepared for any illness or emergency at all times.
For your advance directive forms to be legal, they must:
Be signed by you and two witnesses (everyone needs to include the date the document's being signed underneath their signatures)
Contain telephone numbers of the two witnesses underneath their respective signatures
Many states require advance directives to be notarized, but that's not the case in Massachusetts.
Ways To Create an MA Living Will and Health Care Proxy
There are several approaches you can take to create your living will and health care proxy in Massachusetts, and here are some most commonly used ones:
| Method | Details |
| --- | --- |
| Do it yourself | Look up the Massachusetts advance directive act to find the information you need to write the documents on your own. You can even download online forms and complete them |
| Hire a lawyer to draw up your documents | A lawyer must know the law to the last detail, and hiring one means you'll get an impeccable document. Unfortunately, a lawyer's expertise typically comes at a sky-high price |
| Sign up for DoNotPay | Ensuring your final wishes are respected shouldn't cost a fortune—that's why we created a tool that will draft your documents in moments without exhausting your budget |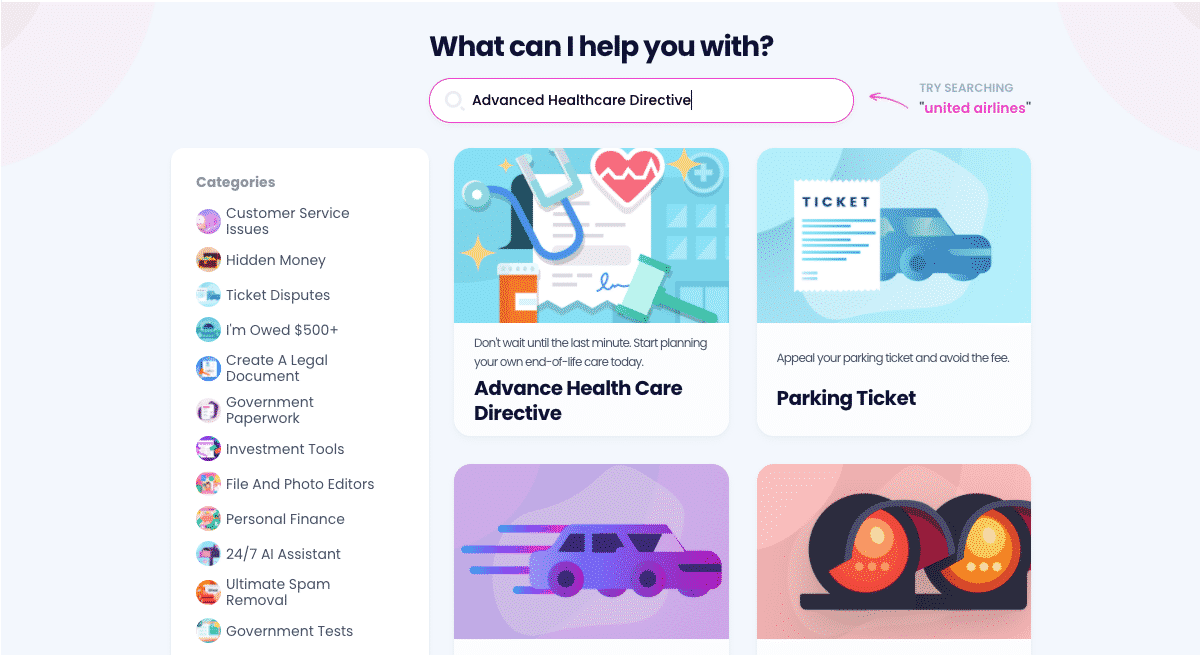 DoNotPay Turns Your Preferences Into a Personalized Advance Directive in a Flash
Capturing your wishes regarding end-of-life medical treatments in writing is difficult—there's a lot of information to keep track of. Our app lets you focus on your preferences while we handle the formalities—all you need to do is log in to your DoNotPay account and:
Search for Advance Health Care Directive
Answer some questions about your preferred treatment and memorial procedures
Enter the names of your two witnesses
Once you complete all steps, you will get your documents in a few short moments! Before you can put your advance directives to use, you will have to sign them and allow your two witnesses to do the same.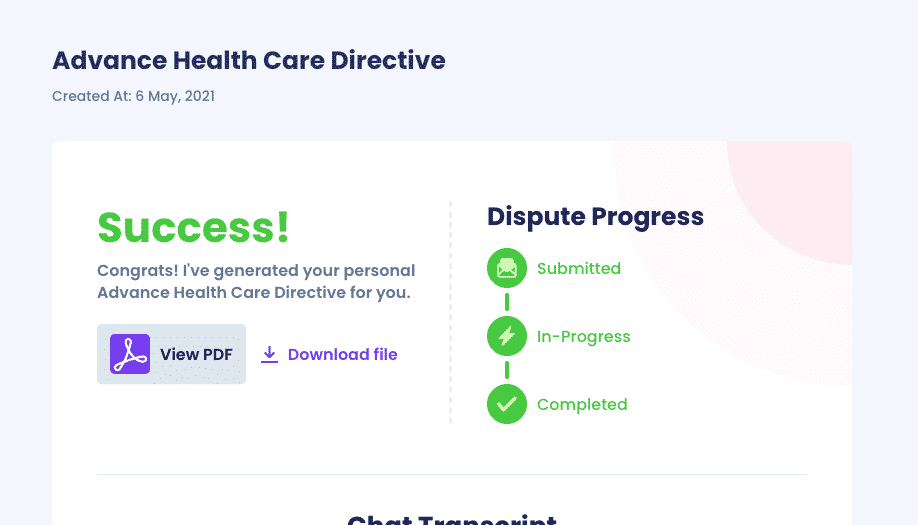 What Else Does DoNotPay Have in Store?
Our user-friendly platform provides solutions for all your bureaucratic problems and tiresome tasks. Once you sign up for DoNotPay, we can help you demand refunds from airlines and other companies, get compensation for late deliveries, and submit item return requests. The app also allows you to send online faxes, use our mailing services, and convert files to dozens of formats!
If you are unhappy with the situation at work, DoNotPay can file anonymous HR or work discrimination complaints in your stead. Discover how to generate legal documents such as divorce agreements and powers of attorney and have them notarized without heading to the notary's office!
Our App Reduces Education-Related Costs
Do you find it difficult to cope with college-associated expenses? DoNotPay sends help your way! Get ready to make your education journey simpler by:
If you believe that educating your child would be a less pricey option, we help you compose a customized notice of intent to homeschool in no time!