Create the
Massachusetts Lease Agreement
in a Few Clicks
Creating a lease agreement in Massachusetts can be tricky. Both landlord and tenant need to factor in various obligations and responsibilities. A contract needs to be fair, cover all bases, and respect legal requirements.
It may sound like a job for a lawyer, but that doesn't have to be the case. You can create a top-notch lease agreement yourself, saving some time and money in the process.
We will present the crucial elements of a Massachusetts lease agreement and help you create any legal document in a jiffy!
Massachusetts Rental Agreement
in a Nutshell
A Massachusetts lease agreement is a written contract between a landlord and tenant that outlines conditions for using a rented property. The most commonly used lease agreements in Massachusetts are:
Both parties entering the contract have to agree on terms of using the unit, such as rent, duration of the agreement, and consequences of breaching the contract.
Lease agreements are necessary to protect both parties in the case of disputes. Massachusetts lease agreements have to comply with the state law to be valid, so both parties must be aware of their legal rights and responsibilities before signing the document.
What Are the Most Important Landlord-Tenant Laws in Massachusetts?
Massachusetts is a landlord-friendly state. That means the landlord-tenant law strives to protect the landlord's rights for the service they offer. Tenants should not feel any less protected. There are strict regulations landlords have to follow to protect tenants' interests. 
The Law Requirements for Landlords
Landlords must meet specific requirements before leasing the property. If they don't comply with the law, they can face numerous legal problems, including lawsuits.
Here are the most important facts that a landlord must know:
Necessary disclosures

—

Landlords have to disclose certain information to tenants before moving in, including:

Terms and conditions of a fire insurance policy

Inventory checklist

Institution that holds the security deposit

Lead-based paint disclosure

Notice period before entering the property for repairs

Security deposit limits and returns

—

The state law limits the security deposit amount (one month's rent) and the period for returning it (30 days after the tenant moves out). Landlords who fail to return the deposit can face a small claims lawsuit

Rent rules

—

Landlords have to issue a 30-day notice before raising the rent

Repairs

—

Tenants can exercise their right to

repair and deduct

if the landlord doesn't handle necessary repairs

Right to enter the property

—

Landlords are not required to provide a notice for entering the rented unit
Rules for Tenants 
Tenants have to meet the legal requirements stated in the contract. Specific tenant behavior can lead to additional charges and eviction. Here are the most important rules for tenants:
Rent rules

—

Tenants who don't pay the rent on time can get evicted following a 14-day notice
Consequences for abandoning the property

—

The law allows landlords to dispose of the tenant's abandoned property and deduct the cost of disposal from their security deposit 

Termination and eviction rules

—Landlords can file an unconditional quit termination to tenants for not paying the rent
What Does a
Lease Agreement in MA
Consist Of?
A Massachusetts lease agreement has to cover the landlord and tenant's rights and duties. You can add paragraphs depending on the property type or location. Take a look at the standard Massachusetts lease agreement sections in the table below:
Massachusetts Lease Contract Section
The Section Contains

Personal information

Landlord's and tenant's:

Full name

Address, including city, state, and ZIP code

Property details

Full address of the rented property

Lease duration

The start and end date

Rent information

Amount and the due date

Security deposit

Amount in both letters and numbers

Contact information

Landlord's and tenant's address and phone number for receiving legal notices

Utilities and responsibilities

Names of parties responsible for these items

Pet policy

The allowed type, size, and number of pets, as well as the pet deposit amount

Signatures

Both parties' printed names and signatures 
Use DoNotPay To Draw Up a Massachusetts Lease Agreement
You don't have to learn how to write a contract or resort to suspicious contract templates to get your lease. DoNotPay has developed a nifty service to simplify creating legal documents to the max!
All you have to do to get your lease agreement is provide essential info to our chatbot. We will use the details to create a personalized contract meeting all legal requirements!
Here is how the process goes:
Access our app

from any web browser

Enter

Lease Agreement

in the search field

Provide answers that will help us personalize the contract

Give our app a few minutes to generate the contract for you!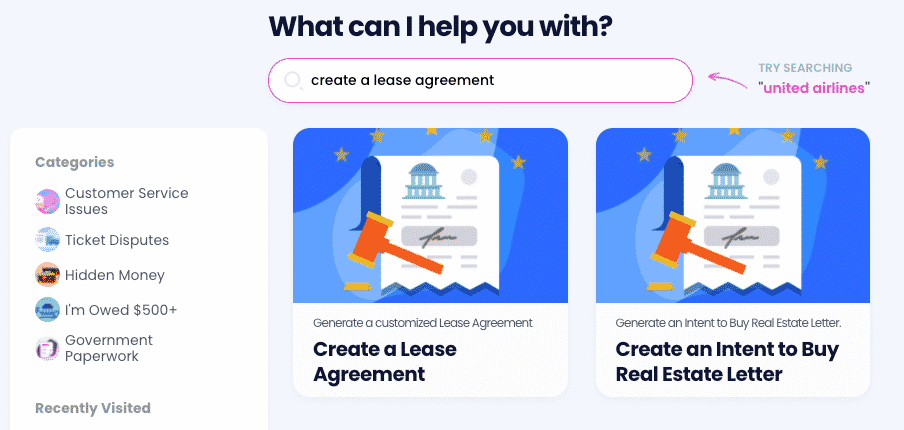 If you want to know how landlord-tenant laws work in other states, you can find that out with DoNotPay! Our comprehensive articles can teach you all about lease agreements in Indiana, Arizona, Alabama, Wisconsin, and Oklahoma.
DoNotPay doesn't stop there! Our app can generate numerous other legal documents for you, including:
General Affidavit

Promissory Note

Residential Lease Agreement

Estoppel Certificate

Intent To Purchase Real Estate

General Business Contract

Quitclaim Deed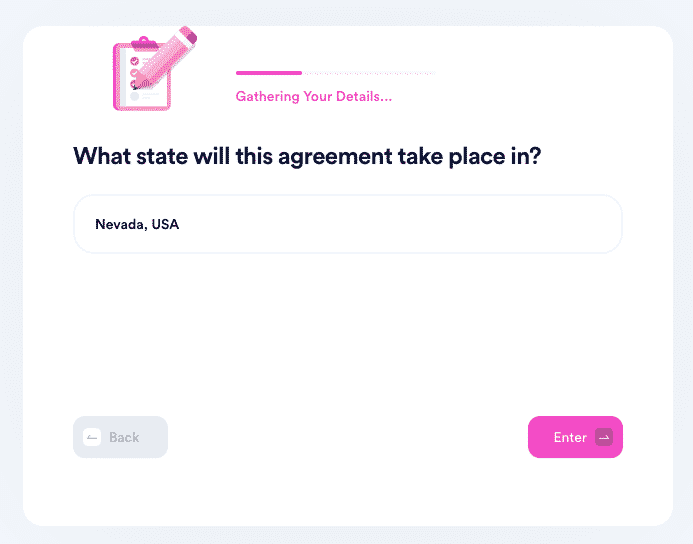 DoNotPay Keeps Your Privacy Intact
DoNotPay can help you surf the web safely and securely. No need to provide your personal information to every company whose service you'd like to take for a test drive. Our Virtual Credit Card and Burner Phone products shield your data from prying eyes and dishonest merchants.
Feel like subscribing for a free trial? Make it truly free and avoid automatic membership renewals with our card. It can also help identify spammers and potential scammers who send bothersome robocalls and robo texts your way. As soon as they act on the virtual card number, DoNotPay will unmask them and demand compensation!
DoNotPay Can Help You Bring Any Business to Justice
Should a company refuse to grant you a refund or compensation, our app will help you take them to small claims court! 
We'll help you cancel the service in question to avoid any future charges, and we'll call their customer service so you can get info on your denied request. We'll draft the relevant court documents for your jurisdiction and give you instructions on filing them.
More Nifty Features That'll Make Your Day
You may not have breach of privacy issues or reasons to bring someone to court, but you surely have ample motivation to save or earn a few dollars here and there—especially if we catch you unawares!
DoNotPay can show you how to reclaim funds that you didn't know were under your name or make a denied warranty appeal to any company. We streamlined the processes of requesting refunds, college fee waivers, airline flight compensation, parking infraction dismissals, as well as applying to clinical trials that pay!