Understanding the
Massachusetts Homestead Exemption
Regarding
Property Taxes
Property tax may be just another bill you have to pay, but it can set you back considerably—especially in Massachusetts as one of the states with the highest property tax rates. An average property tax payment in the Bay State is $4,899 per year. To put this in perspective, in Hawaii—one of the states with low property taxes—the average is $1,945.
Before you move to Hawaii, there is something you can do to lower your property taxes in Massachusetts. We'll explain how the Massachusetts homestead exemption for property taxes fits in this picture and introduce you to various money-saving strategies—exemptions and otherwise.
What Is a Homestead?
Homestead may refer to the primary residence you own and live in. Some states, such as New Jersey, have homestead property tax exemptions and provide property tax relief for these homeowners. Homestead can also refer to one of the requirements you have to meet to be eligible for other exemptions.
Another meaning of homestead has nothing to do with property taxes. A homestead status relates to the protection from creditors in case of bankruptcy for your primary residence. Since 2011, every Massachusetts homestead homeowner is automatically protected up to $125,000 in equity. Additionally, if you file for a homestead exemption, your home can be protected for up to $500,000.
A Breakdown of Property Taxes in Massachusetts
If you own property, you have to pay property taxes. In Massachusetts, cities collect property taxes, and they also determine tax rates. How much you need to pay in taxes depends on the tax rate in your location and the assessed value of your home.
Check out the tax rates in various Massachusetts counties in the table below:
| | |
| --- | --- |
| County | Average Property Tax Rate |
| Nantucket County | 0.31% |
| Middlesex County | 1.23% |
| Norfolk County | 1.24% |
| Plymouth County | 1.36% |
| Hampshire County | 1.53% |
Local authorities use property tax money to fund:
Libraries

Public schools

Fire departments

Police departments

Road maintenance

Public recreation facilities
Property Tax Exemptions Massachusetts Residents Can Apply For
If you often need help paying property taxes, you can apply for Massachusetts property tax exemptions. Exemptions essentially release you from paying all or part of your taxes.
You may be eligible for the following exemptions:
Blind persons

Surviving spouses, minor children, and elderly people

Religious and charitable organizations
Massachusetts also offers property tax deferrals that help you postpone the paying off of your taxes. There are:
Financial hardship property tax deferral

Senior property tax deferral
Obtaining Property Tax Exemptions in Massachusetts
Exemptions can be complicated. You need to meet all the required criteria, collect numerous documents to prove you are eligible, and apply following the set due dates. The starting point is to be familiar with the basic requirements of the exemptions you can qualify for, as presented in the table below:
Property Tax Exemption

Requirements

Blind persons

Be declared legally blind

Own and occupy your property as your homestead

Senior citizens

Be 65 years of age or older

Live in your primary residence for ten years and own it for at least five years

Have an income that doesn't exceed the set amount

Surviving spouses, minor children, and elderly people

Have a deceased spouse

Have a deceased parent and be under the age of 18

Be at least 70 years old

Veterans

Have a disability (the amount of the exemption depends on the severity of the disability)
Lower Property Taxes With DoNotPay—The Ultimate Money-Saving Expert
Once you know the basics of the Massachusetts property taxes and exemptions, DoNotPay can help you with the rest! We'll generate a guide to assist you in claiming an exemption.
Get your personal property tax guide in the following way:
Access DoNotPay

from a web browser

Find our

Property Tax

product

Type in a few details about yourself

Provide the necessary info regarding your property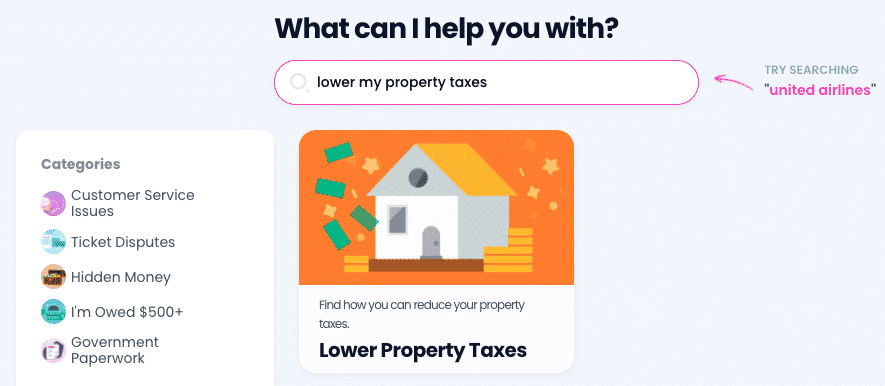 What you'll get from our guide is much more than plain facts you can find online. We apply your personal and property-related info to create helpful guidelines to reduce your tax bill.
The guide covers:
Massachusetts property tax exemptions

Rundowns on the property tax exemptions you are eligible for 

Instructions for gathering the necessary paperwork

Steps for submitting your applications

Property assessment appeals
How Else Can I Save Money on Property Taxes?
Aside from getting our property tax guide to apply for exemptions or appeal your assessment, you can do more to lower your tax bill, such as:
Postpone major home improvements

Make sure you get a fair assessment by being present

Research comparable homes in your neighborhood

Check your tax bill thoroughly

Stay up to date with property tax exemptions
If you plan on moving or purchasing a property in another state, looking into property taxes is crucial, and we can help you with that. Understand how taxes work and get familiar with exemptions and other tax relief programs by checking out our articles on different U.S. states, including Ohio, Georgia, Oregon, Louisiana, and South Carolina.
Tired of Companies Not Taking You Seriously? Use DoNotPay To Put a Stop to It
If you're sick of companies that violate your consumer rights, DoNotPay is here to help. If you're struggling with reporting robocalls, requesting a refund, claiming any type of warranty, scheduling a DMV appointment, reporting spam text messages, or anything else, our robot lawyer will help you sue any firm or individual in small claims court.
With DoNotPay, you can also sign up for any free trial, cancel any subscription, avoid getting charged after your free trials end, and much more!
Want Your Money Back? DoNotPay Is Here To Help
Are you looking for your missing money? Do you want to get a refund for a delayed or canceled flight? Are you trying to flip the script on illegal robocalls and earn money off them? DoNotPay will assist you in dealing with any of these pesky issues!
We can also help you bypass phone number verification, sign up for clinical trials stress-free, ace any government test in a jiffy, and block spam emails for good.