Get Familiar With the Massachusetts Health Care Proxy
Dealing with unpredictable medical conditions comes with the risk of potentially becoming incapacitated and unable to express your final wishes. A health care proxy makes that risk more bearable by allowing you to entrust someone to make decisions regarding your medical treatment in your stead.
Learn what a Massachusetts health care proxy entails and how to create yours hassle-free with DoNotPay!
What Is a Health Care Proxy in Massachusetts?
The two advance health care directives you can create in Massachusetts are:
A living will—A form that focuses on the specifics of your treatment and represents your personal wishes. If you don't entrust anyone with your health, creating a living will might be a better option for you
Health care proxy—By creating a health care proxy, you're designating a person (typically referred to as a health care agent) to handle all health care-related decisions for you when you become unable to speak for yourself
The best time to create a health care proxy is:
When your assigned doctor diagnoses you with a terminal illness
Before you undergo a risky medical procedure that can cause:

Unconsciousness or coma
Brain damage
Other conditions that would render you unable to speak
Some other commonly used names for the health care agent are:
Patient advocate
Health care representative
Attorney-in-fact
Medical proxy
Health care surrogate
Some states recognize the difference between a health care proxy and medical power of attorney, but the state of Massachusetts considers them to be the same document.
Who Can Be Your Agent in a Massachusetts Medical Power of Attorney?
To find out who can be your agent according to the Massachusetts health care proxy law, check the guidelines in the table below:
| Your health care agent can be your: | Your health care agent cannot be: |
| --- | --- |
| | The operator or an employee of any health facility you're already administered in or have applied for admission (unless the person is your close relative, spouse, or adopter/adoptee) |
The law also allows you to designate two agents—the primary one and an alternate one in case the former is unable to fulfill the obligations imposed by the medical power of attorney.
What Does Invoking a Health Care Proxy in Massachusetts Mean?
Your assigned physician will invoke your health care proxy when they estimate that you're unable to communicate your wishes about further treatment (or lack thereof). Invoking a health care proxy in Massachusetts means that your designated agent can decide:
Who administers your medical treatment
Where you receive treatment
Which life-sustaining methods you're subjected to
Whether your healthy organs will be donated after death
Ways To Get a Health Care Proxy in Massachusetts
Once you choose your health care agent, it's time to create the health care proxy. Some of the options at your disposal are:
Doing it yourself—You can download an online form or write your Massachusetts health care proxy from zero
Hiring a lawyer to do it for you—Lawyers' services are high-quality but often too expensive
Using DoNotPay—With our app, you're only minutes away from getting a personalized health care proxy in Massachusetts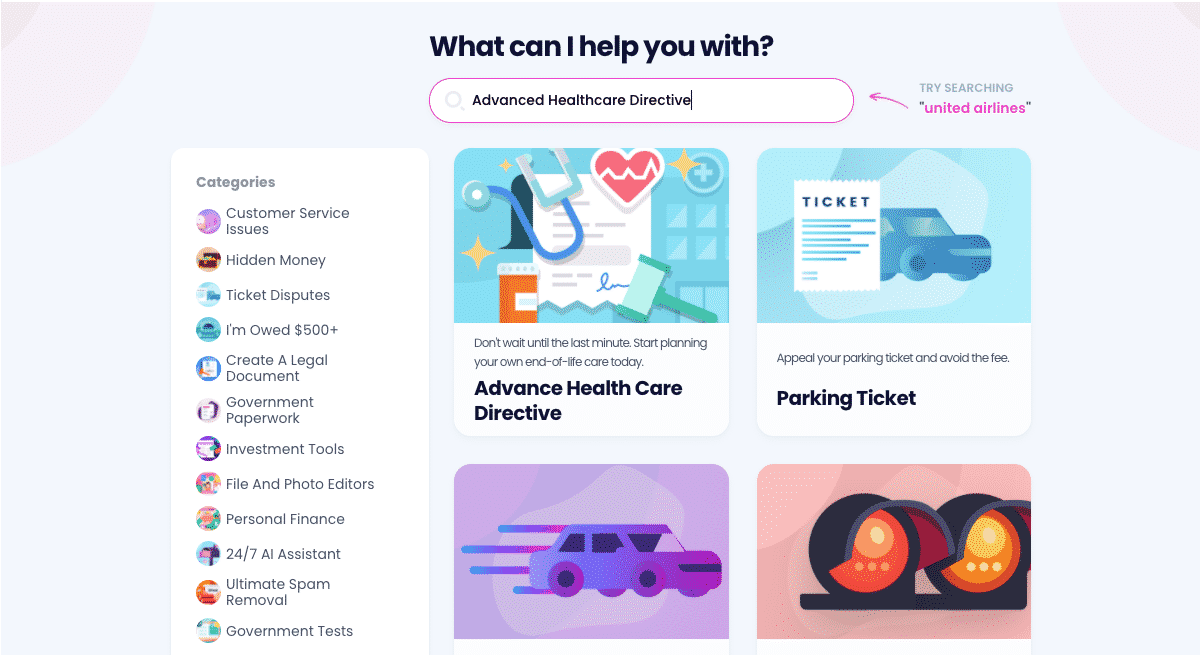 DoNotPay Creates Advance Directives That Cater to Your Wishes
Creating an advance directive in Massachusetts doesn't have to take a lot of time or cost you exorbitant amounts of money. You can easily and quickly prepare for any unforeseen medical circumstance if you sign up for DoNotPay and:
Open the Advance Health Care Directive product
Tell us about your preferences regarding the future medical care you might need
Enter the name of your health care agent
Name two witnesses who will see you sign the document
After receiving your Massachusetts living will and health care proxy, you will need to sign them and let the witnesses you mentioned do the same. The final step to getting valid advance health care directive forms in Massachusetts is to find a notary public and get your documents notarized. If you can't find an available notary public in Massachusetts, try our online notary service!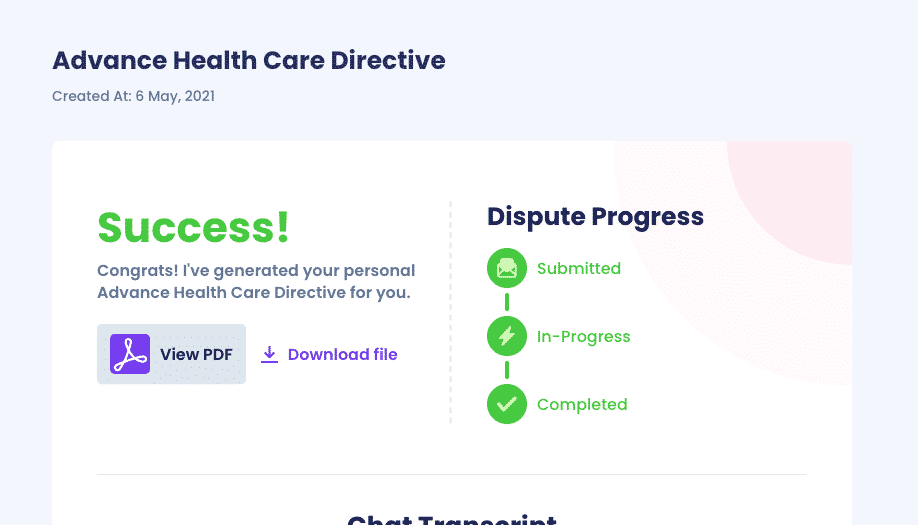 DoNotPay Is Your Ultimate Money-Saver
Don't spend your hard-earned money on subscriptions you don't use—cancel them with our app in a few simple steps! The best part is—that's not all we can do to help you save some coins. DoNotPay can also reduce other expenses by helping you:
Kiss Spammers and Harassers Goodbye for Good With DoNotPay
Our app offers handy features that can assist you with blocking irritating robocalls and getting rid of unnerving spam texts and emails. It also gives you peace of mind by helping you fight workplace discrimination, stalking and harassment, annoying neighbors, and defamation.
With DoNotPay, you will always be able to avoid unpleasant situations and protect your safety by searching updated sex offender databases. Suppose you have already been a victim of harassment or any other crime. In that case, we can help you get compensated for the inconvenience with no difficulties!